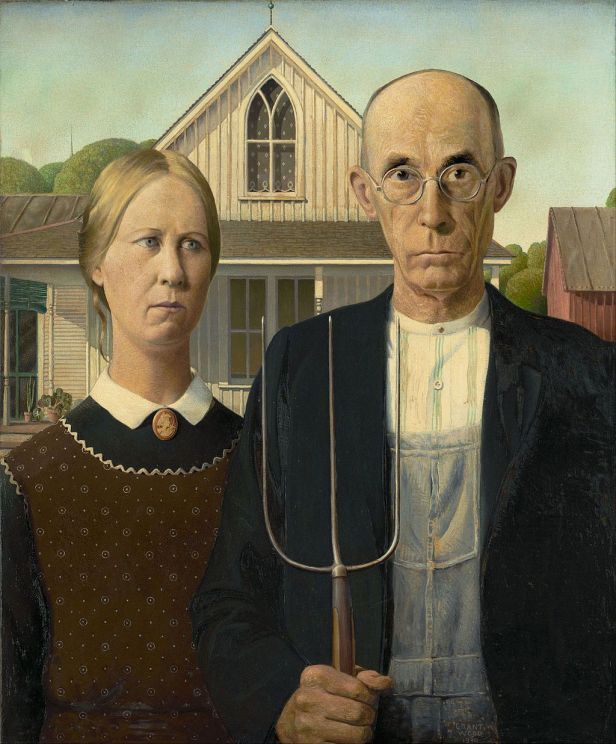 "American Gothic" by Grant Wood shows a farmer standing next to a woman. The woman wears a colonial-style apron reminiscent of traditional Americana, and the man holds a pitchfork in his hand. The inspiration came to Wood in his decision to paint the so-called American Gothic House, along with:
"The kind of people I imagined should live in this house."
The man's pitchfork symbolized hard work, and with the onset of the Great Depression, this painting was seen as representing the steadfast American pioneering spirit. Wood's inspiration came from a neo-gothic style cottage with an upper window in the shape of a medieval pointed arch that gave the title of the painting. Several elements in the picture reinforce the vertical of gothic architecture, including the three-pronged pitchfork and the seams of the man's overalls.
Is the wife his daughter or his wife? The woman was sculpted by artist Sister Nan, who insisted that her brother had seen the couple as a father and daughter rather than a husband and wife. Wood seems to confirm this view in a personal letter.
This painting is one of the most famous images of American art of the 20th century and widely used in American popular culture. Wood painter from young years until his death, and although he is best known for his paintings, he worked in a variety of media. Wood is associated with the American movement of regionalism, which advances the figurative painting of rural American themes in an aggressive rejection of European abstraction.