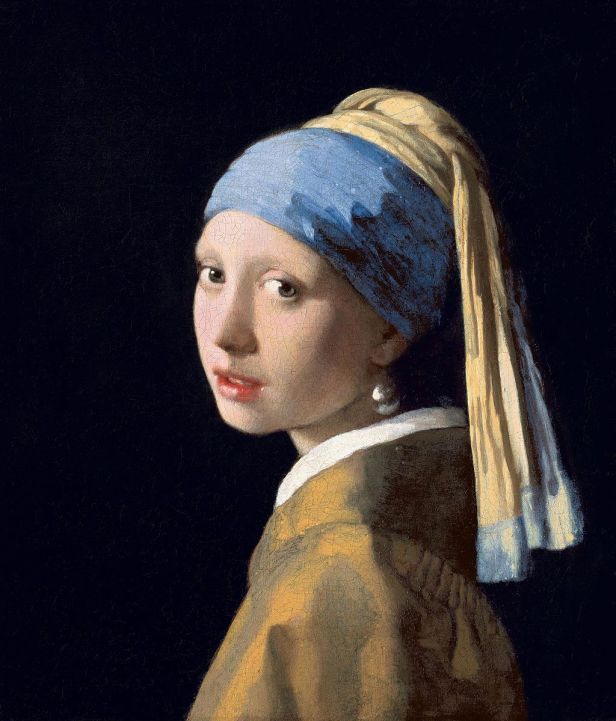 "Girl with Pearl Earring" by Johannes Vermeer shows a girl in an exotic dress, an eastern turban and an unlikely big pearl earring. The work bears the signature "IVMeer" and is one of the most famous Vermeer paintings. However, little is known about the background story of this image, and the girl's identity is also a mystery.
Johannes Vermeer specializes in domestic interior scenes of middle-class life. Vermeer worked slowly and with great care, often using expensive pigments. He is especially known for his excellent handling of light and this masterpiece is typical of his technique. This painting was originally titled "Girl with a Turban" and in the second half of the 20th century, the name changed to "Girl with a Pearl Earring".
There was considerable speculation about the girl's identity in this painting. Historically, this painting was believed to be Vermeer's eldest daughter Maria, who was about twelve or thirteen years old. However, there is no evidence for this claim. The mystery of the girl's identity inspired Tracy Chevalier in 1999 to write a historical novel titled "Girl with a Pearl Earring," fictionalizing the circumstances of the painting's emergence, identifying the girl as a fictional maid. The book also inspired a movie and a play by the same name.
Vermeer was recognized in Delft and The Hague during his lifetime, but his modest fame became dark after his death. Vermeer's reputation has improved since the 20th century, and he is now considered one of the greatest painters of the Dutch Golden Age.