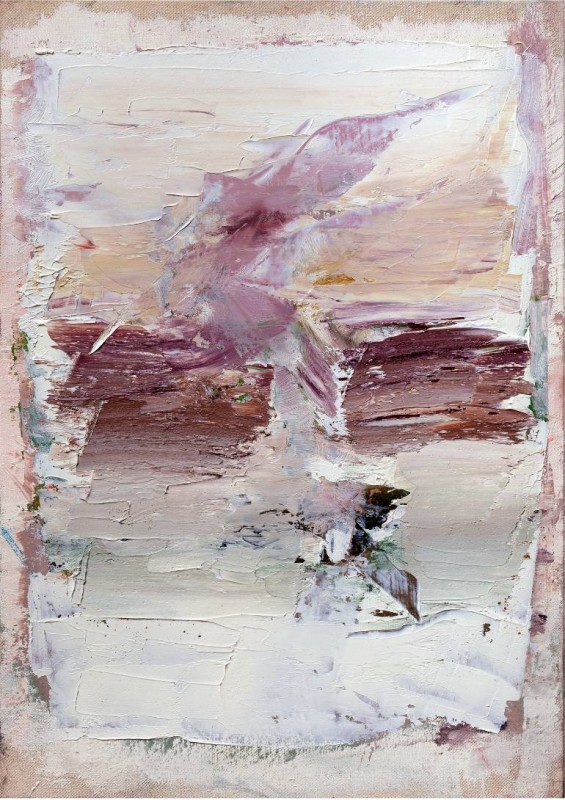 "Iron and Titanium" paintings are a part of the "Essential mix" - series, inspired by the elements. Iron is a substantial element on earth and objects in the universe. We associate iron with god of war - Mars, blood, wounds. But iron oxides are also known for their broad spectrum of wonderful colours.
"I usually start with a realistic painting. During the entire process I abstract, paint over the realistic painting. At the end we just see "remnants" from the motif before.
They have something from the fragmental, the lost. At the same time, these "remnants" are part of something bigger and as fragments become all the more important because they are practically the only carriers of the original information. It is a kind of abstraction and selection with which I can show the essence without getting lost in the surface decorations
My technique is quite wide-ranging - I experiment a lot to arrive at new solutions. In addition to brush and paint, in the last few years I've used a palette knife as my main painting tool.
The paintings painted in this technique visually differ a lot from my earlier works, which were consequently painted with a brush. There are also experiments with different painting materials, oils and pigments. I grind pigments myself and have therefore full control over the outcome.
Like any technique, it offers new opportunities and also has its limitations. My goal is to take the best from it and to constantly expand my knowledge."
The colors are mixed by the artist with the finest pigments.