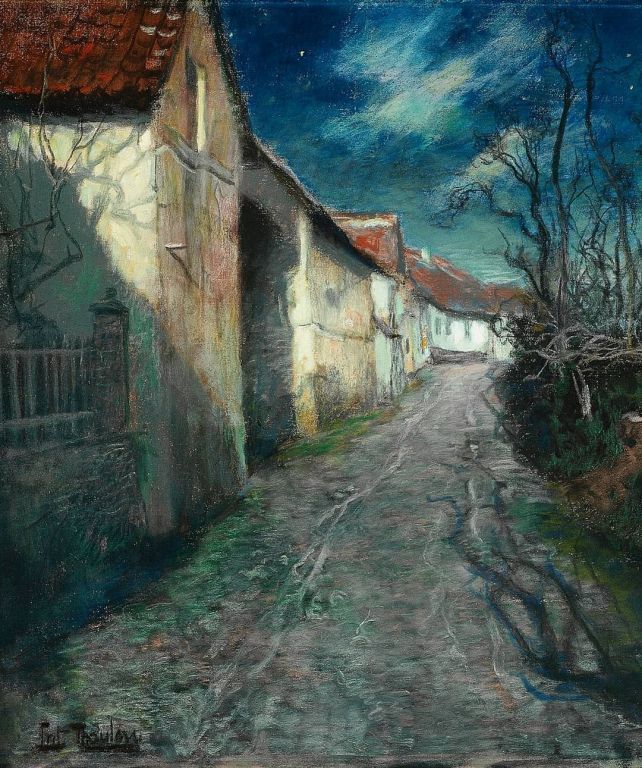 Frits Thaulow (1847-1906): Moonlight in Beaulieu, 1904, 17.3 x 20.9 in., Private Collection
Most of Thaulow's work follows the conventions of Realism, but he also explored Impressionism, and some of his work tends toward Symbolism.
One of the fascinating things about 'Moonlight in Beaulieu' is that Thaulow manages here to incorporate and balance these impulses. Overall the scene is Realist in its approach to the buildings and trees, however the paint handling and details draw on Impressionism. This is particularly evident in the rendering of the stone road and, upon close inspection, the foliage and sky. Meanwhile the intense white patch in the sky adds a Symbolist mystical quality; although likely just a cloud, it appears like a rip in the sky and suggests something beyond a simple nighttime scene. The sense of a deeper substance is heightened by the striking use of shadows, which cut the nearest building at a very noticeable angle and are cast on the cobblestones by the leafless trees. Here in this late painting, Thaulow holds all of these elements together to create a painting of great interest and fascinating beauty. .