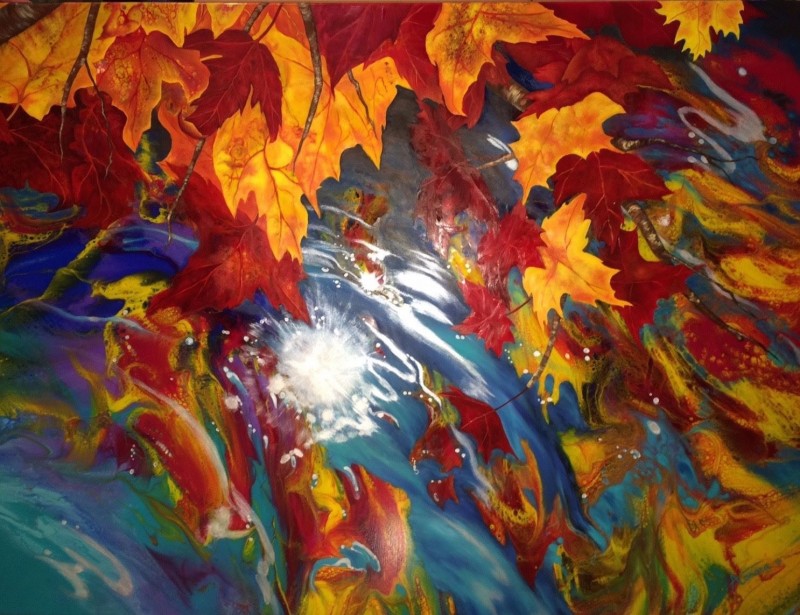 Aurora Kahelelani Aguirre is a professional artist specializing in an original process that she has discovered and developed over several years. She uses her own recipe of resins and mixed pigments then pours her mediums over wood panels. Once dry, she looks for shapes and images to create her story and enhances them with oils lovingly with her brushes. Bold ribbons of color and interesting patterns are blended with her realistic style of painting, resulting in a unique marriage and a one of a kind piece. She calls them "Dimensional Mixed Mediums" due to the visual depth to her work when seeing them in person.
Born on Oahu, her ancestry is a mix of Chinese, Hawaiian, Irish, French, and German. Her broad spectrum of work is influenced by her attachment to the islands, a love for animals, and a sensitivity toward life's colorful journey. Her paintings show diversity which reflects her personality and the many passions that fuel her work.
Aurora began drawing at a very young age. She was self taught until high school when her parents moved the family to Los Angeles California. Being culturally awkward in her new environment, bullies gravitated toward her at school. Before the school year had finished, her parents moved them to Orange County. She found solace in drawing, where she could be herself and be immersed in a quiet peaceful place.
After high school she studied art at Orange Coast College where her passion for art thrived and she discovered her love for painting with oils.
Aurora's art has been collected throughout the United States, Hawaii and Alaska. She now resides in Monterey with her husband Ben, dog Snoopy and bird Picasso. She feels that her ability to create art is a gift from God and should be shared with others. Her pastimes include playing the ukulele, taking dance classes and walking on the beach.