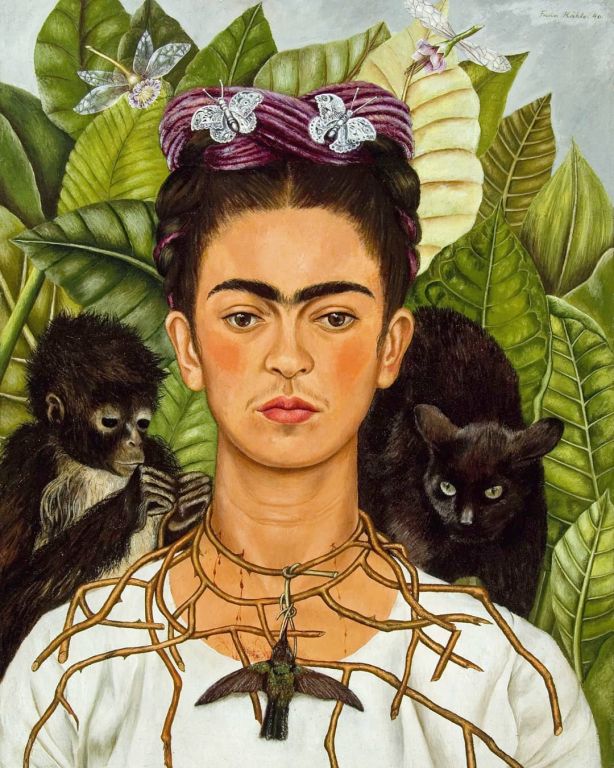 Frida Kahlo (1907 - 1954): Self-Portrait with Thorn Necklace and Hummingbird, 1940, Oil on canvas, 61.25 cm × 47 cm (24.11 in × 18.5 in), Nickolas Muray Collection, University of Texas
Frida Kahlo painted this self-portrait after her divorce from Diego Rivera and the end of her affair with photographer Nickolas Muray.
The painting depicts Kahlo wearing a white dress with a black monkey on her right shoulder and a cat on her left, wearing a necklace made of thorns which is held by the monkey. A dead hummingbird is hanging on the thorn which knots around her throat. The thorns dig into Kahlo's skin, making her bleed. She faces the viewer with background of large green leaves and a yellow leaf right behind her. Her expression is calm and solemn. It also seems she is patiently enduring the pain.
All these symbolic elements to express the artist's feelings. A bird is often symbolize freedom and life. Especially hummingbird which is colorful and always hovering above flowers, but in this painting it is lifeless. This might be a symbol of Frida herself. Frida spent most of her life in physical pain after the bus accident happened when she was eighteen. After that she endured about thirty-five operations to fix her body. She spent so many years bedridden and cannot bear any children.