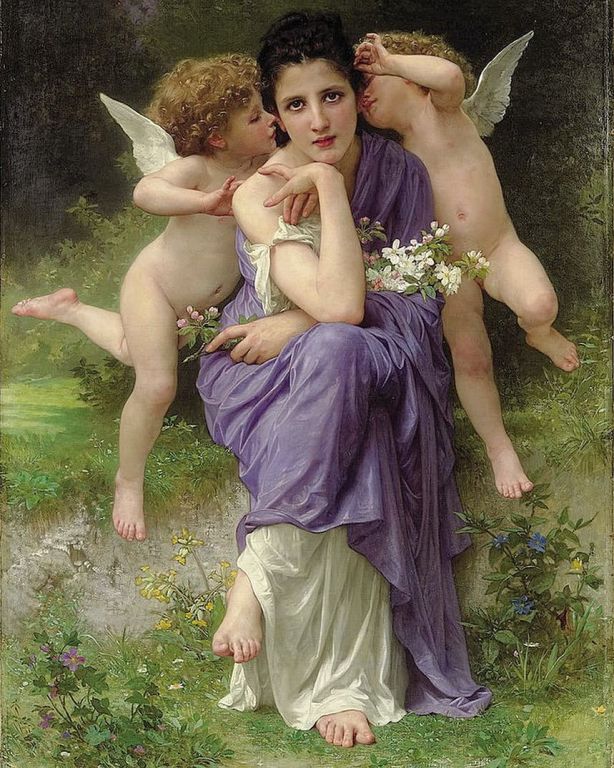 William Bouguereau (1825-1905): Chansons de printemps (Spring Songs), 1889, oil on canvas, 148,6 x 99,7 cm, Private collection

Bouguereau's 'Chansons de printemps' depicts a young girl seated at the base of a rocky slope in the heart of a woodland glade. Flowers bloom at her feet, an image of the renewal of spring. She is flanked by two putti who softly whisper impish suggestions in her ears and her heart wakes up, little by little, to love.
It is a monumental and important work from the artist working at the height of his powers. His reputation established, Bouguereau worked tirelessly to perfect his ability to present a world of the ideal on canvas.
In what he referred to as his 'fantasy paintings' Bouguereau sought to create a dreamlike world and in so doing, sing of feminine grace, an Ode to Beauty.
In these paintings, Bouguereau borrowed the ideals of form and contour from ancient Greek and Roman statuary as well as from the great masters of the Renaissance, particularly Raphael.
The artist found constant inspiration in antiquity, which he eagerly transferred onto canvas because it provided an inexhaustible source for exploring themes of ideal beauty. These compositions radiate a brilliant, jewel-like tonality and with rare skill, the artist renders the flesh of a woman which is both idealized and true to reality.
Bouguereau was clearly very pleased with this particular work, and chose it as his entry into the World Exposition in Paris in 1889. The painting represents the first appearance of Gabrielle Druzner in the artist's oeuvre. He had asked the beautiful actress to pose for him beginning in 1887 and after her debut in the present work she appeared in many of his paintings.