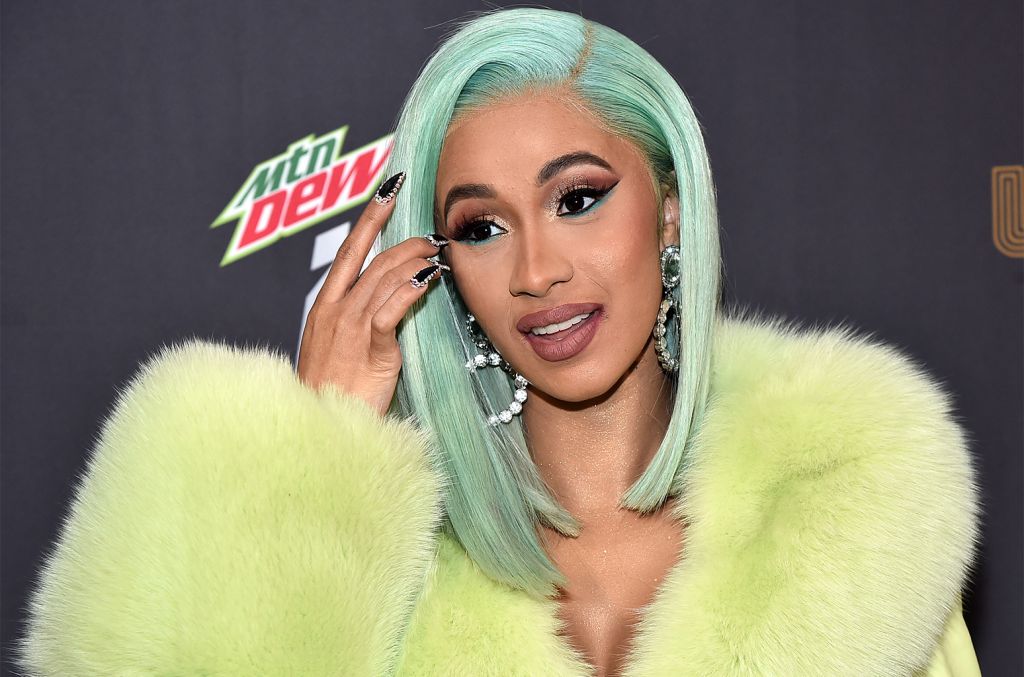 Cardi B is a Grammy-nominated American rapper, social media personality and former reality star whose commercial debut single "Bodak Yellow" surged to the top of the music charts in 2017.
Who Is Cardi B?
Born in 1992 and hailing from The Bronx, New York, Cardi B first got the world's attention through social media with her tough and frank attitude about life as a stripper. Starting in 2015 she appeared on VH1's reality show Love & Hip Hop: New York and left the show in 2017 to pursue music full time. That same year she released her No. 1 single "Bodak Yellow" through Atlantic Records, and she followed with her debut album in April 2018. She secretly got married to Migos group member Offset in September 2017.
Cardi B Songs & Albums
From 'Boom Boom' to 'Gangsta B*tch Music, Vols. 1 & 2'
In the fall of 2015, Cardi B introduced her musical prowess for the first time on Jamaican singer Shaggy's remixed single "Boom Boom." In March 2017 she released her first mixtape Gangsta B*tch Music, Vol. 1 and that September collaborated with other hip-hop artists to produce the KSR Group compilation Underestimated: The Album, which included her single "What a Girl Likes."
The year 2017 promised even bigger opportunities. The rapper not only released her second mixtape, Gangsta B*tch Music, Vol. 2, but she also snagged her first major record deal through Atlantic Records in February.
Staying busy on the touring circuit, Cardi B was recognized as a rising star, being nominated at the 2017 BET Awards under the Best New Artist and Best Female Hip-Hop Artist categories.
'Bodak Yellow' Goes No. 1
Released in August 2017, Cardi B's first commercial debut single "Bodak Yellow" became a viral hit, eventually earning the top spot on the Billboard Hot 100, the Hot R&B/Hip-Hop Songs chart and turning triple platinum. "Bodak Yellow" made rap history when it went No. 1, as the last female solo rapper to have accomplished such a feat was Lauryn Hill in 1998 with "Doo Wop (That Thing)."
Adding to her success that year, Cardi B also collaborated on G-Eazy's "No Limit," Migos' "MotorSport," Puerto Rican sensation Ozuna's"La Modelo" and in December, she released her second single "Bartier Cardi."
Along with her BET Award nominations, Cardi B received two Grammy nominations in 2017, for Best Rap Performance and Best Rap Song, and performed her collaboration with Bruno Mars, "Finesse," during the January 2018 show. A few months later, she garnered eight nominations for the 2018 Billboard Music Awards, before taking home the win for Top Rap Female Artist.
'Invasion of Privacy'
On April 6, 2018, Cardi B unveiled her long-awaited debut album, Invasion of Privacy. Along with tracks already familiar to fans, the album included collaborations with Migos and 21 Savage. Invasion of Privacy was already eligible for a Gold certification by the time of its release, thanks to the earlier success of "Bodak Yellow," but within a few days it had already established a new standard for activity on Apple Music, smashing the previous record held by Taylor Swift's Reputation for most streams by a female artist in an album's first week.
In July, Cardi B enjoyed another historic moment when Invasion of Privacy's "I Like It" hit No. 1 on the Billboard Hot 100, making her the first female rapper to twice reach the top spot.
Cardi B & Offset
After dating for eight months, Migos member Offset proposed to Cardi B at a concert in Philadelphia in October 2017. "She is real solid, came from where I came from, did what I did," he told Rolling Stone. "She's herself, man. I seen her develop from the trenches all the way up... I respect her grind as a woman. She came to the game with some gangsta sh*t."
The happy news about the couple's engagement quickly turned scandalous as rumors about Offset's infidelities ran rampant. Still, Cardi B publicly defended her fiancée, telling fans everyone handles relationships differently.
Following weeks of growing whispers that she was pregnant, Cardi B confirmed the rumor by showing off her baby bump during an April 2018 performance on Saturday Night Live. Happy to no longer have to conceal the news, she crowed, "I'm finally free!" after joining friends backstage. In May 2018, she confirmed that she was expecting a girl.
The rapper subsequently canceled a series of planned shows through the spring and summer, announcing that the late April Broccoli City Festival in Washington, D.C., would be her final performance until joining Mars's 24K Magic World Tour in September.
In June, after enjoying a baby shower in Atlanta, Cardi B addressed another rumor by confirming on Twitter that she and Offset had gotten secretly married in September 2017—one month before his public proposal at her concert. "We found someone to marry us, and she did, just the two of us and my cousin. I said I do, with no dress, no makeup and no ring!" she tweeted, adding, "Well now since you lil nosey f**ks know at least ya can stop saying I had a baby out of wedlock."
Cardi B became a mom with the birth of daughter Kulture Kiari Cephus on July 10, 2018, making the announcement to fans the following day on Instagram.
In late July, Cardi B revealed on Instagram that she was pulling out of the planned fall tour with Bruno Mars, admitting that she had "underestimated the whole mommy thing." Mars offered his unconditional support in a reply post, confirming she was "absolutely doing the right thing" and offering to play "Bodak Yellow" in her honor while touring.
In December 2018, Cardi and Offset announced their split. "So everybody been bugging me and everything and you know I've been trying to work things out with my baby father for a hot minute now," she said a video posted to Instagram. "And we are really good friends and we are really good business partners — you know, he's always somebody that I run to, to talk to, and we got a lot of love for each other but things just haven't been working out between us for a long time."
How Did Cardi B Get Her Name?
Cardi B revealed her name comes from the alcoholic beverage Barcardi. "My sister's name, her name is Hennessy, so everybody used to be like Bacardi to me... then I shortened it to Cardi B, and the 'B' stands for whatever... depending on the day," she said.
Early Life & Parents
Born on October 11, 1992 as Belcalis Almanzar, Cardi B was born and raised in The Bronx, New York and also spent a lot time with her grandmother in neighboring Washington Heights. She is of mixed Caribbean heritage, her mother being Trinidadian and her father being of Dominican descent.
In her teenage years she was a part of the Bloods gang and attended Renaissance High School For Musical Theater & Technology. To escape poverty and an abusive relationship, she decided to become a stripper and has publicly discussed how proud she was of her decision.
"It really saved me from a lot of things. When I started stripping I went back to school," she said.
Although she later dropped out of school, Cardi B was able to find her own way of rising to the top: first through social media (via Vine and Instagram), then as a reality star (VH1's Love & Hip Hop: New York) and ultimately, as a force in the music industry.
Arrest
On October 1, 2018, Cardi B surrendered to the New York City police for her connection to an August 2018 strip club fight in Queens, New York. The rapper was arrested and charged with two misdemeanors, assault and reckless endangerment. She is scheduled to be arraigned on October 29.
Quick Facts
Name
Cardi B
Occupation
Rapper, Reality Television Star, Social Media Personality
Birth Date
October 11, 1992 (age 26)
Place of Birth
The Bronx, New York, New York
Zodiac Sign
Libra