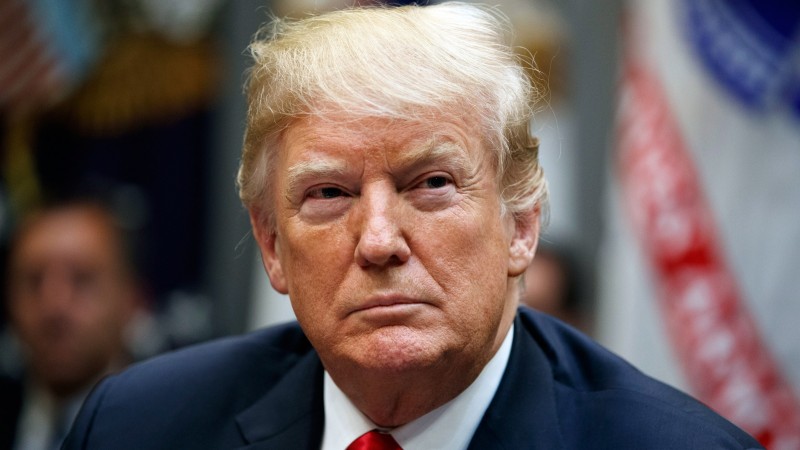 Billionaire real estate mogul and former reality television personality Donald Trump is the 45th president of the United States.
Who Is Donald Trump?
Donald John Trump is the 45th and current President of the United States who took office January 20, 2017. Previously, he was a real estate mogul, and a former reality TV star. Born in Queens, New York, in 1971 Trump became involved in large, profitable building projects in Manhattan. In 1980, he opened the Grand Hyatt New York, which made him the city's best-known developer. In 2004, Trump began starring in the hit NBC reality series The Apprentice, which also spawned the offshoot The Celebrity Apprentice. Trump turned his attention to politics, and in 2015 he announced his candidacy for president of the United States on the Republican ticket. After winning a majority of the primaries and caucuses, Trump became the official Republican candidate for president on July 19, 2016. That November, Trump was elected the 45th President of the United States, after defeating Democratic candidate Hillary Clinton.
Donald Trump's Birthday
Donald Trump was born on June 14, 1946, in Queens, New York.
Net Worth
According to a September 2017 Forbes estimate, Donald Trump's net worth is $3.1 billion. Of that, $1.6 billion is in New York real estate; $570 million is in golf clubs and resorts; $500 million is in non-New York real estate; $290 million is in cash and personal assets; and $200 million is in brand businesses. That's down from $3.7 billion in 2016, according to Fortune, mostly due to declining New York real estate values.
Over the years, Trump's net worth has been a subject of public debate. In 1990, Trump asserted his own net worth in the neighborhood of $1.5 billion. However the real estate market was in decline, reducing the value of and income from Trump's empire; a Forbes magazine investigation into his assets revealed that his existing debt likely brought the number closer to $500 million. In any event, the Trump Organization required a massive infusion of loans to keep it from collapsing, a situation which raised questions as to whether the corporation could survive bankruptcy. Some observers saw Trump's decline as symbolic of many of the business, economic and social excesses that had arisen in the 1980s.
Donald Trump eventually managed to climb back from a reported deficit of nearly $900 million, claiming to have reached a zenith of more than $2 billion. However, independent sources again questioned his math, estimating his worth at something closer to $500 million by 1997.
Over the course of his 2016 presidential run, Trump's net worth was questioned and he courted controversy after repeatedly refusing to release his tax returns while they were being audited by the Internal Revenue Service. He did not release his tax returns before the November election — the first time a major party candidate had not released such information to the public since Richard Nixon in 1972.
Religion
Donald Trump was raised Presbyterian by his mother, and he identifies as a mainline Protestant.
Family
Parents
The fourth of five children, Donald Trump's parents were Frederick C. and Mary Anne MacLeod Trump. Frederick Trump was a builder and real estate developer who specialized in constructing and operating middle-income apartments in Queens, Staten Island and Brooklyn. Mary MacLeod immigrated from Tong, Scotland, in 1929 at the age of 17. She married Fred Trump in 1936, and the couple settled in Jamaica, Queens, a neighborhood that was, at the time, filled with Western European immigrants. In the 1950s the Trumps' wealth increased with the postwar real estate boom, and Mary became a New York socialite and philanthropist. Fred died in 1999, and Mary passed away the following year.
Wives and Kids
Donald J. Trump has had three wives and is currently married to Slovenian model Melania Knauss (now Trump), over 23 years his junior. In January 2005, the couple married in a highly-publicized and lavish wedding. Among the many celebrity guests at the wedding were Hillary Clinton and former President Bill Clinton. Melania gave birth to their son, Barron William Trump, in March 2006.
In 1977, Trump married his first wife Ivana Zelnickova Winklmayr, a New York fashion model who had been an alternate on the 1972 Czech Olympic Ski Team. After the 1977 birth of the couple's first of three children, Donald John Trump Jr., Ivana Trump was named vice president in charge of design in the Trump Organization and played a major role in supervising the renovation of the Commodore and the Plaza Hotel. The couple had two more children together — Ivanka Trump (born in 1981) and Eric Trump (born in 1984) — and went through a highly publicized divorce which was finalized in 1992.
In 1993 Trump married his second wife, Marla Maples, an actress with whom he had been involved for some time and already had a daughter, Tiffany Trump (born in 1993). Trump would ultimately file for a highly publicized divorce from Maples in 1997, which became final in June 1999. A prenuptial agreement allotted $2 million to Maples.
Trump's sons — Donald Jr. and Eric— work as executive vice presidents for The Trump Organization, and took over the family business while their father serves as president. Trump's daughter Ivanka was also an executive vice president of The Trump Organization, but left the business and her own fashion label to join her father's administration and become an unpaid assistant to the president. Her husband, Jared Kushner, is also a senior adviser to President Trump.
Childhood & Education
Donald was an energetic, assertive child. His parents sent him to the New York Military Academy at age 13, hoping the discipline of the school would channel his energy in a positive manner. Trump did well at the academy, both socially and academically, rising to become a star athlete and student leader by the time he graduated in 1964.
He then entered Fordham University and two years later transferred to the Wharton School of Finance at the University of Pennsylvania, from which he graduated in 1968 with a degree in economics. During his years at college, Trump worked at his father's real estate business during the summer. He also secured education deferments for the Vietnam War draft and ultimately a 1-Y medical deferment after he graduated.
Trump vs. Clinton: The 2016 Presidential Campaign
Trump began his political career by seeking the nomination for the Reform Party for the 2000 presidential race and withdrew; he again publicly announced he would be running for president in the 2012 election. However it wasn't until the 2016 election that Trump became the official Republican nominee for president and, defying polls and media projections, won the majority of electoral college votes in a stunning victory on November 8, 2016. Despite losing the popular vote to Hillary Clinton by almost 2.9 million votes, Trump's electoral win —306 votes to Clinton's 232 votes — clinched his election as the 45th president of the United States.
After one of the most contentious presidential races in U.S. history, Trump's rise to the office of president was considered a resounding rejection of establishment politics by blue-collar and working class Americans. In his victory speech, Trump said: "I pledge to every citizen of our land that I will be president for all Americans." About his supporters, he said: "As I've said from the beginning, ours was not a campaign, but rather an incredible and great movement made up of millions of hard-working men and women who love their country and want a better, brighter future for themselves and for their families."

GOP Presidential Nomination
On July 21, 2016, Trump accepted the presidential nomination at the Republican National Convention in Cleveland. In a speech lasting one hour and 15 minutes, one of the longest in recent history, Trump outlined the issues he would tackle as president, including violence in America, the economy, immigration, trade, terrorism, and the appointment of Supreme Court Justices.
On immigration, he said: "We are going to build a great border wall to stop illegal immigration, to stop the gangs and the violence, and to stop the drugs from pouring into our communities." He also promised supporters that he would renegotiate trade deals, reduce taxes and government regulations, repeal the Affordable Care Act, otherwise known as Obamacare, defend Second Amendment gun rights, and "rebuild our depleted military," asking the countries the U.S. is protecting "to pay their fair share."
'Access Hollywood' Controversy
On October 7, 2016, just two days before the second presidential debate between Trump and Clinton, the Republican presidential nominee was embroiled in another scandal when The Washington Post released a 2005 recording in which he lewdly described kissing and groping women, and trying to have sex with then-married television personality Nancy O'Dell. The three-minute recording captured Trump speaking to Billy Bush, co-anchor of Access Hollywood, as they prepared to meet soap opera actress Arianne Zucker for a segment of the show. "I've gotta use some Tic Tacs, just in case I start kissing her," Trump said in the recording which was caught on a microphone that had not been turned off. "You know I'm automatically attracted to beautiful — I just start kissing them. It's like a magnet. Just kiss. I don't even wait. And when you're a star they let you do it. You can do anything."
He also said that because of his celebrity status he could grab women by their genitals. In response, Trump released a statement saying: "This was locker room banter, a private conversation that took place many years ago. Bill Clinton has said far worse to me on the golf course — not even close. I apologize if anyone was offended."
Trump later posted a videotaped apology on Facebook in which he said: "I've never said I'm a perfect person, nor pretended to be someone that I'm not. I've said and done things I regret, and the words released today on this more than a decade-old video are one of them. Anyone who knows me knows these words don't reflect who I am. I said it, I was wrong, and I apologize."
The backlash was immediate with some top Republicans, including Senators John McCain, Kelly Ayotte, Mike Crapo, Shelley Moore Capito and Martha Roby, withdrawing their support for Trump. House Speaker Paul Ryan reportedly told fellow GOP lawmakers that he would not campaign with or defend the presidential candidate. Some GOP critics also called for Trump to withdraw from the race, including former Secretary of State Condoleezza Rice. Trump remained defiant, tweeting that he would stay in the race.
Around the same time as the video leak, numerous women began speaking publicly about their past experiences with Trump, alleging he had either sexually assaulted or harassed them based on their looks.
Russian Hacking
Throughout the election, Trump vehemently denied allegations he had a relationship with Russian President Vladimir Putin and was tied to the hacking of the DNC emails. In January 2017, a U.S. intelligence report prepared by the CIA, FBI and NSA concluded that Putin had ordered a campaign to influence the U.S. election. "Russia's goals were to undermine public faith in the U.S. democratic process, denigrate Secretary Clinton, and harm her electability and potential presidency. We further assess Putin and the Russian Government developed a clear preference for President-elect Trump," the report said.
Prior to the release of the report, President-elect Trump had cast doubt on Russian interference and the intelligence community's assessment. Trump received an intelligence briefing on the matter, and in his first press conference as president-elect on January 11, he acknowledged Russia's interference. However, in subsequent comments he again refused to condemn Russia for such activity, notably saying on multiple occasions that he believed Putin's denials.
In March 2018, the Trump administration formally acknowledged the charges by issuing sanctions on 19 Russians for interference in the 2016 presidential election and alleged cyberattacks. Treasury Secretary Steven Mnuchin delivered the announcement, with the president remaining silent on the matter.
In July, days before President Trump was to meet with Putin in Finland, Deputy Attorney General Rod Rosenstein announced additional charges against 12 Russian intelligence officers accused of hacking the DNC and the Clinton campaign.
Inauguration
On January 20, 2017, Trump was sworn in as the 45th president of the United States by Chief Justice of the United States John Roberts. Trump took the oath of office placing his hand on the Bible that was used at Abraham Lincoln's inauguration and his own family Bible, which was presented to him by his mother in 1955 when he graduated from Sunday school at his family's Presbyterian church.
In his inaugural speech on January 20th, Trump sent a populist message that he would put the American people above politics. "What truly matters is not which party controls our government, but whether our government is controlled by the people," he said. "January 20, 2017, will be remembered as the day the people became the rulers of this nation again."
He went on to paint a bleak picture of an America that had failed many of its citizens, describing families trapped in poverty, an ineffective education system, and crime, drugs and gangs. "This American carnage stops right here and stops right now," he said.
Quick Facts
Name
Donald Trump
Occupation
Reality Television Star, U.S. President, Business Leader
Birth Date
June 14, 1946 (age 72)
Education
Fordham University, Wharton School of Finance, New York Military Academy
Place of Birth
Queens, New York
Zodiac Sign
Gemini