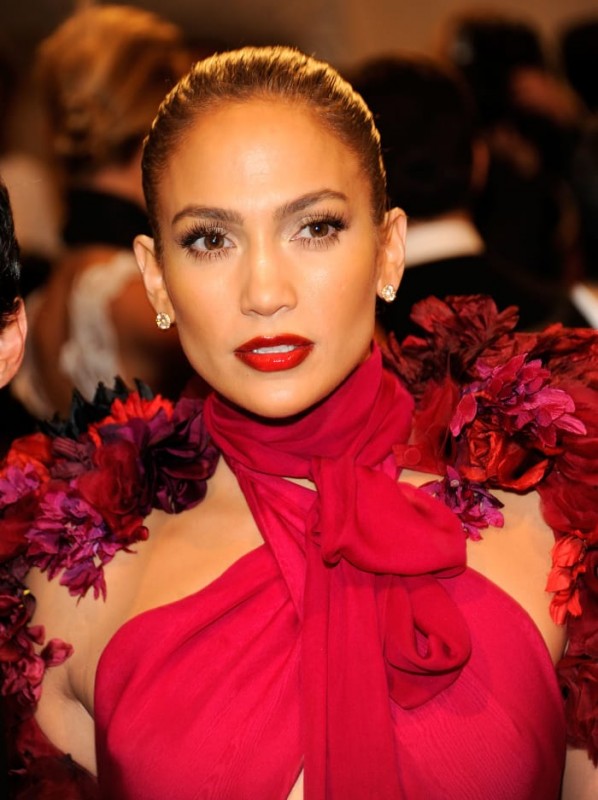 Actress and singer Jennifer Lopez is one of Hollywood's leading ladies who's also forged a successful pop and dance music career.
Who Is Jennifer Lopez?
Born on July 24, 1969, in the Bronx, New York, Jennifer Lopez danced on the TV show In Living Color before her starring role in the film Selena. She turned to music and found major success on the pop and dance charts with hits like "Get Right" and "Play," while continuing to garner Hollywood film work. She married salsa icon Marc Anthony in 2004 and had twins; the couple split a few years later. Her recent TV projects include American Idol, Shades of Blue and World of Dance.
Early Movies
Lopez's first feature film was the critically acclaimed Mi Familia, or My Family, in 1995. She also appeared in Money Train (1995), opposite Wesley Snipes and Woody Harrelson, and in Jack (1996), directed by Francis Ford Coppola and starring Robin Williams.
Lopez's first big break came in 1997, when she was chosen to play the title role in Selena, a biopic of the Tejano pop singer Selena Quintillana-Perez, who was killed by a fan in 1995. Lopez earned widespread praise for her performance, including a Golden Globe nomination. That same year, Lopez starred in the forgettable Anaconda and in Blood and Wine, opposite Jack Nicholson. Her role as federal marshal Karen Sisco in Steven Soderbergh's Out of Sight, a film based on the Elmore Leonard novel and co-starring George Clooney, further enhanced her image as a bankable movie star.
Songs & Later Movies
Lopez's musical career also began to take off, as she released her debut Latin pop album, On the 6, in June 1999. The album, fueled by the success of her hit single, "If You Had My Love," went platinum within two weeks, making Lopez—along with Ricky Martin—one of the most influential examples of the growing Latin cultural influence in pop music.
Early in 2000, Lopez was nominated for Best Dance Performance for her second hit single "Waiting for Tonight," but lost the award to veteran diva Cher. In the summer of 2000, she starred in the science fiction-thriller The Cell, in which she plays a child psychologist helping to track a terrifying serial killer. The same year, she starred in Enough, a portrayal of spousal abuse.
The popularity of the multi-talented Lopez reached new heights in early 2001, when her album J. Lo debuted at No. 1 on the pop charts, while her film, the romantic comedy The Wedding Planner, shot to the top spot at the box office in its first week of release. In December 2002, she delivered another one-two punch with the release of the record This Is Me ... Then and a starring role in the comedy Maid in Manhattan, which was a box office hit, if not a critical one.
In 2003, Lopez co-starred with Ben Affleck in the box office bomb, Gigli. Other projects included Jersey Girl (also with Affleck) and An Unfinished Life, in which she stars as a single mom taken in by her father-in-law, played by Robert Redford. She also starred opposite Richard Gere in Shall We Dance?, a remake of the top-grossing Japanese flick.
Personal Life in the Headlines
Sean "Puffy" Combs
Lopez was briefly married, in 1997, to Ojani Noa, a model and actor. She then had a lengthy and widely publicized relationship with rapper Sean "Puffy" Combs. In December 1999, Combs and Lopez were allegedly involved in a shooting incident outside a New York City nightclub, in which three people were injured. Combs was later charged with gun possession and bribery, as prosecutors claimed he offered his driver, Wardel Fenderson, $50,000 to say that the loaded gun police found at the scene of the crime was Fenderson's. Combs was acquitted of all charges, and soon confirmed that he and Lopez had separated.
Cris Judd
Shortly after that breakup was made public, Lopez began dating Cris Judd, a dancer who appeared in the video for her hit single "Love Don't Cost a Thing." After much media speculation, the couple announced their engagement in August 2001 and were married in late September. Nine months later, the couple separated.
Ben Affleck
In the fall of 2002, the star began dating actor Ben Affleck; they announced their engagement in November. Following rumors of the relationship's demise, the couple broke up in early 2004.
Marc Anthony
Lopez subsequently married singer Marc Anthony in June 2004 at a private ceremony at her Los Angeles mansion.
Returning to the big stage, Lopez found time to join forces with her husband in the 2006 biopic El Cantante. In the film, Anthony plays Hector Lavoe, the internationally acclaimed salsa singer, with Lopez alongside him as Puchi, Lavoe's wife.
In 2007, Lopez released her first Spanish language album, Como Ama una Mujer, which did well on the Latin and pop charts. She found musical success again later that same year with Brave. While the title track received some attention, Lopez's personal life generated more media interest: Once known for her revealing fashions, Lopez started wearing loose-fitting tops, creating speculation about whether she was pregnant. Many photos of her seemed to show a "baby bump," but the official announcement didn't come until November 7, 2007.
Casper Smart to A-Rod
Lopez began dating Casper Smart, one of her backup dancers, in 2011. They ended their relationship in 2016. In 2017, People magazine reported that she began dating former baseball star Alex Rodriguez. The two later opened up about their blossoming romance in the December 2017 issue of Vanity Fair. "I understand him in a way that I don't think anyone else could, and he understands me in a way that no one else could ever," said Lopez.
She continued singing A-Rod's praises in a March 2018 interview with Harper's Bazaar, noting their "similar makeup," though she wouldn't commit to tying the knot with the slugger-turned-broadcaster just yet. "I do believe in marriage," she said. "And I would love to grow old with somebody in a committed relationship. But I'm not forcing anything right now."
J-Lo also shared her experiences with the casting-couch behavior that sparked the #MeToo movement, recalling a moment when she was told by a director to "take off my shirt and show my boobs." Despite her fears that she would jeopardize her career, she said, "ultimately the Bronx in me was like, 'Nah, we're not having it.' "
Kids
Lopez gave birth to twins February 22, 2008. The baby boy and girl named Maximilian and Emme, were the first children for Lopez, and the fourth and fifth for Anthony.
In July 2011, Lopez and Marc Anthony announced their plans to separate. In an interview with Vanity Fair, Lopez didn't reveal the cause of the breakup, but said, "I loved myself enough to walk away." With a new hit song out, the superstar refused to be deterred. "I am positive, determined to move forward with my life, bring up my babies, and do the best job I can as a mother, entertainer and person."
Recent Projects
'American Idol'
In 2010, despite being busy with her family and both music and acting projects, Lopez decided to enter into a new phase in her career: She announced her plans to replace Ellen DeGeneres as the new female judge on the 10th season of American Idol, which had also just welcomed Aerosmith's Steven Tyler as part of its celebrity judge panel.
Lopez returned to the hit reality TV show for its 11th season, earning a reported $20 million, almost double what she had made when she first signed on.
In 2012, Lopez announced that she would be leaving American Idol. "I honestly feel like the time has come that I have to get back to doing the other things that I do, that I put ... on hold because I love Idol so much," Lopez told Ryan Seacrest on his morning radio show. Her departure from the show proved short-lived, however, as Lopez returned to American Idol for its 13th season, in 2014.
Lopez also continued to work on her own music, releasing the album A.K.A. in June of 2014. Around this time, Lopez also collaborated with Pitbull and Claudia Leitte on the song "We Are One" for the World Cup, and went on to work on the 2015 thriller The Boy Next Door, with Ryan Guzman.
'Shades of Blue'
On the small screen, Lopez joined Ray Liotta on the NBC police drama Shades of Blue, playing a corrupt cop who turns against her fellow officers to save her own neck and protect her daughter. The show debuted in 2016 to mixed reviews, but later found its footing. That same year, Lopez served as a judge for the final season of American Idol, and delivered the first performance of her All I Have residency at the Planet Hollywood Resort & Casino in Las Vegas.
'World of Dance'
Lopez also was active behind the scenes, playing the role of executive producer. In July 2016, NBC announced that it would be partnering up with her for a dance competition called World of Dance, which offered a $1 million prize for the taking. The show debuted in May 2017, later getting renewed for a second season.
The year 2018 promised to be a big one for the multi-talented entertainer: Along with dropping a new single, "Us," in February, she was set to return to the big screen for a comedy, Second Act, to be released in November.
Early Life and Career
Born July 24, 1969, in the Bronx, New York, Lopez began her career as a dancer, appearing in stage musicals and various music videos. In 1990, she won a national competition and earned a spot dancing on the popular Fox comedy television series In Living Color as one of the "Fly Girls." A series of small acting jobs followed, including parts in two more series and a TV movie, Nurses on the Line: The Crash of Flight 7, in 1993.
Quick Facts
Name
Jennifer Lopez
Occupation
Reality Television Star, Dancer, Singer, Actress
Birth Date
July 24, 1969 (age 49)
Education
Preston High School in the Bronx, Baruch College
Place of Birth
The Bronx, New York
Zodiac Sign
Leo