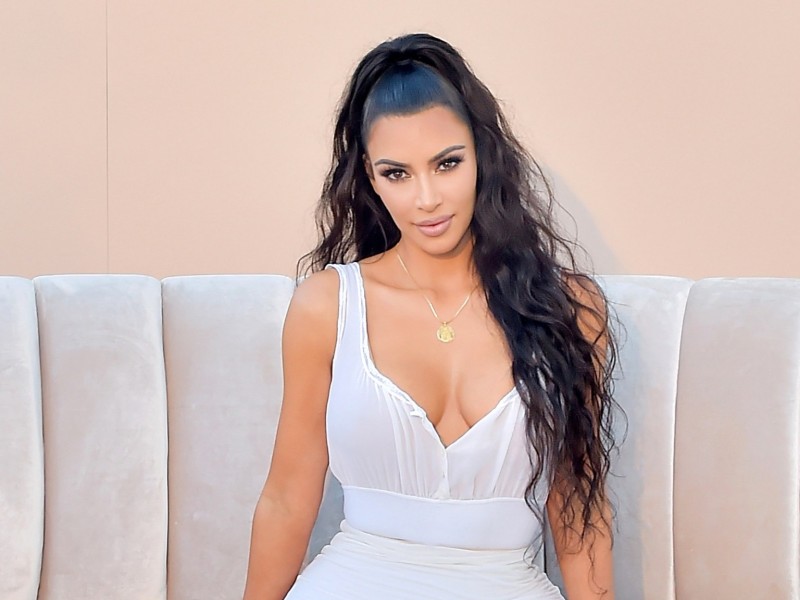 Kim Kardashian West is a model, actress, entrepreneur, socialite and star of the reality show 'Keeping Up with the Kardashians.' She is married to rapper Kanye West.
Who Is Kim Kardashian West?
Kim Kardashian West was born on October 21, 1980, in Beverly Hills, California. She was catapulted into fame when a scandalous video showcasing her sexual exploits with former boyfriend, rapper Ray J., was leaked online. Since then she has been able to capitalize on her fame with her curvaceous style, a hit reality TV show, and a string of workout DVDs. In 2006, she opened the boutique D-A-S-H with her sisters, Kourtney and Khloé. In 2014 she famously married rapper Kanye West.
Growing Up in Beverly Hills
Born on October 21, 1980, in Beverly Hills, California, Kim Noel Kardashian West is a model, reality television star, entrepreneur and socialite. She is the second of four children born to the late Robert Kardashian and his first wife, Kris. She was catapulted into fame when a scandalous video showcasing her sexual exploits with former boyfriend, rapper Ray J., was leaked online. Since then she has been able to capitalize on her fame with her curvaceous style, a hit reality TV show, and a string of workout DVDs. In 2006, she opened the boutique D-A-S-H with her sisters, Kourtney and Khloé.
Kardashian, it seems, is almost wired for fame. A preschool classmate of Paris Hilton, she grew up under the glare and privilege of Beverly Hills, getting an up-close view of Hollywood's pleasures and pitfalls. Her father, the founder of Movie Tunes, Inc., a music and marketing company, was a prominent attorney. A close friend for many years of O.J. Simpson, Robert was one of the football star's defense lawyers during his murder trial. In fact, it was the attorney's home that Simpson left during the famous Ford Bronco police chase shortly before his arrest. Robert Kardashian died from cancer of the esophagus in October 2003.
Kardashian's mother, Kris, a socialite and former children's boutique shop owner, now manages her daughter's career, and is also involved in business management deals with the rest of her other famous children. She and Robert divorced in 1989.
According to Kardashian, her childhood was hardly the stuff of stardom. Sunday church was regular part of family life. So was the expectation among the Kardashian children that, once they each reached the age of 18, living off the family dime was no longer an option. While attending an exclusive Catholic girls' high school, Kim Kardashian worked for her father's company. When he died, the corporation was left to her and her siblings. They've since sold it. "We grew up with privilege so we knew our standards were high ... [and] if we wanted to keep it, we had to work hard," she once said.
For Kim Kardashian, that has translated into a number of different things, from wardrobe stylist to actress. She's even stepped into the business world herself, forming Kimsaprincess Productions, LLC., which has seen the release of three successful workout videos starring—you guessed it—Kim Kardashian.
In 2006, Kardashian went back into business with her family when she and her two sisters opened the boutique shop D-A-S-H (derived from the family's last name) in Calabasas, California. A showcase of the owners' own personal styles, the store featured some of the sisters' favorite American designers. The boutique later expanded its business with shop openings in Miami, New York City, and a pop up in Southampton in 2014. However, the NYC locale closed in December 2016, and in April 2018 the sisters announced they were shuttering the business altogether.
Infamous Sex Video
Despite her business endeavors, it was her infamous sex video she made with R&B singer Ray J. that catapulted her to superstardom. In early 2007, a video of Kardashian and the rapper in bed made it into the hands of Vivid Entertainment, a large adult film company. Vivid, which paid $1 million for rights to the 30-minute tape, widely promoted the release of the video, which it called Kim Kardashian Superstar. Kardashian quickly countered with legal action, suing for invasion of privacy. But in May 2007, three months after the video's debut, she agreed to a $5 million settlement.
"It definitely puts you in a category that I would wish upon no one," Kim Kardashian later said on The Tyra Banks Show. "Your reputation is all that you have, and if people prejudge you over something that you did, than that kind of sticks with you a long time."
Reality TV Star: 'Keeping Up with the Kardashians'
Around the time of the video's release, Kardashian started making her way onto the television screen for something completely different, when the E! Network debuted a new reality TV series called Keeping up with the Kardashians.
Produced by American Idol host Ryan Seacrest, the show follows the lives of Kim; her sisters, Kourtney and Khloé; brother Robert Jr.; mother Kris Jenner; stepfather Bruce Jenner (now referred to as Caitlyn); and the two young daughters of Kris and Bruce, Kendall and Kylie. In one memorable episode from the first season, Kim discusses with her family an offer from Playboy to appear nude in the magazine. Kardashian eventually agreed to do it and bared it all for the publication in the December 2007 issue.
Her decision to appear in the magazine represents just how far Kardashian has come in terms of confidence about her own body. A big part of her brand is her curves, something she wasn't always so enamored with, she admits. "I used to say my prayers before bed, and pray I would stop developing," she told Playboy. That's apparently changed. "You always see the typical skinny models and I'm not that and I'm proud not to be that," she stated following the shoot.
Since then, Kim Kardashian's celebrity status has only grown. The woman who became the most Googled celebrity in 2008, ending Britney Spears's four-year-run, signed on to become the face of Bongo Jeans in 2008. In March 2009, Kardashian helped launch a shoe shopping service, ShoeDazzle, that taps into the expertise of Hollywood's most revered stylists. In addition she's launched her own perfume line, a Sears fashion collection with Kourtney and Khloe, Kardashian-branded tanning products, and more. With millions of followers on social media, she receives between $10,000 to $20,000 per post when promoting products for various brands.

Relationships
As a reality television star, Kardashian's love life has been the subject of intense media interest. She was only 20 years old when she wed music producer Damon Thomas in 2000. The marriage ended after four years. Following her divorce, Kardashian had a string of high profile boyfriends, including singer Nick Lachey and New Orleans Saints running back Reggie Bush.
In 2010, Kardashian had a whirlwind courtship with pro basketball player Kris Humphries. The pair married in a lavish, televised ceremony the following August in front of more than 400 guests. But wedded bliss would be short-lived for Kardashian and Humphries. Kardashian filed for divorce after only 72 days of marriage. Humphries sought an annulment instead and claimed that the marriage was a fraud. In April 2013, it was announced that Kardashian and Humphries had settled their divorce, avoiding a long-awaited trial that had been scheduled to take place in May 2013.
Marriage to Kanye West
While her divorce proceedings were dragging on, however, in early 2012, Kardashian became involved with famed rapper Kanye West. In December 2012, the couple revealed that they were expecting their first child together. Kardashian posted on her blog, "It's true!! Kanye and I are expecting a baby. We feel so blessed and lucky." She and West welcomed a daughter on June 15, 2013, in Los Angeles, California. A few days after the child's birth, it was revealed that the couple had decided to name their daughter North and call her "Nori."
On October 21, 2013, Kardashian and West got engaged on her 33rd birthday. West proposed to her at the AT&T baseball stadium in San Francisco, which he rented out for the occasion. The couple tied the knot the following May. They held their rehearsal dinner at a famed French landmark Versailles. The ceremony itself was held on May 24, 2014, in Forte di Belvedere, a historic fortress, in Florence, Italy. Her stepfather, Bruce Jenner, walked her down the aisle as famed vocalist Andrea Bocelli sang "Con te Partiro." In addition to her family, Kardashian and West were joined by such celebrities as director Steven McQueen and actor Jaden Smith on their special day.
In the 10th season of her reality series, Kardashian documented her desire to get pregnant again and her struggles with fertility issues. In May 2015, she revealed in a teaser for her show that she was pregnant with her and West's second child. The couple welcomed their son, Saint West, on December 5, 2015.
Troubled Times
The following year Kardashian experienced various personal setbacks that would cause her to step out of the spotlight. While in France attending Paris Fashion Week, the reality star was the victim of an armed robbery. On October 3, 2016 at 2:19 a.m., a group of robbers broke into the Hotel de Pourtales, a luxury apartment building where Kardashian was staying, and forced the night receptionist to open the door to her penthouse, according to an article in Vanity Fair. Kardashian's wrists and ankles were bound and her mouth was taped shut while the thieves stole a 20-carat diamond ring and a jewelry box worth an estimated $5.6 million.
Kardashian was not physically harmed, but was reportedly traumatized by the crime, which was being investigated by Paris' crime unit La Brigade de Répression du Banditisme. Following the crime, the very public star stopped posting on social media and avoided public appearances, opting to take time off to recover.
A month later, Kardashian's husband Kanye West cancelled his concert tour and was hospitalized on November 21, 2016 and treated for exhaustion at the UCLA Medical Center in Los Angeles. Kardashian was expected to make her first public appearance since the Paris robbery at an event in New York City, however, she cancelled to be with West at the hospital. He was released from the hospital on November 30, just days before their son's first birthday.
New Home and Growing Family
In 2017, it was announced that the power couple had sold their Bel-Air mansion for a whopping $17.8 million, nearly $8 million more than the price they had paid in 2013. The sale came after years of renovations on a new estate in Hidden Hills, California.
Around that same time, Kardashian celebrated the pending arrival of child No. 3 with her hubby by throwing a lavish cherry-blossom themed baby shower. She also revealed to the public that the newcomer was a girl, as well as the emotional difficulties of having to turn to a surrogate due to health issues. "You know, it is really different," she told Entertainment Tonight. "Anyone that says or thinks it is just the easy way out is just completely wrong. I think it is so much harder to go through it this way, because you are not really in control. … Knowing that I was able to carry my first two babies and not my baby now, it's hard for me."
The doting mom suffered a scare in late December 2017, when Saint West was hospitalized for pneumonia. Fortunately, the 2-year-old was only required to stay for a few days, returning home in time to celebrate the new year with his family.
A few days later, shortly after midnight on January 15, 2018, Kim and Kanye's second daughter and third child overall was born to their surrogate. On a post to her website—titled "She's Here!"—Kardashian wrote: "We are incredibly grateful to our surrogate who made our dreams come true with the greatest gift one could give and to our wonderful doctors and nurses for their special care." Soon afterward, it was revealed that they had named the girl Chicago.
Prison Reform
In May 2018, Kardashian showed a newfound interest in social justice when she lobbied President Donald Trump to consider clemency for a Tennessee woman named Alice Johnson, who was sentenced to life in prison in 1996 on charges related to cocaine possession and money laundering. The reality star had learned about Johnson's case from a video posted to Twitter.
Expecting to meet with White House officials, Kardashian also earned the company of POTUS himself to discuss Johnson and the issue of prison reform. Trump later tweeted a photo of the two of them in the Oval Office after their "great meeting." The lobbying efforts ultimately paid off, with Kardashian being the one to share the good news with Johnson after the president granted her release on June 6.
Quick Facts
Name
Kim Kardashian West
Occupation
Reality Television Star
Birth Date
October 21, 1980 (age 38)
Education
Marymount High School
Place of Birth
Beverly Hills, California
Full Name
Kim Noel Kardashian
Zodiac Sign
Libra