Meghan Markle, Her Royal Highness the Duchess of Sussex, married Prince Harry in 2018 at St. George's Chapel at Windsor Castle.
Who Is Meghan Markle?
Born on August 4, 1981, in Los Angeles, California, Meghan Markle pursued a career as a screen actress, appearing in a number of TV series before landing the recurring role of Rachel Zane on the USA Network show Suits. Markle was the subject of international headlines in 2016 upon the revelation of her romance with Prince Harry of Great Britain. The two announced their engagement late the following year and married on May 19, 2018. Markle also ran the lifestyle blog The Tig from 2014 to 2017.
Romance with Prince Harry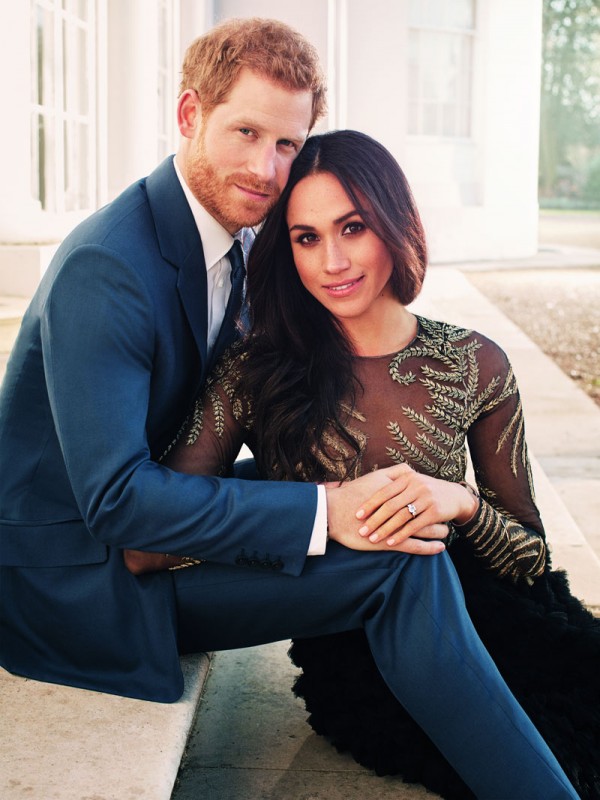 Previously best known for her role on the TV series Suits, Markle made international headlines when it was revealed in 2016 that she was seriously dating Prince Harry of Great Britain. The two met while Harry was attending the Invictus Games in Toronto, where Suits is filmed. Much speculation ensued about the direction of their romance, with Markle becoming the most Googled actress of 2016 as a result of the relationship. Yet some of the scrutiny was toxic, with Kensington Palace issuing a statement calling for the couple's privacy to be respected and pointing out the indecency of racist and sexist online trolling directed at the actress.
On November 27, 2017, Markle and Prince Harry revealed that they had secretly gotten engaged earlier in the month. Among the congratulatory messages, Prince William and Catherine, Duchess of Cambridge, said, "It has been wonderful getting to know Meghan and to see how happy she and Harry are together."
A few weeks later, Kensington Palace announced that the royal wedding would take place May 19, 2018, in St. George's Chapel at Windsor Castle. The news came shortly after Google's announcement that Markle had topped the year-end rankings for most searched actress for the second year in a row, finishing only behind fired TV personality Matt Lauer for 2017's most Googled person. On December 21, fans found another reason to hit their search engines with the release of the couple's official portrait photographs.
In January 2018, it was confirmed that Markle was adhering to royal tradition by shutting down her Facebook, Twitter and Instagram accounts. Through Kensington Palace, Markle said she was "grateful to everyone who has followed her social media accounts over the years."
On February 10, more details about the royal wedding emerged: After the marriage ceremony, scheduled to begin at 12 p.m. U.K. time, the newlyweds will ride in a carriage along the High Street through Windsor Town, before returning to Windsor Castle along the Long Walk. Later, following an afternoon break, Prince Charles will host a private evening reception.
Markle made headlines by breaking royal protocol — albeit in adorable fashion — during a visit to Birmingham on International Women's Day in March 2018. Introduced to a 10-year-old student, who told the soon-to-be princess that she wanted to become an actress, Markle gave the girl a hug, violating the handshake-only rule in place for the royal family.
News soon leaked that the couple would not sign a prenuptial agreement before the big day, despite their hefty individual assets. Insiders pointed to the lack of prenup enforcement in U.K. courts, as well as Prince Harry's steadfast belief that the marriage would be a lasting one.
In late March, it was reported that the duchess-to-be and her family would receive a specially designed coat of arms from Kensington Palace before the wedding. Markle's father, a U.S. citizen residing in Mexico, reportedly needed to prove one of his ancestors was a subject of the Crown in order to receive his gift. Markle's coat of arms was expected to be completed in time to feature on the souvenir program for the royal wedding, with elements from that design and Prince Harry's to be incorporated into the coats of their future children.
On May 19, 2018, the couple married at St. George's Chapel at Windsor Castle. She wore a dress designed by Clare Waight Keller for Givenchy. Shortly before the wedding, Queen Elizabeth conferred Meghan with the title of Meghan, Her Royal Highness the Duchess of Sussex.
Pre-Wedding Family Drama
On the eve of Meghan and Harry's nuptials, a few members of Markle's family became the subject of tabloid drama that unfolded on an almost daily basis.
Markle's half-brother, Thomas Markle Jr., wrote a handwritten letter, warning Prince Harry, not to marry Meghan, describing her as a "jaded, shallow, conceited woman that will make a joke of you and the royal family heritage." Clearly offended he wasn't invited to the wedding, he added: "... To top it all off, she doesn't invite her own family and instead invites complete strangers to the wedding. Who does that?" The letter was published in In Touch on May 2nd.
Shortly after, Markle's father, Thomas Sr., who was expected to walk his daughter down the aisle, was caught allegedly staging photos of himself that showed him preparing for the big day. When the news broke, Markle's father was so embarrassed, he told reporters he was rescinding his invitation.
If that weren't enough, Markle's half-sister, Samantha, publicly interjected in their father's defense, claiming she was behind the staged photos because she had hoped it would put him in a good light. (Samantha, who was not invited to the wedding, is reportedly writing a book about her relationship with Meghan and has granted interviews on various TV shows, despite reports that claim she and Meghan were never close.)
Soon after, Thomas Sr. told the media he had recently suffered a heart attack and regretfully would not be going to the wedding.
"I hate the idea of missing one of the greatest moments in history and walking my daughter down the aisle," he told TMZ.
However, after communicating with Meghan, Thomas Sr. quickly changed his mind the next day but ultimately had to return to the decision of not attending the wedding because he needed to undergo heart surgery.
Meghan, through a statement from Kensington Palace, formerly acknowledged her father would not be present. "Sadly, my father will not be attending our wedding. I have always cared for my father and hope he can be given the space he needs to focus on his health," she stated.
Despite all the drama, Meghan's mother, Doria Ragland, was reportedly in good spirits and already in London, socializing with the Royal Family and helping her daughter get ready for her big day.
Life as the Duchess of Sussex
Following the wedding, the couple attended a birthday party for Prince Charles before heading off for their honeymoon. It was then on to more formal activities, with Meghan making her Buckingham Palace balcony debut at the Trooping the Colour ceremony on June 10.
Two days later, Kensington Palace announced plans for Meghan and Harry's first royal tour: "The Duke and Duchess of Sussex will undertake an official visit to Australia, Fiji, the Kingdom of Tonga, and New Zealand in the Autumn," read the announcement. "Their Royal Highnesses have been invited to visit the Realms of Australia and New Zealand by the countries' respective governments. The Duke and Duchess will visit the Commonwealth countries of Fiji and Tonga at the request of the Foreign and Commonwealth Office."
In August 2018, it was reported that Meghan's mother was preparing to move to London to be closer to her daughter.
Background and Early Career
Meghan Markle was born on August 4, 1981, in Los Angeles, California, the daughter of Doria, a clinical therapist and yoga instructor, and Thomas, a television lighting and photography director.
When she was 11, Markle wrote a letter to various notables, including then First Lady Hillary Clinton, about a TV advertisement featuring the idea of women being bogged down by greasy cookware. The youngster deemed the ad sexist when male classmates started yelling, upon seeing the commercial, that the kitchen is where women belonged. (The language of the ad was subsequently changed.) Markle went on to study theater and international relations at Northwestern University School of Communication, graduating in 2003.
In 2002 Markle landed her first TV role with a guest spot on General Hospital, and she went on to appear in a number of other series that included Cuts, The War at Home, CSI: NY and 90210. As a biracial actress, Markle would eventually talk about the challenges of navigating Hollywood's check-a-box casting landscape while also finding her voice as an actress.
Starring Role in 'Suits'
In 2011, Markle had her big break, landing the role of paralegal Rachel Zane on the USA network series Suits, co-starring Gabriel Macht, Patrick J. Adams and Gina Torres. The legal drama centers on the shifting intrigues of a Manhattan corporate law firm, with the savvy Zane attending Columbia Law School to pursue her own dreams of becoming an attorney. The show became a top performer among USA Network's scripted programs and began taping its seventh season in 2017, though the network announced that Markle would be leaving the program following the news of her engagement to Prince Harry.
Markle has done big-screen work as well, appearing in such films as Get Him to the Greek (2010), Horrible Bosses (2011) and Anti-Social (2015), as well as the TV movies When Sparks Fly (2014) and Dater's Handbook (2016).
Personal Life
Markle dated producer Trevor Engelson for several years before the couple married in 2011. They divorced two years later.
Markle has a number of passions that include yoga (following in the footsteps of her mother), calligraphy and cuisine. She is also an essayist and has written for Elle UK, and ran her own lifestyle blog The Tig from 2014 to 2017. Markle's philanthropic efforts include being appointed a U.N. Women's Advocate and working with the World Vision Clean Water Campaign, among other activities.
Quick Facts
Name
Meghan Markle
Birth Date
August 4, 1981 (age 37)