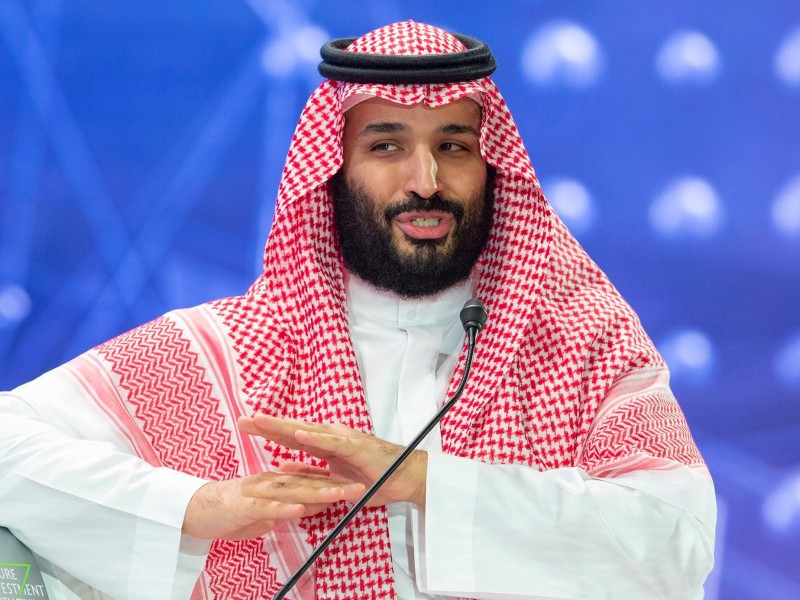 Mohammed bin Salman is the Crown Prince of Saudi Arabia, heir to King Salman. Seen by many as the power behind his ailing father's throne, he has ushered in much-needed reform, but has been entangled in a series of foreign and domestic controversies.
Who Is Mohammed bin Salman?
Born in 1985, Mohammed bin Salman is the Crown Prince of Saudi Arabia, heir to his father, King Salman. Often referred to as M.B.S., he also holds the positions of First Deputy Prime Minister, Minister of Defense, and President of the Council for Economic and Development Affairs. Salman was named Crown Prince in 2017, after winning a power struggle with the appointed heir. He ushered in economic and social reforms, particularly with regards to women, but was also harshly criticized for clamping down on critics of the Saudi royal family, and for his aggressive foreign policy positions, which has led to disastrous conflicts with Yemen and Qatar.
Early Life and Family
Born August 31, 1985, Mohammed bin Salman is the eldest child of Salman bin Abdulaziz Al Saud and his third wife, Fahda bint Falah bin Sultan bin Hathleen al-Ajmi, the daughter of the head of a powerful Arabian tribe, known as the Al Ajman. Salman bin Abdulaziz Al Saud was the son of Ibn Saud, the founder of the first king of Saudi Arabia. Salman bin Abdulaziz was the governor of Riyadh province for more than 50 years, until stepping down in 2011. During his tenure, he earned a reputation as an efficient, if harsh, administrator.
Mohammed bin Salman attended private schools near Riyadh, and later graduated from King Saud University with a degree in law. Unlike many other high-ranking Saudi princes, he did not receive an education in the West. He married Princess Sarah bint Mashhoor in 2008, and the couple have four children.
Rumors of Death
In April 2018, false rumors of Salman's death swirled, following a report of gunshots near a royal palace in Riyadh. News outlets in Iran, a fierce, long-time enemy of Saudi Arabia, helped spread the news, which alleged that he had been injured or even killed during a failed coup attempt. According to Saudi police officials, the gunshots involved a drone that had flown into a secure area. However, the normally camera-friendly Salman was not seen in public for several weeks, leading some to speculate. In late May, photos and video footage of him attending meetings helped put the rumors to rest.
Ascension to Power
Salman spent several years working in the private sector, before becoming an advisor to his father in 2004. When his father became Crown Prince in 2012, Salman's power expanded, and he increasingly became known as one of Saudi Arabia's key figures. In 2015, after his father seceded to the throne, Salman became the youngest person on record to be named Minister of Defense. He was later appointed Deputy Crown prince, behind his cousin, Mohammed bin Nayef.
A fierce power struggle between the cousins ended in June 2017, when Nayef was deposed. Reports later emerged that both men had sought international assistance and recognition for their claims to power. Due to King Salman's ill health and advanced age, Mohammed bin Salman is seen by many to be the true power behind the throne. He has become a key advisor in the region for the Trump administration and others. In 2016 and 2018, he undertook several high-profile tours of the United States, meeting with tech leaders, politicians and even Hollywood celebrities.
Plans for Reform
Social Reforms
Salman challenged the religious status quo in Saudi Arabia — to some extent. The Saudi royal family has long ruled the kingdom in concert with ultra-conservative Wahhabism clerics, who have been accused of funding and supporting radical extremists, and preventing social reforms. Salman has called for a return to an earlier period of a more tolerant form of Islam, going so far as to support the idea of an Israeli state.
In 2018 the nation's decades-long ban on movie theaters was lifted, the kingdom will now allow for a broader variety of entertainment options and work is even under way for a vast amusement park. The kingdom recently announced it will begin issuing tourist visas.
For Saudi Arabia's long-marginalized and repressed women, recent years have seen dramatic changes. Laws that allowed men to strictly control the economic and personal lives of their wives have been eased, allowing women to open businesses, more freely enter the workforce and, as of June 2018, legally drive.
Despite these reforms, Salman and the Saudis have been harshly criticized for continued human rights violations, including the harassment, arrest and imprisonment of critics and activists.
Economic Reforms
In April 2016, Salman announced a dramatic restructuring of the country's economy. Known as the Vision 2030 plan, it was designed to wean Saudi Arabia from its dependence on oil exports (as the precipitous drop in oil prices bled billions in revenue) and streamline government bureaucracy. Among the measures was a partial privatization of Aramco, the state-owned oil company, which Salman claimed would generate $100 billion in an IPO. Economists have cast doubt on the company's value, however. Salman also slashed generous subsidies to a number of industries and beneficiaries, pledged to balance the budget and cut spending in some areas.
But in October 2017, he announced plans for an ambitious venture, known as Neom. The 10,000-square mile economic zone would be located in the as-yet under-developed Red Sea region, with a focus on new technologies, including robotics and renewable energy. It's estimated $500 billion price tag, however, led to criticisms.
Criticism of Foreign and Domestic Policies
In March 2015, a Saudi-led coalition began airstrikes on neighboring Yemen, after a rebel group of Houthis (a Shiite Muslim group with close ties to Iran) overthrew President Abd-Rabbu Mansour Hadi and captured the Yemeni capital of Sanaa. To prevent the Houthis from taking control of the entire country (and to roll back Iranian influence on their doorstep), Saudi Arabia, the United Arab Emirates (UAE) and other allies launched Operation Decisive Storm.
The results were disastrous. Already one of the poorest nations on Earth, Yemen was devastated by the war. An air and naval blockade led to a humanitarian disaster that as of early 2018 left an estimated 22 million people in need of assistance or at risk of famine, 2 million displaced and an estimated 16,000 dead (although many believe that number to be higher). In June 2018, despite international condemnation of the war, the coalition escalated the conflict with a series of airstrikes on a key Yemeni port city.
Another regional conflict turned sour in June 2017, when another Saudi- and UAE-led coalition cut off diplomatic relations with the Gulf nation of Qatar. Ostensibly, this was to protest Qatari support for radical Islamists groups, including the Muslim Brotherhood, an Egyptian-born group that has called for an overthrow of Saudi Arabia's House of Saud. Qatar is also closely aligned with Iran. Among the coalitions demands was for Qatar to shutter its popular Al Jazeera news outlet, which has also been critical of coalition rulers. Despite the presence of a massive U.S. military base in Qatar, President Donald Trump initially expressed support for the coalition's move. In June 2018, it was reported that the conflict had worsened, with Saudi Arabia planning to build a canal along its border with Qatar that would geographically isolate its rival by turning it into an island.
In November 2017, Salman had a number of prominent Saudi citizens arrested. Among those detained were current and former government officials, members of the royal family and some of the country's richest figures, including Prince Alwaleed bin Talal, who is worth some $17 billion. They were arrested under a new anti-corruption committee, headed by Salman. The detainees were held without legal representation, and were eventually released after paying stiff fines. Some were held for months. Reports later emerged of harsh interrogation, and one detainee reportedly died. The move was seen by many intelligence analysts as a bid by Salman to further consolidate his power.
Quick Facts
Name
Mohammed bin Salman
Occupation
Prince, Politician
Birth Date
August 31, 1985 (age 33)
Education
King Saud University
Place of Birth
Jeddah, Saudi Arabia
Zodiac Sign
Virgo