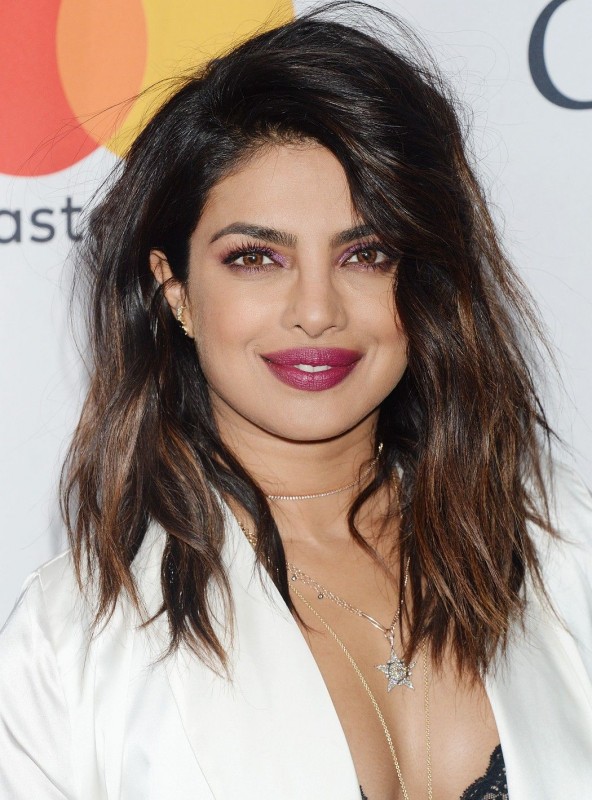 Priyanka Chopra is an Indian actress known for her work in nearly 50 films and for her breakthrough role on the American TV drama 'Quantico.'
Who Is Priyanka Chopra?
Priyanka Chopra was born on July 18, 1982, in Jamshedpur, India. When she was in high school, Chopra won the Miss India pageant, and she soon followed it by taking the 2000 Miss World pageant as well. On the heels of that international success, Chopra turned her sights to the film world, and in the past 15 years, she has become a huge star, appearing in nearly 50 films, chiefly in the Bollywood system. She made a splash on American television with the FBI drama Quantico, which aired from 2015 to 2018.
Movies and TV Shows
Bollywood Films
At the age of 20, Chopra made her debut in the 2002 film Thamizhan and followed it that same year with Jeet: Born to Win. Of her debut, Chopra was clear: "I hated it!" she has said. "I wanted to leave the industry once I did it! I didn't know what I was saying or doing."
In 2003 she appeared in her first Bollywood film, The Hero: Love Story of a Spy. That same year she appeared in Andaaz, and this kicked off a long string of films, including Plan, Kismat, Asambhav, Mujhse Shaadi Karogi and Aitrazz — incredibly, all released in 2004. While most of these films underperformed at the box office, Chopra found success with the romantic comedy, Mujhse Shaadi Karogi.
Not content with making five films in a single year, in 2005, Chopra starred in six, including Blackmail, Karam, Yakeen and Barsaat, none of which were box-office performers. She followed these in 2006 with two of the year's most successful films, Krrish and Don, but she was also in four other films that year that came and went unnoticed. In 2007 Chopra found little success at the box office, and in 2008 she returned with another six more. One of her 2008 films, Fashion, struck a chord with critics, and in 2009 Chopra stretched her abilities playing 12 different roles in What's Your Raashee?
'Mary Kom'
In 2014 she starred in the title role of Mary Kom, a film based on the real-life story of the female boxing champion. The film was the first Hindi-made movie to premiere on opening night at the Toronto International Film Festival and put Chopra in the global cinema spotlight once more.
In all, over the course of her short career, Chopra has appeared in nearly 50 films, with more recent titles including Agneepath, Barfi! and Bajirao Mastani.
'Quantico'
In 2015 Chopra signed on to the cast of Quantico, an American TV show about FBI recruits. With the role, Chopra became the first Indian woman to star in a leading American TV network drama and marked her most visible crossover to date from Bollywood to Hollywood. The show and Chopra's performance received praise from critics and audiences alike, with the actress claiming a number of People's Choice Awards for her work.
In May 2018 ABC announced that Quantico would not move forward to a fourth season. Its complex storyline and heavily serialized nature was said to be contributors to its ratings decline.
Chopra's international fame has allowed her to star in more prominent Indian films, including Bajirao Mastani (2015), which became one of the biggest box office hits in India. Her portrayal as a general's wife brought her a slew of awards.
In America, Chopra wasn't so lucky when she starred in Seth Gordon's Baywatch (2017), as it was panned by critics, but some admittedly found her character as one of the highlights of the comedy.
Upcoming Projects
Juggling multiple projects, Chopra stars in the film adaptation of A Kid Like Jake (2018), opposite Claire Danes and Octavia Spencer, and the upcoming rom-com Isn't It Romantic?, which also stars Liam Hemsworth and Rebel Wilson.
Chopra is also producing many Indian film projects, and is said to be developing and executive producing a sitcom for ABC that is inspired by the life of Hindi actress Madhuri Dixit.
In her personal life, the actress has been linked to singer and actor Nick Jonas, the two going public with their relationship during the summer of 2018. News of their engagement came in late July, with Jonas reportedly popping the question on Chopra's 36th birthday.
Early Years
Priyanka Chopra was born on July 18, 1982, in Jamshedpur, India. Both her parents are doctors, and her father was in the army, so Chopra's family moved quite a bit as she grew up. She studied at the La Martiniere Girl's School in Lucknow before relocating to the United States for three years. She started high school in Massachusetts before moving to British Columbia, Canada. From there it was back to India, and Chopra then attended the Army Public School at Bareilly. It was during this period that Chopra's life would begin to switch gears, as she entered and won the May Queen contest at the Bareilly Club.
Soon another beauty pageant was on her radar: the prestigious Miss India.
"I was studying for my 12th boards, when my mother sent my pictures for the Miss India contest," Chopra recounted. "When I got the call, I didn't know how to respond! My dad told me to give it a try. And I did…. I didn't think I would win. I just went to take a break."
But she did win, and although she was enrolled at Jai Hind College in Mumbai, she quickly dropped out of college to explore her more glamorous options. She soon took her Miss India crown to the 2000 Miss World pageant and won that as well, becoming one of five Indian women to take the title. With that win came instant fame, and Chopra soon took the logical next step: the world of film.
Marriage
Bollywood star Priyanka Chopra and US singer Nick Jonas are marrying in a Hindu ceremony, a day after exchanging vows according to Christian tradition. They were married on December 1 2018.
The couple are celebrating their nuptials with friends and family at the lavish Umaid Bhavan Palace in the Rajasthani city of Jodhpur.
Jonas and Chopra got engaged in the summer after a whirlwind romance. On social media, they said their wedding was an "amalgamation" of their families, faiths and culture.
They shared pictures of the traditional mehendi ceremony, in which Chopra had her hands and feet decorated with henna by the women of both families. There was also a cricket match between Team Priyanka and Team Nick ahead of the wedding.
Quick Facts
Name
Priyanka Chopra
Occupation
Actress
Birth Date
July 18, 1982 (age 36)
Place of Birth
Jamshedpur, India
Zodiac Sign
Cancer