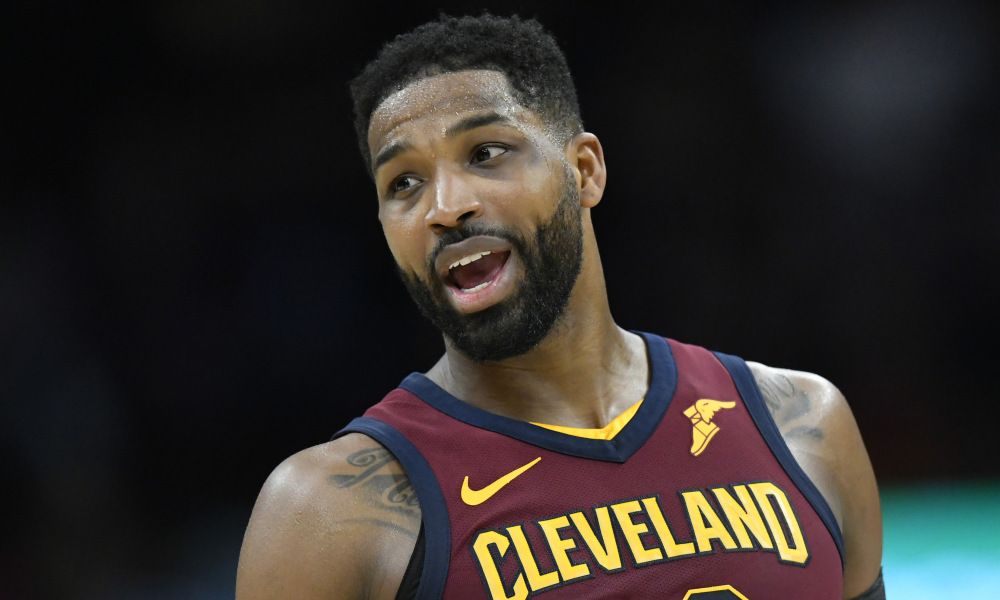 Tristan Thompson is a Canada-born NBA professional basketball player for the Cleveland Cavaliers. He welcomed a daughter with reality star Khloe Kardashian in April 2018.
Who is Tristan Thompson?
Tristan Thompson is a 6-feet-9-inches tall professional basketball player and native of a suburb of Toronto, Canada. A center and power forward, he has played for the Cavaliers since December 2012 and has won one NBA championship with the team. He began dating reality star Khloe Kardashian in September 2016, and the pair welcomed a daughter, True Thompson, in April 2018. Despite being the subject of a widely reported cheating scandal days before Kardashian's birth, Thompson is still dating the star of E!'s Keeping Up With the Kardashians.
NBA Career
Thompson chose to leave the University of Texas at the end of his freshman year in favor of entering the NBA draft. In June 2011, the Cleveland Cavaliers selected Thompson in the fourth round, and he made his NBA debut in December of that year. At the end of his first season on the team, he was named to the 2012 NBA All-Rookie Second Team.
In 2015, Thompson was a starter on the team, helping the Cavaliers reach the 2015 NBA Finals, though they lost to the Golden State Warriors.
At the end of the 2014-2015 season, he became a restricted free agent but ultimately re-signed with the Cavaliers with a five-year, $82 million contract, after four months of negotiations. At the end of the 2015-2016 season Thompson and the Cavaliers won an NBA championship, the team's first championship win in 52 years.
Thompson became the first player in Cavaliers history to play in 400 consecutive regular-season games in December 2016, with the team also going on to play in their third consecutive championship series that season. They ultimately lost again to the Golden State Warriors.
The Cavaliers also reached the NBA finals in 2018, once again facing the Golden State Warriors.
Relationship with Khloe Kardashian
The NBA star began dating Khloe Kardashian in September 2016 while his ex-girlfriend, lifestyle blogger Jordan Craig, was pregnant with his first child. Craig gave birth to a son, Prince Oliver, in December 2016, but neither she or Thompson have confirmed if he met Kardashian while they were still dating.
In a December 2017 Instagram post, Kardashian announced that she was expecting her first child with Thompson, writing: "Tristan, thank you for loving me the way that you do! Thank you for treating me like a Queen! Thank you for making me feel beautiful at all stages! Tristan, most of all, Thank you for making me a MOMMY!!! You have made this experience even more magical than I could have envisioned! I will never forget how wonderful you've been to me during this time! Thank you for making me so happy my love!"
In early April 2018, however, Thompson was accused of cheating on Kardashian when he was filmed getting close to an unidentified woman in New York City. TMZ also posted footage of the basketball player kissing another woman in October 2017.
Kardashian gave birth to a daughter, True Thompson, on April 12, 2018. Despite the alleged cheating scandal, Thompson and Kardashian are still together.
Net Worth
In January 2018, Yahoo Finance estimated Thompson's net worth at $8 million.
Early Life and High School and College Basketball Career
Born in Brampton, Ontario, Canada on March 13, 1991, Thompson is the son of Trevor and Andrea Thompson. He worked as a paper boy in his hometown before relocating to Newark, New Jersey to attend high school at Saint Benedict's Preparatory School in his sophomore year. In 2009, Thompson was kicked off the basketball team for insubordination after a confrontation with the team's coach and transferred to Findlay Prep in Henderson, Nevada for his senior year of high school.
While at Findlay Prep, he led the school to their first National Championship and was named a 2010 McDonald's All-American, as well as a Jordan Brand Classic All-American.
In late 2009, Thompson signed a letter of intent to play at the University of Texas, where he was named Most Valuable Player for the Longhorns' 2010-2011 season. Leading the team in rebounds, blocks and ranking second for scoring in his freshman year, he was one of five national finalists for the U.S. Basketball Writers Association's Wayman Tisdale Award. He was also ranked 24th in the nation in blocks per game.
Quick Facts
Name
Tristan Thompson
Occupation
Athlete, Famous Basketball Players
Birth Date
March 13, 1991
Place of Birth
Brampton, Ontario, Canada
Zodiac Sign
Pisces