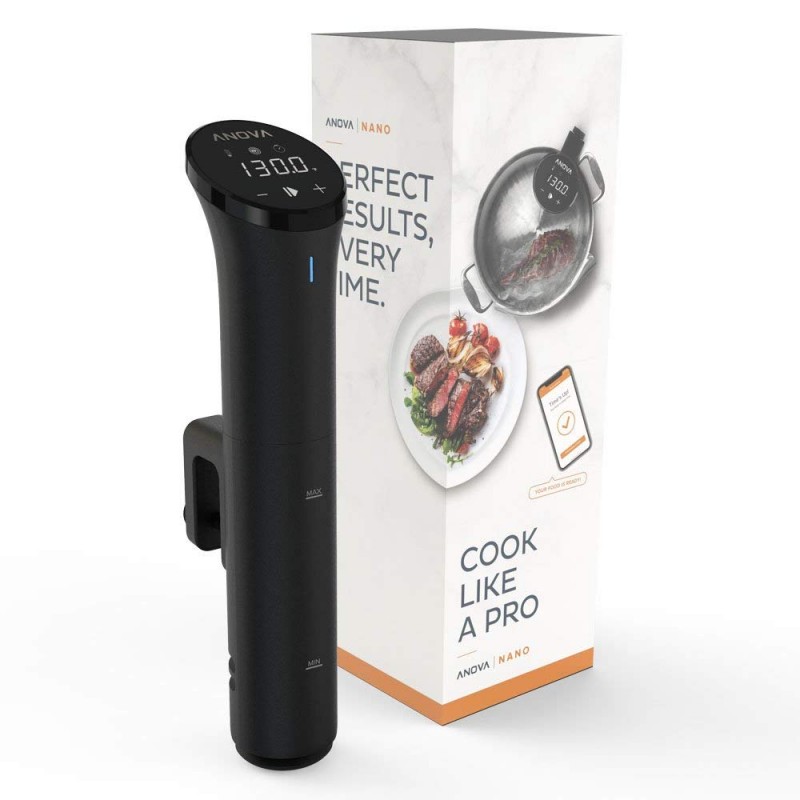 New nano precision cooker - launched in June 2018 with updated technology based on 10+ years of building the most popular sous vide devices on the market. The nano is a smaller, quieter, connected lab-grade sous vide precision cooker. Perfect if you're new to sous vide or looking for an additional cooker to add to your arsenal.
Cook like a Pro - the Anova precision cooker nano allows anyone to cook a restaurant-quality meal at home. Our sous vide Circulator is the perfect kitchen appliance for hands-off cooking of vegetables, meat and much more with consistent control and precision. We're so confident in our product Anova backs it with a 1-year warranty.
Perfect results, every time - precision cooking enables you to produce results that are impossible to achieve through any other cooking method. No Dry edges and no rare centers. Juices and flavors don't escape. Food comes out perfectly moist and tender. Continuous temperature control provides reliable and consistent results every time. Perfect for vegetables, meat, fruit, cheese and much more.
Smart device control & cooking notifications - the Anova precision cooker nano can be remotely controlled with your phone, allowing you to escape from the kitchen while you cook. Simply Download the Anova app to easily monitor, adjust or control the device from your iPhone or Android smart devices. The precision cooker also provides you cooking notifications while you're out of the kitchen so you'll know when your food is ready. The precision cooker's Bluetooth connection allows you to control the device up to 30 feet away.
Easy to use - simply attach the Anova precision cooker nano to any pot, add water, drop in desired food in a sealed bag or glass jar. Start cooking with the touch of a button on the device. The sous vide cooker's timer and precise temperature control allow you to step away and relax while your food cooks perfectly. No additional equipment needed.
Get Creative with 1, 000+ recipes - get great ideas from the Anova sous vide guides and recipes created for home cooks of every skill level by award-winning chefs, with simple directions to walk through each recipe with ease. All available free of charge. Great for beginner and veteran chefs!
Compact size - big on technology, small on size. The 12.8" Anova precision cooker nano stows away in any kitchen drawer next to the whisk and Ladle, so your counters stay uncluttered and your favorite new cooking tool stays within reach.
Product description
The Anova precision cooker nano makes it easy to achieve professional-level cooking results at home. To use, simply attach the cooker to any water-filled pot, put your food in a sealable bag, and set the time and temperature. The Anova precision cooker nano heats and circulates the water to a precise temperature, cooking food to an exact temperature which creates maximum tenderness and moisture retention (without worry of overcooking). the Anova precision cooker nano connects to your phone, so you can cook amazing meals by the touch of a button - spend less time tied to the kitchen by relying on the app to notify you when your food is ready to Eat.