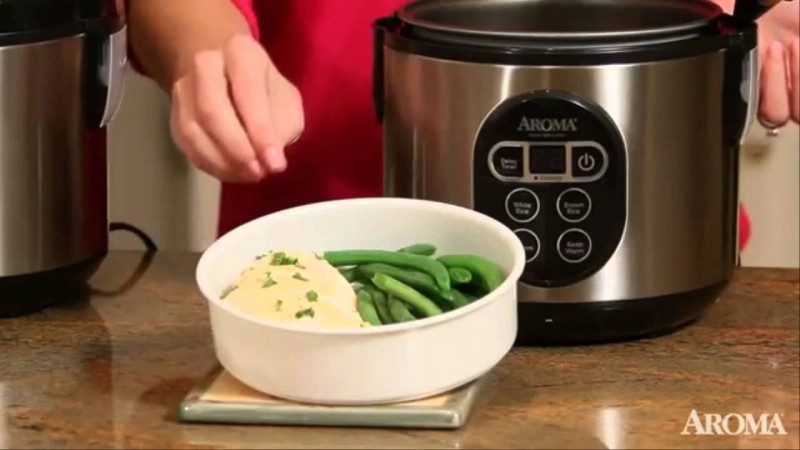 8-Cup (Cooked) Digital Cool-Touch Rice Cooker & Food Steamer
Enjoy easy home cooking with the Aroma 8-Cup Digital Rice Cooker & Food Steamer. Restaurant-quality rice. Healthy steamed meals. Delicious one-pot dishes. Prepare all this and more at the press of a button. Aroma takes the 'cook' out of home cooking - turning kitchen time into your time! Help the kids with homework, get creative at play time or pick up that novel you've been waiting to dive into. All while delivering hot, hearty and healthy meals the entire family will love.
This convenient cooker's compact capacity perfectly cooks 2 to 8 cups of any variety of rice with specialized functions for both White and Brown Rice. Once the rice has finished, it will automatically switch to Keep-Warm so there's no need for monitoring or stirring. The Steam Tray allows for healthy steaming of meats and vegetables, even as rice cooks below. Save time with the Flash Rice function which cuts cooking time by up to 50%. It's also perfect for oatmeal, chili, jambalaya, soups and so much more. The programmable 15-hour delay timer is great for families on the go, delivering delicious rice ready when it's needed.
Versatile
With nearly one dozen cooking functions and the inclusion of a steamer tray, your meal possibilities extend as far as your creativity, paving the path for endless meal options for you and your family.
Nutritious
The built-in steamer function allows for nutrient-rich meals to be prepared above while rice, soup, or any other meal addition cooks below, allowing you to save time without sacrificing quality.
Delicious
This multicooker not only includes all of your favorite cooking options, but also possesses the unique options of Slow Cook and Saute-then-Simmer STS, making meals rich, tasty, and a guaranteed family favorite.
Accessories
The ARC-914SBD includes nonstick inner pot, rice measuring cup, rice paddle, and plastic steamer tray.