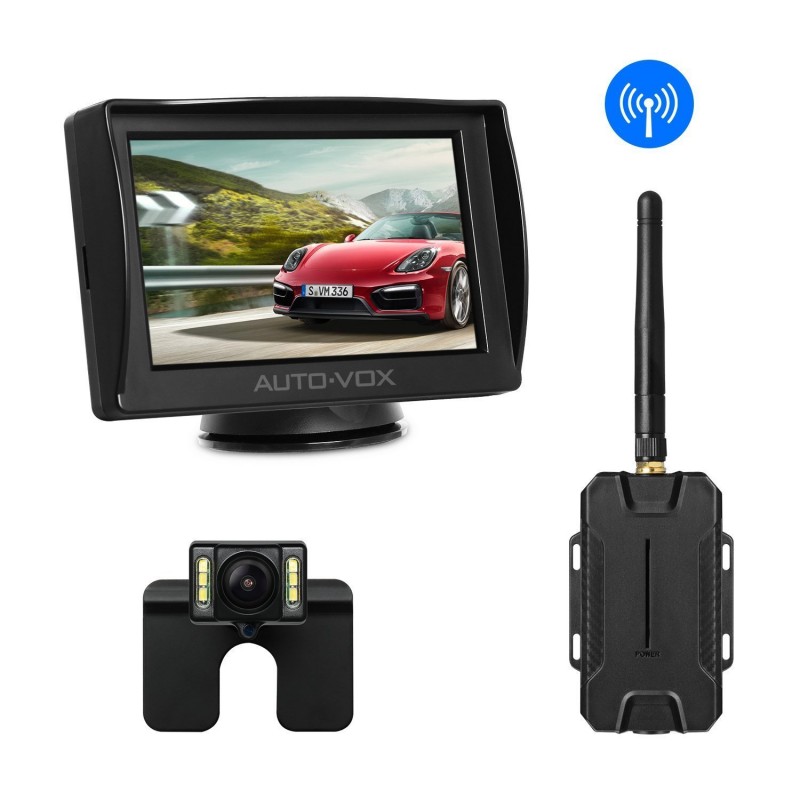 Parking Safely & Effortlessly – With AUTO-VOX Wireless Backup Camera Kit,you will now be able to easily park your car even in the tiniest parking spots.Without risking damaging it and ruining your day or night! Without Battery!
Wireless Design for DIY Easy Installation – No More Complex Wiring Problem.AUTO-VOX 4.3" LCD rearview monitor connect a backup camera by a wireless transmitter.Wireless transmitter takes the place of complicated long video cables.Make all things much easier.
IP 67 Waterproof Transmitter – You can install it anywhere near the reversing light. Suitable for most cars, vans, camping cars, trucks even RVs. No any interference with other wireless devices, if you ensure stable and high resolution image with 100M acceptance range in open areas.
Amazing Rear View Camera – 6 High Brightness LEDs,26 lumen for single LED, will automatically turn on/off according to environment light intensity. Digital high-definition image processor will present superior night vision for you.Super IP68 water-proof standard.
Strong Force and Reusable Car Monitor Mount – The Monitor with strong adhesive silicone bracket mount enable to mount it on windshield or dashboard. After long time using, the monitor holder may become dirty and non-sticky, the suction pad can be washed and reuse again.

Product Description
AUTO-VOX M1W Wireless Backup Camera Kit Rearview Monitor for Vans, Camping Cars, Trucks, RVs, Pickups
This Wireless Parking assistance System throws away the traditional complicated cable routing. Make all things much easier.
Friends reminder
Please install all the parts,including the camera and the monitor ,then it will work;if you only plug the car charger and do not install the camera, then it will not work.
Installation
Install camera to your existing license plate mount & connect to the wireless transmitter. Connect Red wire of the transmitter to reverse light(+) and black wire to any metal ground screw. Plug the car charger and install the rear view monitor on dashboard or windshiled as you like. All done! Drive safely!
Smaller Connector for Convenient Installation
5mm small connector make it easy to install the camera. No need to drill holes for bracket installation. Hidden bracket will not cover any information of your license plate.
Parking Guide Line Selection
Keep:keep the little green line with parking guide line. Cut:cut the green line without pakring line.
360° Rotation Bracket
360° Rotation enable to mount the monitor on windshield or dashboard as you like.
Extra USB Port
Mini charger with an extra USB port(2A),powers the DVR and charges your mobiles devices at the same time.
Flexible Hidden Camera
It can be attached to the number plate via the included 3M sticker.You can install the camera everywhere as you like.