Electric Kettle Water Heater with SpeedBoil Tech, Glass Tea, Coffee Pot 1.8 Liter Cordless with LED Light, Borosilicate Glass BPA-Free with Auto Shut-Off and Boil-Dry Protection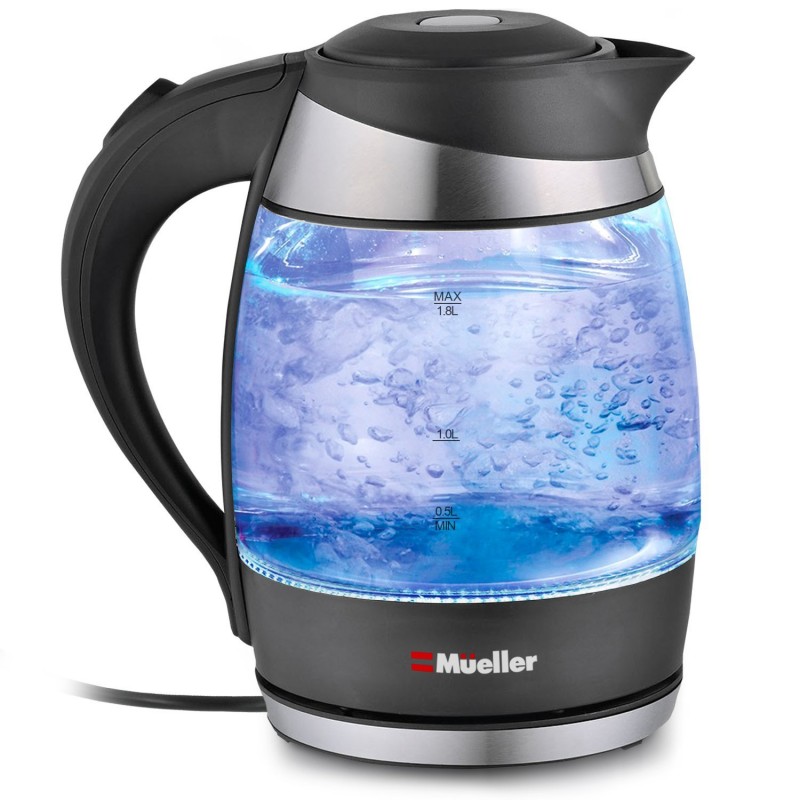 SUPERIOR QUALITY – Made with the finest quality Borosilicate Glass which resists scratching and scuffing. A premium long lasting lid that stays shut when it's supposed to for years to come, unlike the majority of the others on the market.
MAXIMUM SAFETY - Built with a Heat-Resistant Anti-Slip Grip Handle, no worries of it slipping out of your hands or getting burned while holding it. 100% BPA Free and will not contaminate liquids. The automatic shut-off mechanism activates within 30 seconds after the water is fully boiling.
SOPHISTICATED DESIGN - Equipped with bright LED's which indicate the kettle is heating. At a maximum capacity of 1.8L, the water comes to a full boil within minutes depending on the amount and is ready to use for tea, oatmeal, coffee, pasta and much more.
VERSATILITY – Completely Cordless when off the base, the Mueller Ultra Kettle allows you easy and unobstructed pouring. 360° Clear Rotational Glass Body is perfect for precise measuring of water.
EUROPEAN ENGINEERED – AMERICAN GUARANTEE - 100% 2 Year Warranty so you can buy with confidence and boil happily ever after.
Recent Posts
Most Read
Popular Posts
Donate
Tags