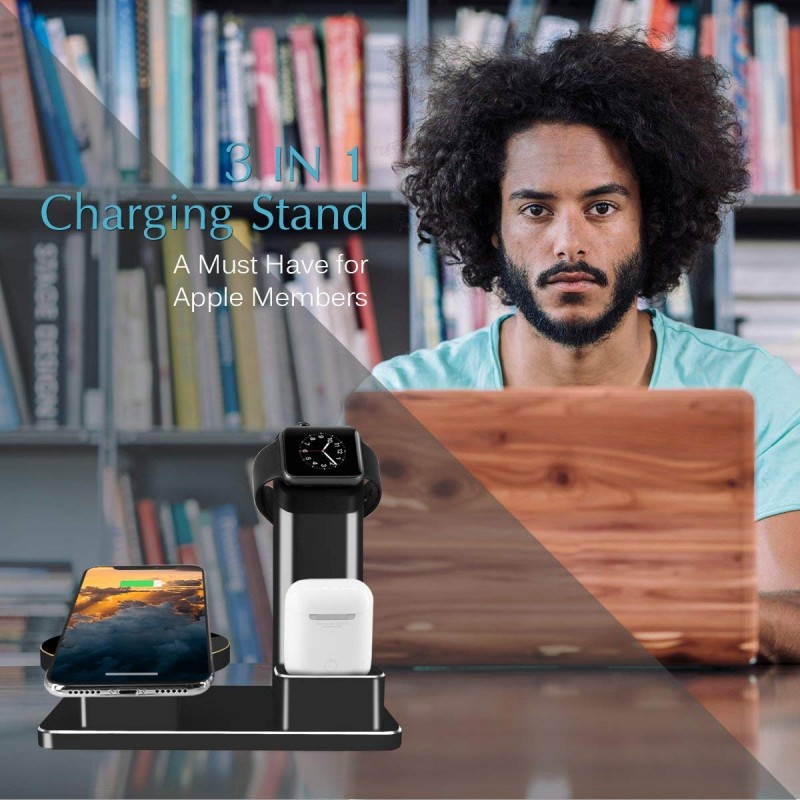 JingooBon Wireless Charger Stand Compatible with iPhone X, 10W Fast Charging Dock Qi Docking Station 3-in-1 Aluminum Charging Station Compatible with Apple Watch Series 3/2/1 AirPods iPhone X/8/8 Plus
Product description
Color: 10W Wireless Stand 2.0 - Black
JingooBon 3 in 1 Charging Stand with 10W Fast Wireless Charger
A Must Have for Apple Members
If you have two or more Apple products like iPhone, Apple Watch, Airpods and iPad, then this QRemix Genuine Aluminum Stand will be your favor.
10W Fast Wireless Charger
Fast Charge Mode enables wireless charging up to 2⨉ faster. (Metal attachments or credit cards will interfere with charging.
Fast-charge mode requires a QC 3.0 charger
Great Looking, Organization and Functionality
It's convenient to charge Apple watch and iPhone, Airpods at the same time in one place - sturdy, neat and organized.
Say Goodbye to the Endless Tangle of Cords
Nice neat solution for anyone who hates cords everywhere, now you have a chance to end your messy life.
To Start Every Good Day with "100% Charged"
It makes it easy to charge your Apple products next to your bed, perfect for overnight charging.
3 in 1 Charging Apple Watch Stand
This Charging Stand is compatible with all Apple Watch versions - Series 3/2/1 (38mm & 42mm). The TPU holder is added to protect your Apple Watch from scratching.
Airpods Accessories
The most fantastic point is an Airpods charging stand is added. Your AirPods case fits in top securely and a slot there to hold the case in place.
Easy To Assemble
The charge stand is disassembled before shipping. Instruction manual, screwdriver and screws are offered to assemble the stand in a easy way.
Package Content
Charging Stand (disassembled) ×1
Screwdriver ×1
Metal Screw ×13 (at least)
Plastic Screw ×1 (at least)
Lightning Cable ×1
Micro USB Cable ×1
Instruction Manual ×1
Wireless Charger User Manual ×1
Warranty
24-month warranty. Please contact us on Amazon if any problems.