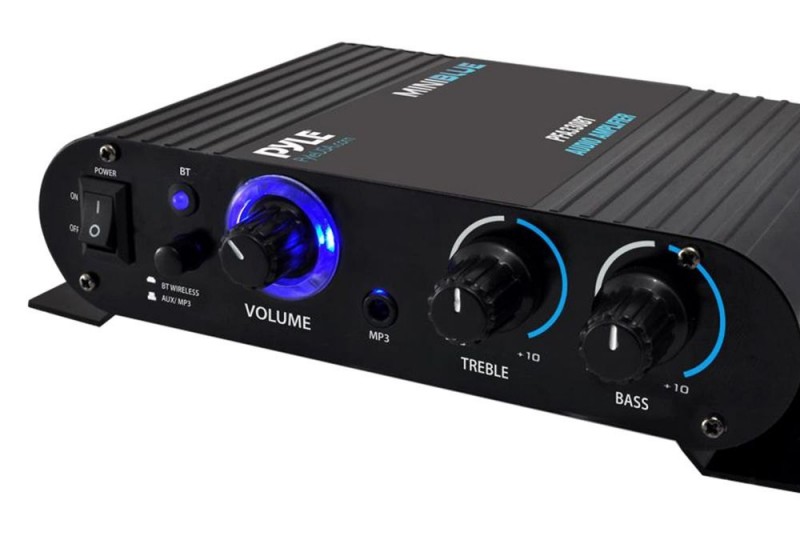 Pyle Wireless Bluetooth Home Audio Amplifier - 90W Dual Channel Mini Portable Power Stereo Sound Receiver w/Speaker Selector, RCA, AUX, LED, 12V Adapter - For iPad, iPhone, PA, Studio Use - Pyle PFA330BT
Product description
PyleHome Model : PFA330BT
Features:
Compact and Powerful Mini Amp System
Built-in Bluetooth for Wireless Audio Streaming
1/4'' Microphone Input Connector Jack
Aux (3.5mm) iPod/MP3 Input Connector Jack
RCA (L/R)Audio Input Connector Jacks
Four Push Type Speaker Terminals
Rotary Treble, Bass, Master Volume Adjustable Controls
Electronic Short, Overload & Overheat Protection
Audio Source Input Selection
Includes Power Adapter
Bluetooth Connectivity:
Instant Bluetooth Wireless Streaming Ability
Works with All of Today's Latest Devices
(Smartphone, Tablet, Laptop, Computer, etc.)
Bluetooth Version: 2.1
Bluetooth Wireless Range: 30'+ Feet

Technical Specs:
Max Power Output: 90 Watt Output
RMS Power Output: 45 Watt x 2 4Ohm
Frequency Response: 20Hz-20kHz
Speaker Impedance: 4-8Ω
Class-T Circuit Design
Rate Level Mic Input: 8mv/600 Ω
Tone Control (Bass): +/- 8dB
Tone Control (Treble): +/- 8dB
Signal to Noise Ratio: >80dB
Total Harmonic Distortion: <0.4%
Input Power: DC 9 ~ 14.4V, 2A
12V AC/DC Power Adapter
Dimensions (L x W x H): 6.0'' x 4.6'' x 1.6'' -inches
The Pyle PFA330BT is a compact and powerful mini Bluetooth amplifier. This palm-sized high power system features built-in Bluetooth wireless streaming that works with all of your favorite devices (like Smartphones, Tablets, Computers, etc.). It gives you the ability to instantly stream audio from your device's music library and control it all wirelessly. The portable size allows you to conveniently take it from room to room in the house, or bring it along and connect it to your vehicle. It's perfect anywhere you need sound amplifying technology with ultra low distortion levels for acoustically accurate music reproduction. Fine-tune your audio levels of connected external devices with the front panel rotary controls. Additional system features include RCA (L/R) Audio Inputs, 1/4'' Mic Input, Push-Type Speaker Terminals and Aux (3.5mm) Connector. Includes 12V DC adaptor.