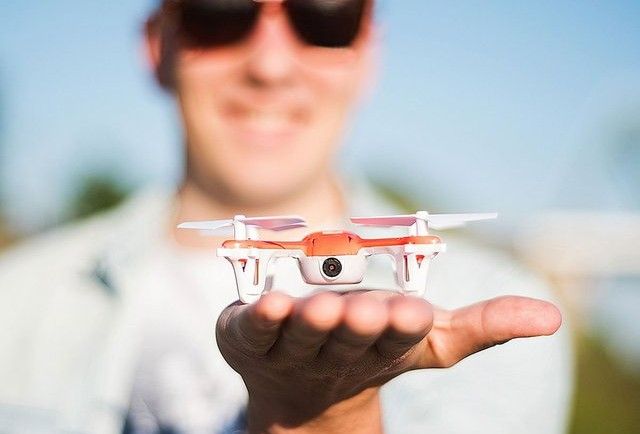 For thrills, skills, and power, there is nothing like the SKEYE Mini Drone.
An incredible quadcopter, so compact it can fit comfortably in your hand and fly on precision controlled exercises into the narrowest of nooks!
The SKEYE Mini Drone features 4 coreless motors, which give you the versatility to perform expert takeoffs and vertical climbs.
The stylish design looks and performs amazing in flight.
Turning cycles, figure of eights, banking turns are simple to achieve.
Super stable indoors or even outside on a calm day.
The drone offers two flight modes: Beginners, for those aiming to become proficient at flight basics, and Advanced, for those experienced in piloting a craft. In advanced mode, the SKEYE Mini Drone can execute aggressive flips.
The SKEYE Mini Drone includes a front mounted HD camera with a video recording function. Just insert a MicroSD card (included) and experience the birds-eye views from your quadcopter. With a camera, LED lights allowing for night flying (not to mention, adding a cool factor!), the SKEYE Mini Drone is everything you want in an drone!
Exciting Aerobatics
High thrust, low weight, and incredibly responsive controls allow you to perform amazing maneuvers with just a flick of the sticks. The SKEYE Mini Drone aggressively snaps into forward and backward flips and barrel rolls with lightning speed. It can even make banked turns!
Six-Axis Stabilization
Sophisticated circuitry, piezoelectric gyros, and accelerometers give the SKEYE Mini Drone outstanding stability. Each time you power-on the drone, its smart software calibrates the model for stable flight. Take your hands off the sticks, and it returns to a solid and steady hover.
Features:
– HD Camera
– RTF (Ready to Fly) Technology
– 6-Axis Flight Control System w/ Adjustable Gyro Sensitivity
– Stable & Easy to Fly
– Aerobatic "Flip" Capability
– Coreless Motor Technology
– Direct Drive System
Specs:
– Gyro: 6-Axis Gyro
– Motors: Coreless Motor
– Frequency: 2.4GHz
– Channels: 4
– Battery: 3.7V 250mAh
– Flight time: ~7-8 minutes
– Charging time: 30-40 minutes
– Controller Battery: 4 x 1.5AA (Not Included)
– Remote-controlled Distance: Up To 50m
– Camera: 2 Megapixel (1280 x 720)
– Memory Card: 4GB MicroSD
Package Content:
1 x SKEYE Mini Drone with HD Camera
1 x 4-Channel 2.4Ghz Transmitter (Mode 2)
1 x USB Charging Cable
1 x 3.7V 250mAh Battery
1 x Rotor Protection Guard
1 x Screwdriver
1 x 2GB MicroSD Card
1 x USB MicroSD Card Reader
4 x Spare Rotors