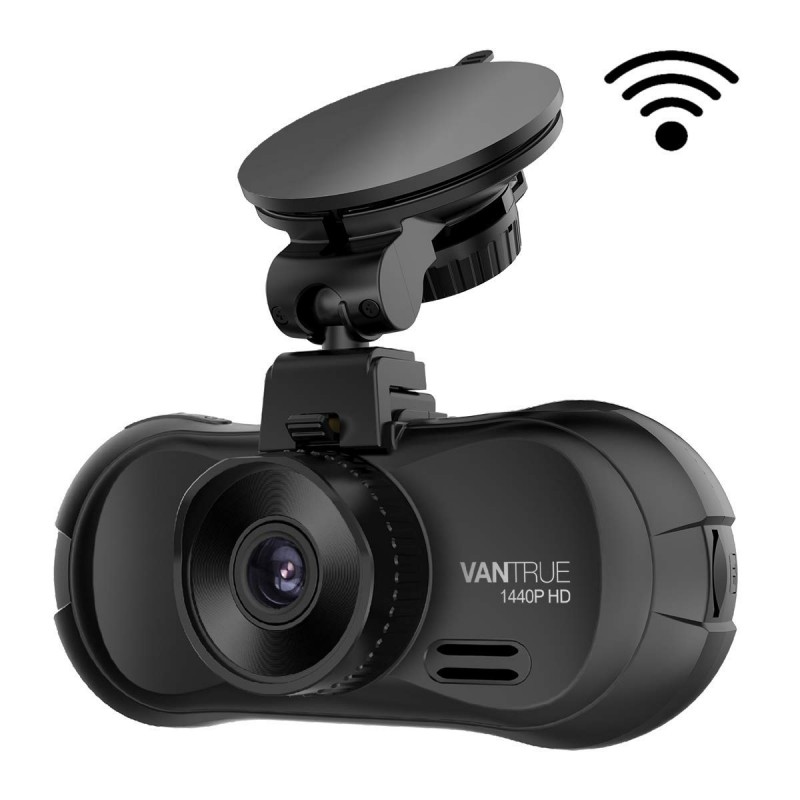 Vantrue X3 WiFi Dash Cam, QHD 2.5K 1440P/30fps 1080P/60fps Dashboard Camera, 170° Wide Angle Car Camera with Amba A12 Chip, Super HDR Night Vision, Parking Mode, Motion Detection, Loop Recording
Live stream and remote control
Built-in Wi-Fi allows you to pair the live dash cam Wi-Fi with a smart device ( WIFI-CarDV App supports both IOS & Android systems ) to view, download video and change settings via cellphone in real time. It supports up to 5 mobile phones connection at the same time.
Wifi transfer and socila sharing
The WIFI capability of the Vantrue X3 dash cam allows you to view your footage real-time and makes download videos from camera easy and painless. The dashboard camera can also share your driving footage with your friends or social media, like Facebook, Instagram or YouTube etc (only for Android).
24 Hours Motion detection parking mode
Auto switch to Parking mode when you parked your car. Triggered by the motion sensor, the car dash camera will automatically record when people or things come closer to your car. The car camera needs a constant power supply either from an external battery back or hardwire( B07G9WTWB9 ) on parking mode. Please hard wire it or connect it with an external battery.

Auto recording and accident camera
Loop recording overwrites the oldest footage with the newest upon filling a card to capacity and the Footage will be stored in loops of 1/ 3/ 5 minutes segments according to your setting; Variable sensitivity G-sensor auto detects a sudden shake/collision or accidents locks the footage to "Event File" to prevent that video from an overwrite. Also you can press the Mode button to lock the current video to protect a clip from overwriting. It's usually record about 3 hours before covered for 32GB Card, 6 hours for 64GB Crad, 12 hours for 128GB Card. Support up to 256GB card, but 64GB card is recommended.
Support 7 resolution Mode, the highest up to 1440P resolution(2560 X 1440p @ 30fps) delivers extremely sharp video quality, helps you better read street signs, license plate etc. And the other resolution are 1440P @ 30fps, 1440P @ 30fps(HDR), 1296P @ 30fps, or 1080P @ 60fps, 1080P @ 30fps, 1080P @ 30fps(HDR), 720P @ 60fps.
Car dash cam with night vision
Features on 6 full-glass high-resolution lens, industry leading F1.8 aperture and 3.0umx 3.0um high sensitivity image sensor clearly captures vivid images with accurate color even in low-light environments without using auxiliary lighting.
Dash cam with speed recording (Buy extra GPS Mount)
The GPS helps you accurately assess the status of the accident by providing you with the vehicle speed, the direction of the collision and the severity of impact. The dash camera not only records speed in either KM/H or MP/H, driving footage, but can also be used to track and recall past driving routes whether it be work or holiday routes. To use GPS function, please buy an extra GPS mount ( B07CYW6JXW ).
Auto LCD OFF dash cam
Support auto LCD off timer which enables the lcd off automatically after the recording begins so you won't be disturbed by another glowing rectangle on your windshield, you can also turn this function off if you prefer the LCD stays on.

Time Lapse dash cam
Important clips and images may get deleted due to insufficient memory space during long continuous recordings, especially in standard parking recording mode which requires large memory for saving 15 to 30 frames per second.
Date and Time stamp dash cam
This is especially useful when you need to use your video footage as evidence at times. Ensure that the date and the time are accurate when you install your camera.
Dash Cam with Voice Recorder
Built in micphone and speaker to capture high quality audio clear without distortion. If you don't like the audio record, Please enter record setup mic setting to turn it off.
Kind Reminder:
1. No memory card, support up to 256GB (Class 10), but Samsung Evo 64GB (class 10) card is recommended. Please format the card before first use. We recommend to format your card every two weeks.
2. Please charge for 2 hours at the first time to prolong the battery life.
3. Please keep the Dash Cam connected to a power source at all times during operation, or the dash cam won't stay on for more than 30 senonds, as the built in 250mAh battery is just to keep setting.
4. There are two versions of the video files at each time, one is the lower resolution to fit the cellphone, the other one is the higher resolution for watching it on camera or the computer.
5. If the dash cam can't connect the Wifi, please hit the reset button to try to connect it again.