Crayola Colours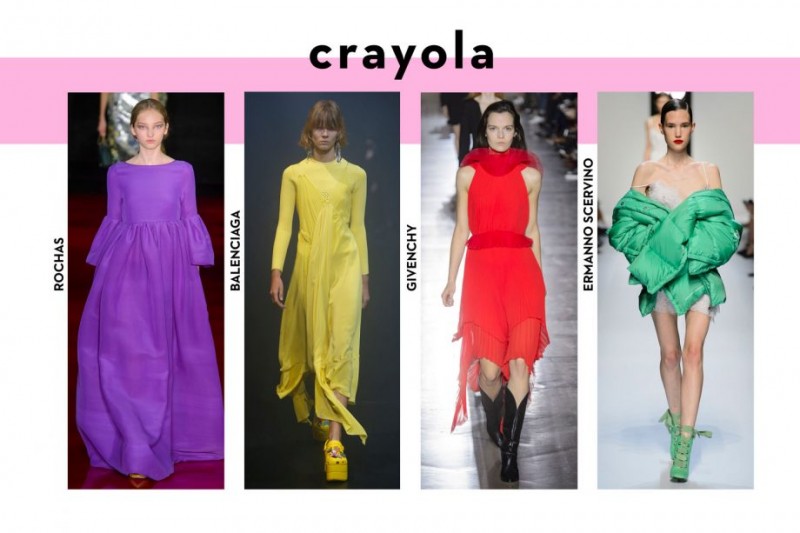 Designers raided the Pantone colour chart for pulsating primary colours – tomato red made a strong showing, seen everywhere from Preen to Victoria Beckham. There's cobalt, emerald green and bright yellow. See Balenciaga's head to toe take – canary yellow dress, layered over a long-sleeved top in the same shade, and accessorised with matching platform Balenciaga Crocs – taking the prize for coolest/craziest *delete as appropriate * collab of the season.
Pastel Colours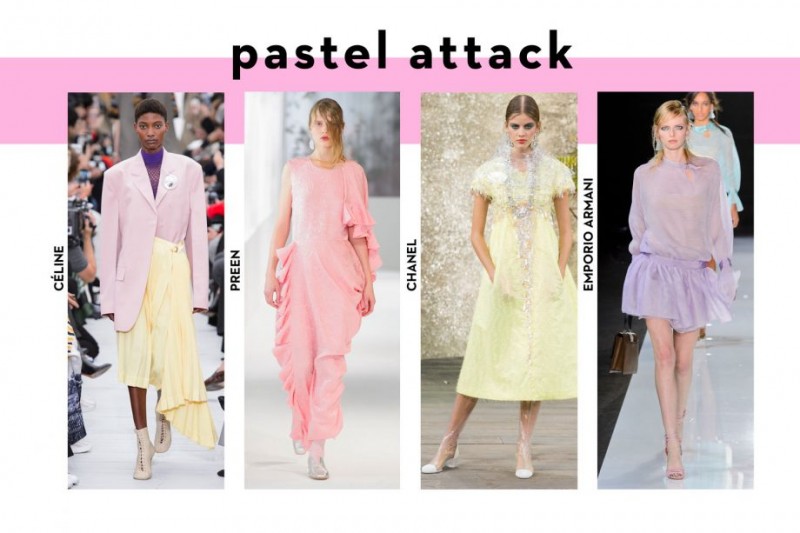 Delicate sugared almond shades have shaken off their Hyacinth Bucket connotations and turned themselves into a fashion statement. Preen's standout show, inspired by saris and womens' rights movements, was a masterclass in how to do pretty and powerful – with one-shouldered dresses and draped shapes in delicate shades of palest pink and green. The big news: lilac, that most Queen Mums-y of shades, is set for a major comeback. Buy a lilac bag now. Or have yourself a scoop of Neapolitan, like Celine's cream and pink combo.

Puff Sleeves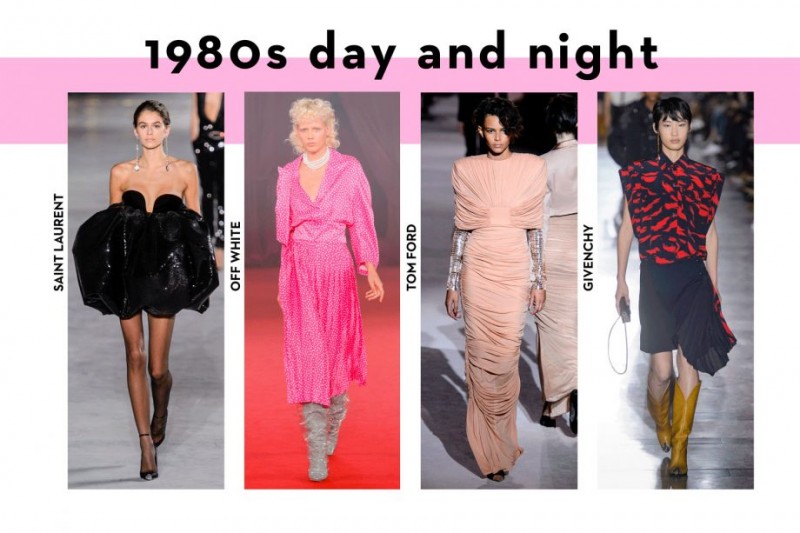 Princess Di and her late 80s heyday were a pervasive influence on some of the season's key shows. Clearly the 20th anniversary of her death got Virgil Abloh thinking – he dedicated his entire Off/White show to her. And a fabulously unexpected treat from his normally streetwear-focused label it was. Puff sleeved jackets, high-waisted jeans, pristine white slouchy boots and big shouldered printed dresses. Claire Waight Keller's debut show for Givenchy was a slick parade of strong, squared blouses in Working Girl-worthy graphic prints and teamed with cowboy boots. Meanwhile, at Saint Laurent Paris fashion week, Anthony Vaccarello brought all the Dynasty glamour for nighttime. The Power-Pouff – it's a thing.

Check Print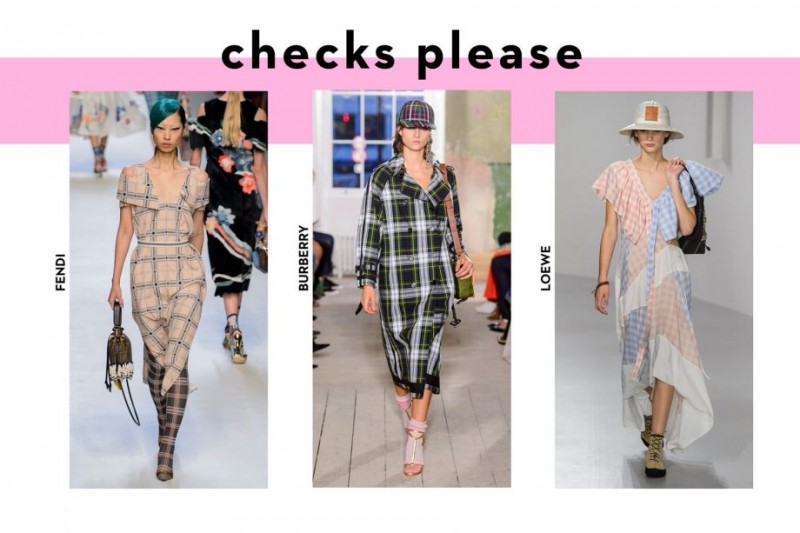 You think of checks as being strictly winter-only, but they're making a convincing case for being spring's It print. There were folksy ginghams at Loewe, sweet red and blue plaids at Alexander McQueen, beautiful bright shopper-bag checks at Mary Katrantzou and a whole show of them at Fendi – even down to checked tights.

Feather Clothes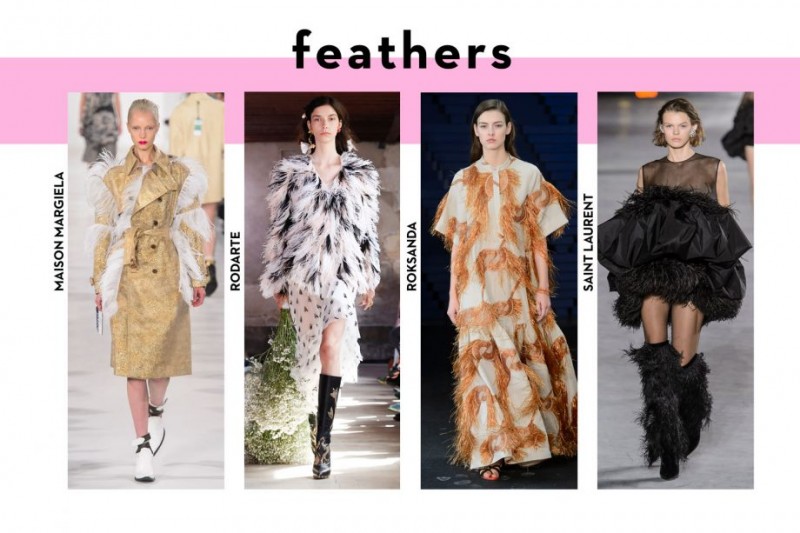 Fluffy marabou and ostrich fluttered across a whole host of SS18 – from Anthony Vaccarello's feather-yeti 'It' boots at Saint Laurent to the twisted take on the trench that's become John Galliano's signature at Maison Margiela – this season is all about a gold brocade version with white feathers flying from the shoulders. It's not rain-friendly, but we've got the new haute take on the rain mac for that…see below.

Wet Look Clothes
Wet-look, wipe-clean (oo-er), whatever you want to call it, the texture of the season is shiny. Christopher Kane's black vinyl dresses and Balmain's jumpsuits had kinky Soho vibes, while Mary Katrantzou and Calvin Klein were thinking more along the sporty waterproof lines, using plastic-coated nylon and drawstrings aplenty.
Beach Clothes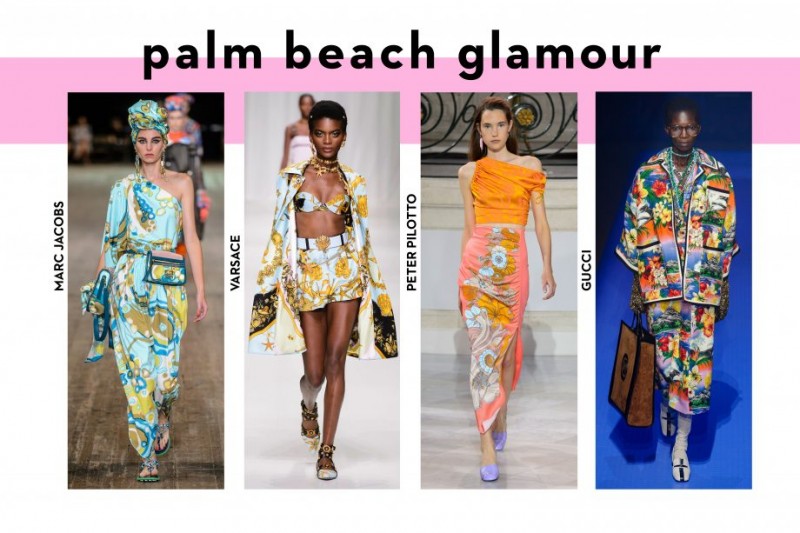 Marc Jacobs said it best, with his mad mash-up of swirly prints, rainbow colours and turbans. Imagine the splashy, sun-drenched style of a 1960s Palm Beach socialite – Lilly Pulitzer, say – and then take it up a notch or three. Gucci's Hawaiian-tropic print two-piece teamed with glittery gloves and a pile of necklaces is a case in point.
Transparent Rain Macs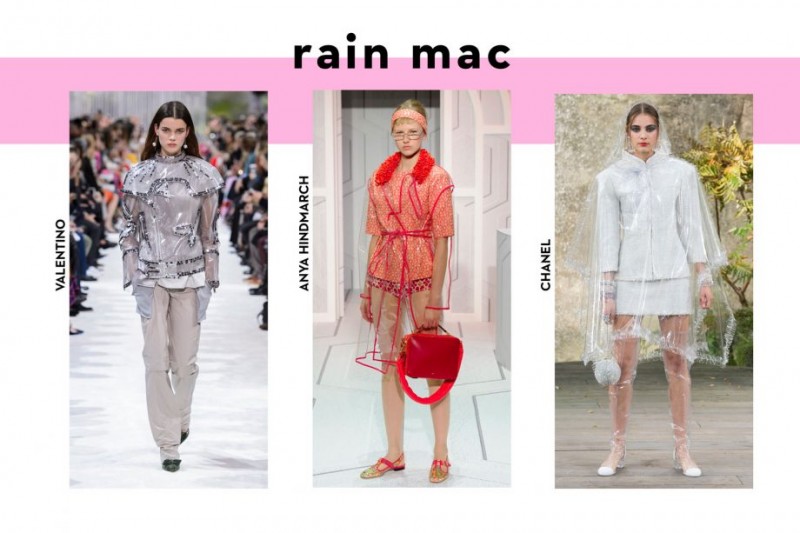 Trust Karl Lagerfeld to create an entire ecosystem for the Chanel SS18 Paris show – building a French cliff scene inside the Grand Palais, with real live waterfalls and cascading streams for the models to stroll round. Climate change statement or practical fashion problem solving? Maybe both. Either way – we're covered for spring showers. Transparent plastic macs, rain hats…we've never seen Karl so sensible. Other labels including Valentino also produced 'It' macs – we never thought we'd say those words.
Sportswear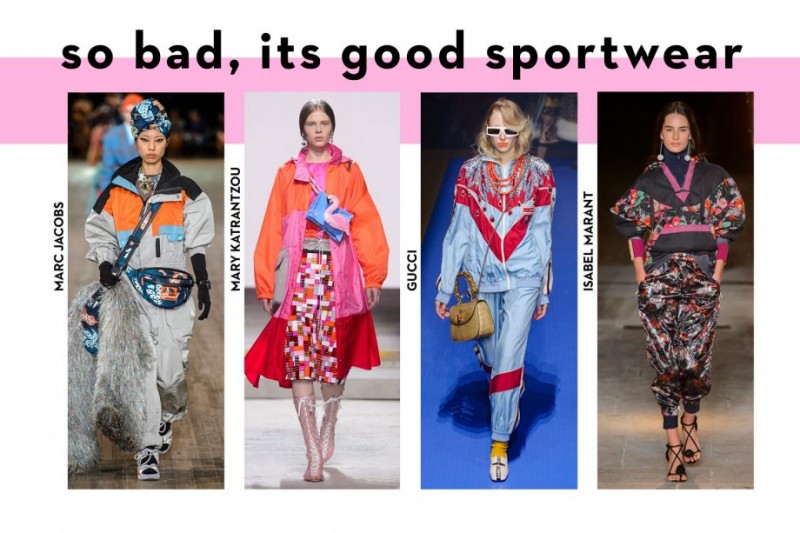 Another face (more like North Face in fact) of the simmering 80s theme – Dad-tastic sportswear. That's right, fashion fans – the shellsuit is back! Witness Gucci's jaunty two-piece and Isabel Marant's sexed-up tracksuit worn with high heels. The best way to carry off this trend – instead of looking like an escapee from a Soviet Olympic training camp, circa 1989 – is to dilute heavily. Take one shellsuit jacket and wear with something seriously sexy on the bottom. Or team the new sporty 'dad' trainers (see below) with a pretty summer dress.