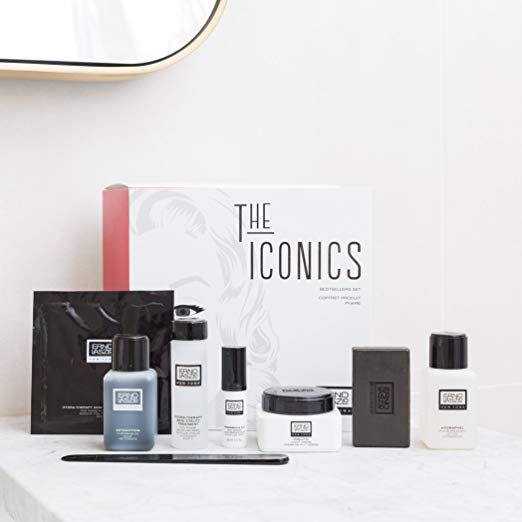 Description
Marilyn, Audrey, Jackie - the legacy of Erno Laszlo continues with you. Treat yourself to our limited edition best sellers set and become the next Hollywood Icon.
Benefits
All of our best in one starter set to kick off your Erno Laszlo Skincare Regimen.
Suggested Use
Use according to individual product directions.
Product Description
Detoxifying Cleansing Oil: Our original detoxifying cleansing oil draws out impurities with charcoal and nourishes for a fresh, even-toned glow. Sea Mud Deep Cleansing Bar: Our original and famous Sea Mud cleansing bar, exfoliates to visibly reduce pore size. A perfect pair with the Detoxifying Cleansing Oil. Hydraphel Skin Supplement: A hydrating toner that gently calms, hydrates and refreshes as it eliminates dull skin, prepping your face for what comes after. Phormula 3-9 Eye Repair: This revolutionary gel-cream cools instantly, and penetrates easily to hydrate, restore elasticity and erase the visible signs of fine lines and wrinkles. Hydra-Therapy Skin Vitality Treatment: A mix-to-activate peel off mask that quenches, soothes, and cools to instantly plump thirsty skin. Phelityl Night Cream: Our bestselling, lightweight, non-greasy cream that smooths onto skin for restored radiance when you wake up.
Brand Story
The legacy of Erno Laszlo may be rooted in the groundbreaking skincare discoveries of Dr. Laszlo, but behind his life changing products it's always been about Her.