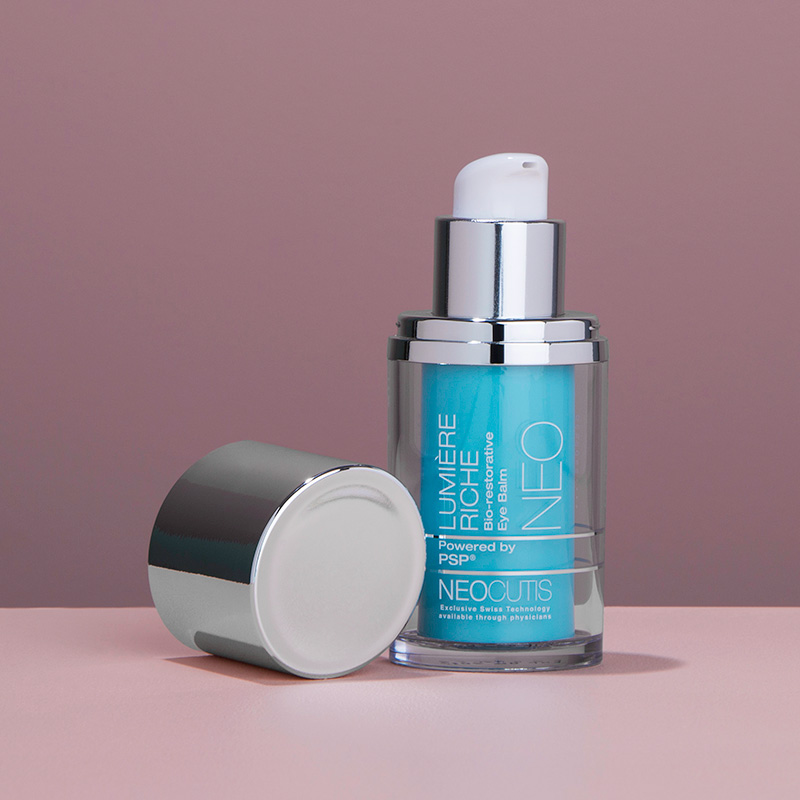 Description
Intensive line smoothing eye cream targets the delicate eye area to improve the signs of aging for noticeably younger-looking eyes!
Benefits
Moisturizing and rejuvenating cream, alleviates under eye darkness and reduces puffiness
Suggested Use
Apply AM/PM or as directed by your skincare professional to clean, dry skin surrounding the eye area.
Product Description
LUMIÈRE is powered by 30% more1 PSP to help smooth the appearance of fine lines and wrinkles. Discovered through years of research in wound healing, PSP, Processed Skin Cell Proteins, is a patented cosmetic ingredient developed by leading Swiss scientists and available exclusively in NEOCUTIS skincare products. PSP is an optimal blend of nourishing proteins and polypeptides. PSP harnesses the power of Human Growth Factors, Interleukins and other Cytokines, to help deliver state-of-the-art skin revitalization. Other key ingredients include Caffeine, Hyaluronic Acid and Bisabolol. This powerful blend of energizing, moisturizing and nourishing ingredients helps provide your eyes with a younger, more refreshed look! Daily use of LUMIÈRE provides the following benefits: Helps alleviate skin puffiness with Caffeine. Plumps up the appearance of skin with the hydrating power of Hyaluronic Acid. Visibly diminishes the appearance of under eye darkness. Soothes and refreshes the delicate eye area to help improve the signs of fatigue. All skin types: Ophthalmologist and Dermatologist tested , Free of color additives and fragrances , Not tested on animals. 1 Compared to BIO,CREAM. Individual results will vary.
Brand Story
NEOCUTIS offers premium skincare products that are the result of cutting-edge research and meticulous craftsmanship that help energize, nourish and rejuvenate aging skin.