These easy marinades for grilled chicken combine big flavors with almost no prep work. And the marinating times? Well, unlike tough cuts of meat, chicken doesn't need long dips in the marinade pool before hopping onto the grill. So you can have marinated grilled chicken for dinner even on your busiest summer days.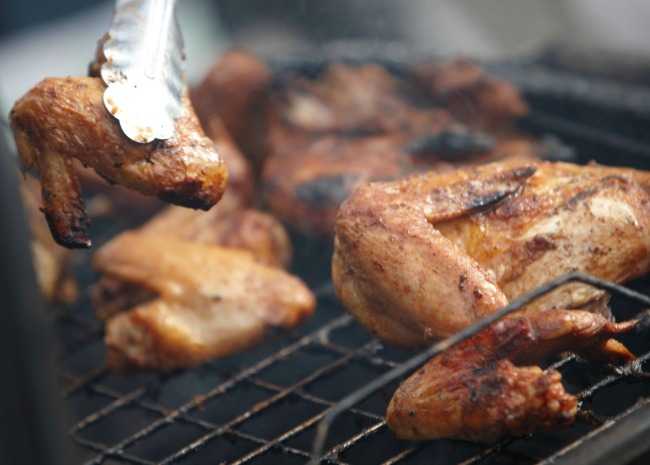 Photo by Meredith
Quick Tips for Grilling Marinated Chicken
Marination times. Some of the recipes below call for hours of marinating. You can certainly go the distance if you like, but it's fine to reduce the marinating time. Also, if you start with cold chicken, fresh from the fridge, and cover the chicken and marinade mixture or seal it up tightly in a large plastic bag, you can let it come to room temperature -- not longer than 30 minutes. And then take it directly to the hot grill.
Start smooth-side down. Chicken pieces typically have a smooth side and a rough side. Place your marinated chicken smooth-side down on the hot grill grates to start. If you begin rough-side down, the chicken is more likely to stick, tearing as you turn it.
Thick parts over the hot spots. Position the chicken pieces so that the thicker parts are sitting over the hottest part of the grill.
Thighs are great for grilling. Chicken breasts are always delicious. But chicken thighs can be a bit more forgiving on the grill. Because thighs are a little fattier than chicken breasts, they can withstand a smidge o​​​​​​f overcooking on the grill. The fat keeps the meat nice and juicy.
Start with a good sear. Get a good sear on one side, then turn the chicken and finish grilling with the lid closed. This method gives you nice grill marks and also turns your grill into an oven, which will will help cook your chicken evenly.
Boil extra marinade. Extra marinade? If you boil your marinade for at least 3 minutes, you'll have yourself a tasty sauce. But you must boil it first to kill any bacteria that may have built up. Boiling marinade will also concentrate flavors.
1. Italian Chicken Marinade
You want simple? This chicken marinade combines Italian salad dressing, garlic powder, and salt. Add the chicken and marinate as long as you like. "I don't know what magic occurs when these 4 little ingredients come together," says momabroad. "But the results are fantastic."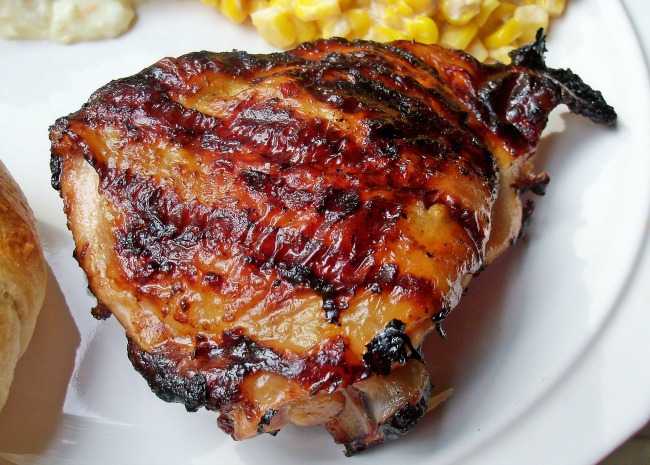 Photo by wannabe chefette
2. Easy Grilled Lemon Chicken
Here's an easy chicken marinade for quick weeknight meals. All you do is mix together lemon juice, soy sauce, ginger, and black pepper and pour it into a large, resealable plastic bag. Add boneless, skinless chicken breasts, and marinade for 20 minutes or more.
3. Marinade for Chicken
The only chopping you'll need to do here is the parsley. Otherwise, it's just combine vegetable oil, red wine vinegar, lemon juice, soy and Worcestershire sauces, mustard powder, minced parsley, and the chicken pieces of your choice.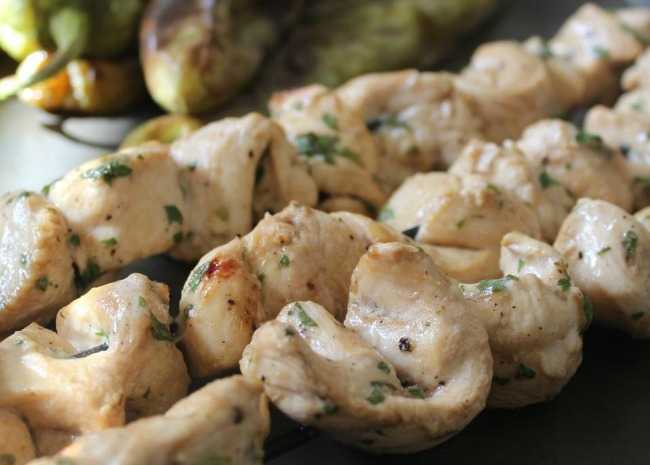 Photo by mommyluvs2cook
4. Misti's Chicken Marinade
Here's a super-simple recipe for boneless, skinless chicken breasts. Just whisk together vegetable oil, vinegar, molasses, soy sauce, and a few seasonings -- lemon-pepper and garlic and onion powders. Dinner's ready in no time.
5. Key West Chicken
Here's a lime chicken marinade straight from the Florida Keys. "This recipe is the best chicken marinade," says TINA B. "And it only takes 30 minutes from prep to grill."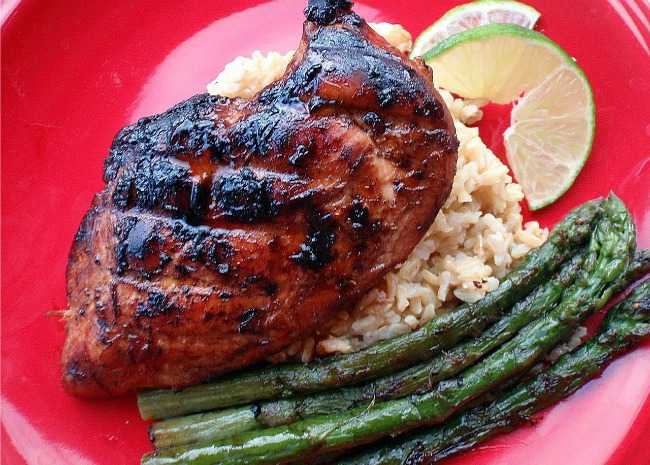 Photo by culinarychick
6. Soy and Garlic Marinated Chicken
A soy chicken marinade with garlic. "This is the easiest marinade I have ever used," says CANDIELIPS. "It works well with any cut of chicken -- thighs, legs, whatever you have."
7. Easy Chicken Fajita Marinade
With this recipe, you chop nothing. Just mix together lime juice, honey, vegetable oil, and a few ground spices. "It seriously doesn't get any easier than this," Terri confirms. "And to top things off, I had all the items in my cupboard."
Photo by Paula
8. Chicken Marinade
Crush a little fresh garlic, and mix it with soy sauce, vegetable oil, brown sugar, and the secret ingredient, sherry! For best results, use drinking sherry not cooking sherry, which is loaded with sodium. Stephani dispensed with the sherry entirely, using cognac instead, all to 5-star effect: "Really simple and just great!" she raves.