Artichoke Tart with Prosciutto and Spring Onion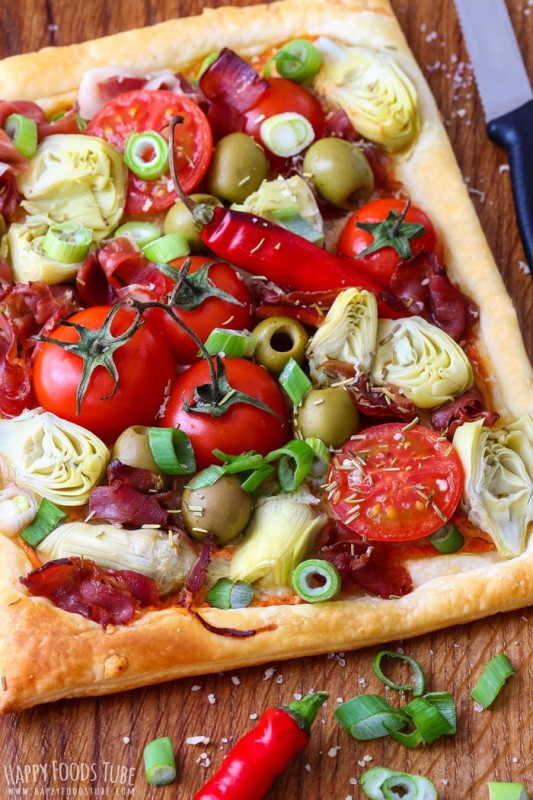 Ingredients
1 Puff Pastry Sheet
2 tbsp Roasted Red Pepper Pesto (see note 7)
½ cup Cheddar Cheese (50g)
1 cup Artichoke Hearts
8 Cherry Tomatoes
2 Spring Onions
6 slices Prosciutto
2 Chili Peppers
½ cup Green Olives
1 tsp Rosemary , optional
Instructions
Preheat the oven to 400°F/200°C.
Roll out the pastry and cut in half. Place both puff pastry sheets onto a baking tray lined with parchment paper. Make sure there is space in between the sheets.
Get a knife or pizza cutter and score a rectangle about ½ inch (1cm) from the edges (make sure not to cut through the pastry). Do this on both pastry sheets.
Spread pesto over the pastry sheets, sprinkle cheese over and top each with the rest of the ingredients.
Bake in a preheated oven for 12 minutes or until the edges of the pastry are puffed and golden brown (check the pastry package information for baking times).
Recipe Notes
If using a rectangle puff pastry sheet – either divide it into 2 or make one large tart. It's completely up to you. If using a round puff pastry sheet – no need to cut it in half.
Toppings – use anything you like!
Rosemary is completely optional.
Green or Black olives both work well, just make sure buy pitted ones.
Italian Prosciutto can be substituted with Spanish jamon.
It takes about 12 minutes to bake this tart in my oven. However, you might need more time so I recommend checking after 10 minutes to see if it's puffed. Also check the pastry package information for baking times.
Roasted red pepper pesto can be substituted with red pesto, basil pesto or pizza sauce.
Recent Posts
Most Read
Popular Posts
Donate
Tags