Bacon Pimiento Cheese Jalapeno Poppers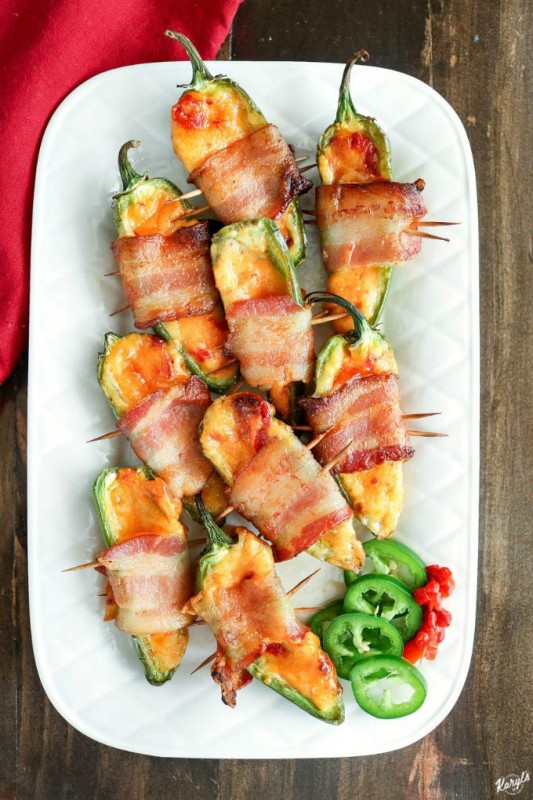 photo credit by karyls kulinary krusade
Ingredients
12 jalapenos, each about 3-4" long
12 slices bacon (I use center cut)
pimiento cheese spread
1/2 teaspoon sea salt
Instructions
Preheat oven to 400 degrees. Prepare a baking sheet by lining with aluminum foil, and placing baking rack on top. Set aside
Cut jalapenos in half, lengthwise. Using a small spoon, scoop out the seeds and ribs. This is where all the heat is, so make sure you remove as much as possible. USE GLOVES OR WASH HANDS THOROUGHLY WITH SOAP AND WATER AS SOON AS YOU ARE DONE!
Lay jalapeno halves cut-side up on a separate baking sheet. Using a 1 teaspoon measure, fill jalapenos with pimiento cheese spread. Don't overfill, or the cheese will bubble over
Transfer baking sheet to fridge, and allow to rest for one hour. NOTE: you can make these up to this point up to one day ahead. Remove jalapenos from fridge 10 minutes before wrapping with bacon
Lay bacon pieces individually on cutting board. Hold the left edge of the bacon down. Using large knife flipped upside down, drag flat edge across bacon, until it extends by 50%. Cut each piece in half, so you end up with 24 pieces of bacon
BACON OPTION 1: Lay pieces of bacon on baking rack, and bake in oven for 8 minutes. Remove from oven, transfer to paper towels to drain. When cool enough to handle, wrap a piece of bacon around each jalapeno half
BACON OPTION 2: Wrap a piece of raw bacon around each jalapeno half
Secure bacon to jalapenos with 2 toothpicks per jalapeno popper. Be sure to push toothpicks through both bacon and jalapenos. Transfer to baking rack, and bake in oven for 18-20 minutes
As soon as jalapeno poppers come out of the oven, lightly sprinkle each jalapeno popper with salt. You will only need 1/2 teaspoon total for all 24 poppers
Allow poppers to cool for 2-3 minutes before serving.
Recent Posts
Most Read
Popular Posts
Donate
Tags