Bacon Wrapped Chicken Meatballs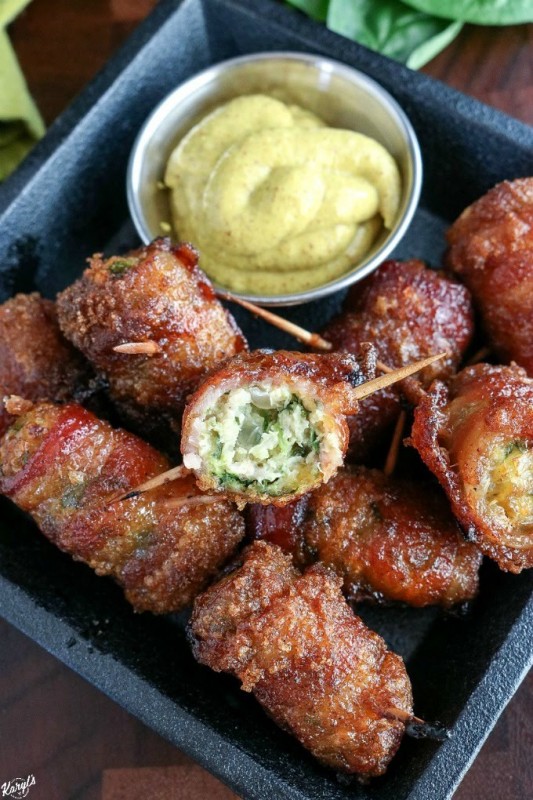 Ingredients
8 ounces ground chicken (I use chicken thighs)
1 cup baby spinach, rinse, dried, and finely chopped
3 cloves garlic, minced
1/4 cup yellow onion, minced
1/4 cup fresh-grated Parmesan cheese
2 large eggs, whisked
1/2 cup Panko bread crumbs
1 Tablespoon red pepper flakes (more or less, to taste)
1 teaspoon fresh-cracked black pepper
1 teaspoon sea salt
12 slices bacon
1/2 cup dark brown sugar
1 Tablespoon cayenne pepper
1 Tablespoon paprika
2 Tablespoons chili powder
spicy brown mustard, for dipping
Instructions
Preheat oven to 400 degrees. Line a baking sheet with foil. Top with baking rack, and spray rack well with cooking spray.
In a large bowl, add chicken, spinach, garlic, onion, cheese, eggs, Panko, red pepper flakes, salt and pepper. Mix all ingredients together. Don't over mix or the meatballs will be dense. Just enough so that the mixture is evenly distributed.
Form meatballs. I use a 1 Tablespoon scoop, and then roll the meatballs in my palms to make sure they hold together. WILL MAKE 24 MEATBALLS
Lay bacon pieces on a flat surface. Using the flat end of a large knife, run the knife along the bacon to stretch it out and make it more even. Cut each strip in half.
Lay a meatball at one end of a piece of bacon, and wrap. Insert a toothpick through each piece to hold the bacon together
In a large plate combine brown sugar, paprika, cayenne and chili powder. Coat meatball with mixture. You may need to press mixture onto bacon so it adheres.
Place meatballs on baking rack. Bake for about 25 minutes, until chicken us cooked through.
Serve immediately, with spicy brown mustard for dipping.
Recent Posts
Most Read
Popular Posts
Donate
Tags