Berries & Cream Blender Crepes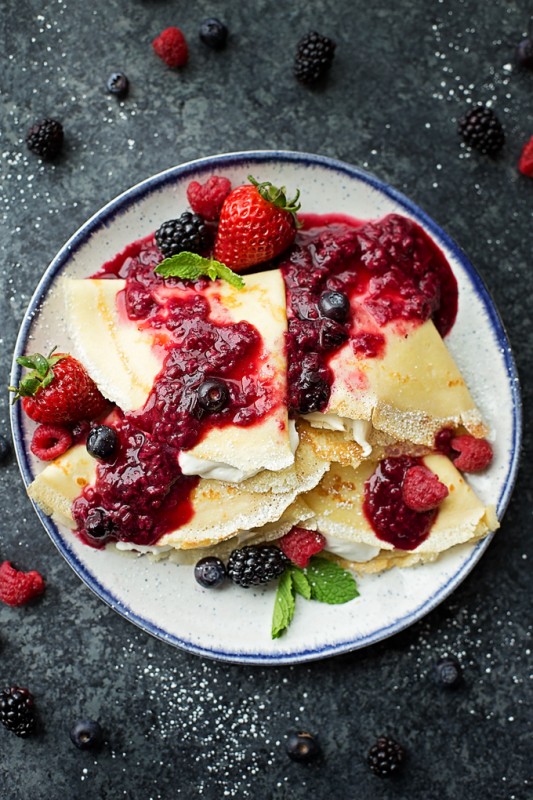 Ingredients:
1 1/2 c. whole milk or half & half
2 tbsp. unsalted butter, melted
3/4 tsp. vanilla extract
3 eggs
1 c. all-purpose flour
2 tsp. granulated sugar
1/4 tsp. kosher sea salt
For the topping:
2 c. fresh or frozen mixed berries
3 tbsp. granulated sugar (1/4 c. if you prefer it on the sweeter side)
3 tbsp. water
2 tsp. fresh lemon juice
powdered sugar (optional)
For the filling:
1 c. whipped cream
2 tbsp. powdered sugar
1/2 tsp. vanilla extract
Directions:
In the jar of a blender, add the milk, melted butter, vanilla, eggs, flour, sugar, and salt. Blend on low until well combined, about 15 seconds. Place in the refrigerator to chill for 30 minutes.
Just before the batter is ready to be used, in a small saucepan set over medium heat, combine the berries, sugar, water and lemon juice. Allow to simmer while the crepes are cooking. You can pour it through a mesh sieve if you prefer a seedless sauce.
Place a 10-inch non-stick skillet over medium heat (or slightly higher). Stir the batter, then butter the pan.
Remove the pan from the heat, pour 1/4 cup of the batter into pan, and swirl in circular motion to evenly coat the bottom of the pan with batter.
Cook until golden brown on bottom, about 2-3 minutes. Flip the crepe and continue cooking for 1-2 minutes. Transfer to a wire rack and allow to cool.
Repeat until all of the batter has been used.
To prepare the whipped cream, in a large mixing bowl (with a hand mixer) or the bowl of a stand mixer, whip the cream, powdered sugar and vanilla until stiff peaks form.
Roll or fold the crepes and fill with whipped cream. Top with berry sauce and powdered sugar, if desired.
Recent Posts
Most Read
Popular Posts
Donate
Tags