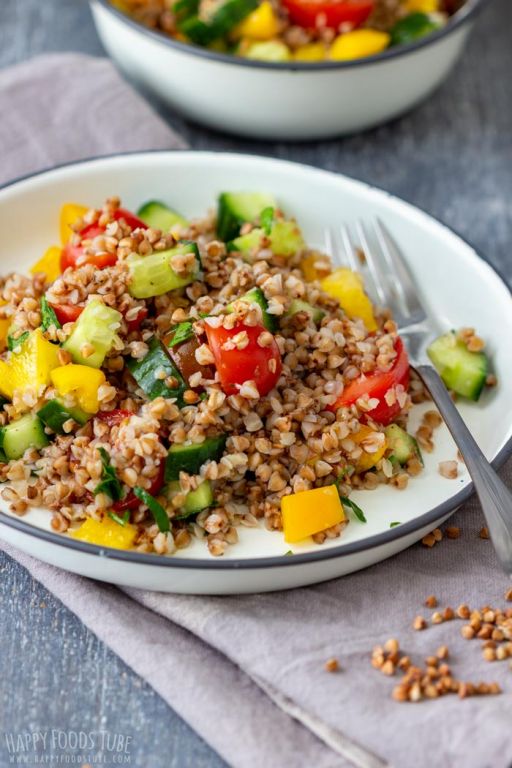 Looking for healthy and filling recipes? Try this protein-rich buckwheat salad. It's packed with nutrients and can be enjoyed for breakfast, quick lunch or as a side. Also naturally gluten-free and vegan!
Ingredients
¾ cup Buckwheat , uncooked (150g)
1.5 cup Water (370ml)
1 tsp Salt + extra for Seasoning
½ English Cucumber
1 Large Yellow Pepper
1.5 cup Cherry Tomatoes (200g)
4-5 Sprigs Fresh Flat Leaf Parsley
1 tbsp Extra Virgin Olive Oil
A generous Pinch of Black Pepper
Instructions
Rinse the buckwheat groats and place them in a small sauce pan. Add the water, salt and bring it to a boil. Reduce the heat to low-medium and simmer for a further 10-15 minutes. If you like the buckwheat to be really tender, it might take longer (see note 4). If the buckwheat does not absorb all the water, drain it.
Meanwhile: Wash and cut the vegetables into bite–size chunks. Transfer them into a bowl and season with salt and pepper. Pour over a table spoon of olive oil and sprinkle with finely chopped parsley (add as much as you like). Mix well.
When the buckwheat is ready, taste it, add more salt (if needed) and mix it with chopped veggies.
Serve warm or cold!
Recipe Notes
You can use any kind of sweet peppers you like: Italian, mini peppers, sweet Banana peppers, ….
This is a pretty versatile recipe and the amounts of ingredients can be easily adjusted to your liking.
Those who don't follow vegan diet can add Feta cheese or boiled egg.
Cooking buckwheat – This is the way I cook buckwheat but sometimes different brands have slightly different buckwheat so the time may vary. If not sure, I suggest following the package instructions.
Enjoy this salad for breakfast, lunch or as a side.
Recipes by happyfoodstube