Cheese Stuffed Pasta Shells with Meat Sauce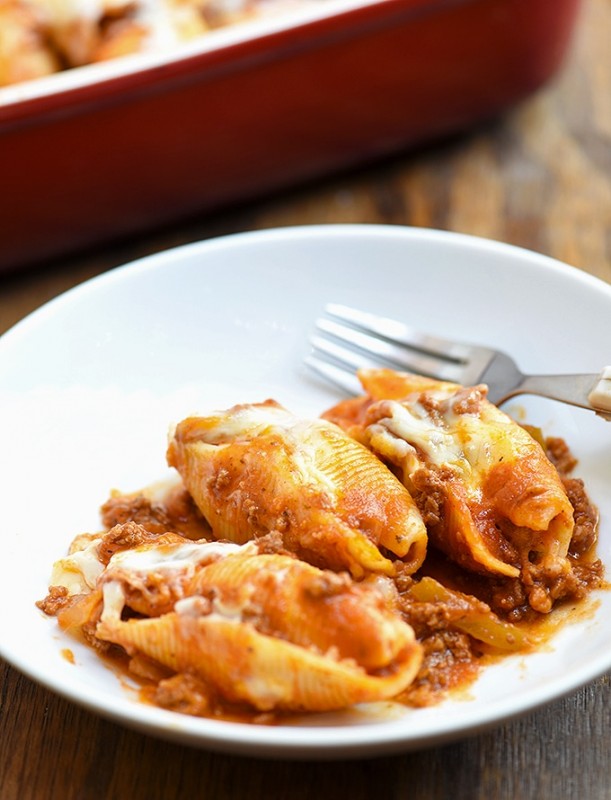 Ingredients
1 pound ground beef
1 onion, peeled and chopped
3 cloves garlic, peeled and minced
1/2 green or red bell pepper, seeded, cored and chopped
1 can (24 ounces) marinara sauce
1 cup beef broth
1 teaspoon sugar
1 teaspoon salt
1/2 teaspoon pepper
1/2 teaspoon Italian seasoning
24 pieces jumbo pasta shells
24 ounces ricotta cheese
1/4 cup Parmesan cheese, grated
2 cups freshly shredded mozzarella cheese
1 egg, beaten
Instructions
In a large pot over medium heat, add ground beef and cook, stirring and breaking apart with the back of a spoon, until lightly browned and releases fat. With a slotted spoon, remove meat from pan and set aside. Discard grease except for about 1 tablespoon.
Add onions, garlic, and sweet peppers and cook until softened.
Add browned ground beef back to the pot.
Add marinara sauce and beef broth. Stir to combine. Bring to a boil.
Add sugar, salt, pepper, and Italian seasoning..
Lower heat, cover, and simmer, stirring occasionally, for 20 to 25 minutes or until meat is cooked.
Meanwhile, in a pot of boiling water, cook jumbo shells about 1 minute shy of package directions. Drain, layer on a sheet pan, and allow to cool.
In a bowl, combine ricotta cheese, 1/2 cup of the mozzarella cheese, Parmesan cheese, and egg.
Using a small scoop or tablespoon, stuff pasta shells with cheese mixture.
In a greased baking dish, add half of the meat sauce. and spread to cover the bottom of the pan.
Arrange stuffed shells open side up in a single layer. Cover with remaining sauce and sprinkle top with the remaining 1 1/2 cups mozzarella cheese.
Cover with foil and bake in a 400 F oven for about 30 minutes or until hot and bubbly and cheese is melted. Serve hot.
Recipes Credit by onionringsandthings.com
Recent Posts
Most Read
Popular Posts
Donate
Tags