Coconut-Lemon Mousse Trifle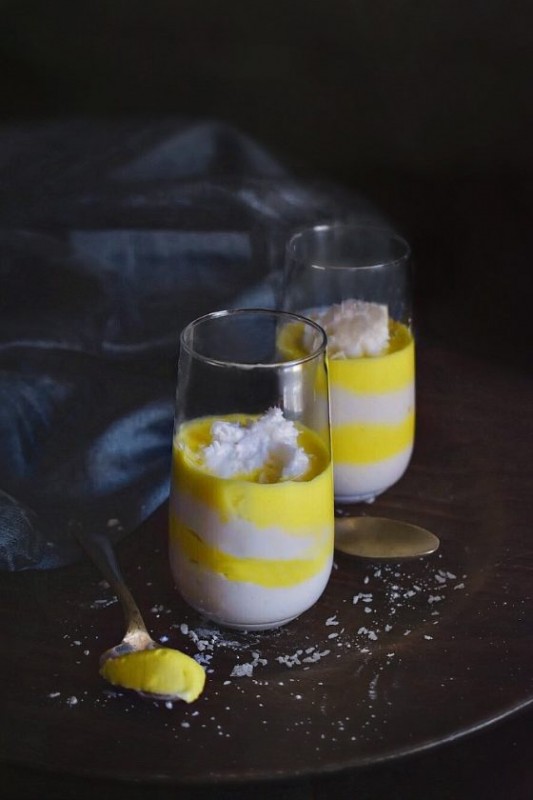 Ingredients
1 Can Coconut Milk - full fat version
2 Tsp Powdered Sugar - use as per choice
1/4 Tsp Lemon Flavor
Pinch of Yellow Food Color - for lemon color, optional
Instructions
Place the coconut can in the fridge for 1 hour or overnight
Once chilled, remove the can from fridge and open it.
Remove the thick coconut milk (almost solid form now) into a large bowl. (scrape all the solid milk mixture on top).
(Discard the leftover thin water or extremely thin milk at the bottom of the can)
Now whip the coconut milk to form stiff peaks.
Add powdered sugar and whip again for a minute.
Once nicely whipped, remove 1/2 cup in another bowl.
Mix the lemon flavor+color to other half and whip to mix the flavors and color (finally bright yellow).
Now use two bags/ziploc and add both whipped coconut milk in separate bags.
Layering the Trifle:
Take a serving glass and squeeze coconut whipped cream in it (about an inch).
Tap to glass for cream to layer.
Now, add some of the yellow color coconut cream over it (1inch) and tap to evenly form a layer.
Similarly, layer with white coconut whipped cream and repeat the yellow layer.
Once you are almost at the top, add the Reddi-wip® Coconut Non-dairy whipped topping on each glass.
Sprinkle coconut flakes and dust some powdered sugar on it.
Serve Immediately
Recent Posts
Most Read
Popular Posts
Donate
Tags