Creamy Chicken Tomato Tortellini Soup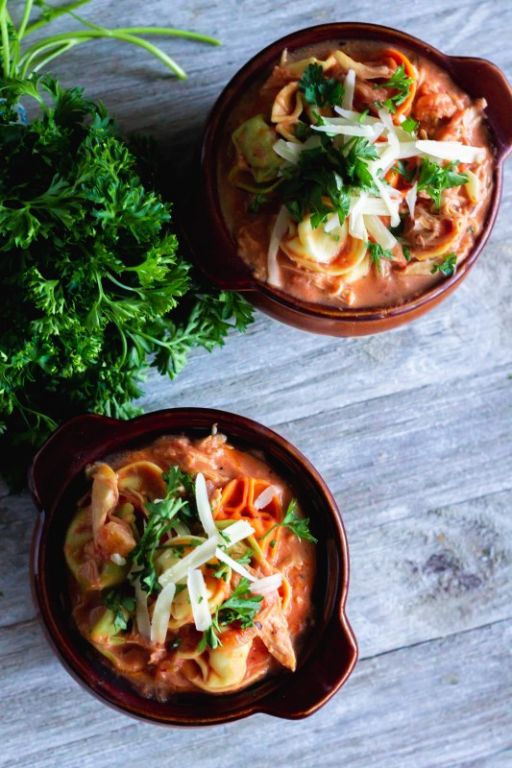 Ingredients
2 tbsp olive oil
1/2 yellow onion small dice
3 garlic cloves minced
1/2 tsp dried basil or 1 tbsp fresh basil julienned
14 oz crushed ground tomatoes preferably Italian
4 cups chicken stock
Leftover cooked chicken chopped or shredded
1 bay leaf
16 oz refrigerated cheese tortellini
1/2 cup heavy cream or half and half
3/4 cup freshly grated Parmesan cheese
Salt and Pepper to taste
Flat leaf parsley roughly chopped
Instructions
In a dutch oven heat olive oil on medium heat, then add onions. Saute for 3-5 minutes, or until onions are translucent and beginning to turn golden. Add garlic and basil, stir around frequently so they don't burn. Cook for one minute, then add tomatoes, chicken stock, bay leaf, and shredded chicken.
Let come to a simmer, cooking for five minutes to heat chicken through.
Add cheese tortellini and let cook for five minutes until heated through.
Take pot off the heat, add heavy cream and parmesan, and stir well to melt cheese. Taste and season with salt and freshly cracked black pepper. Add parsley and extra parmesan to garnish. Serve immediately.
credit by sweetteaandthyme.com
Recent Posts
Most Read
Popular Posts
Donate
Tags