Crispy Fried Onion Straws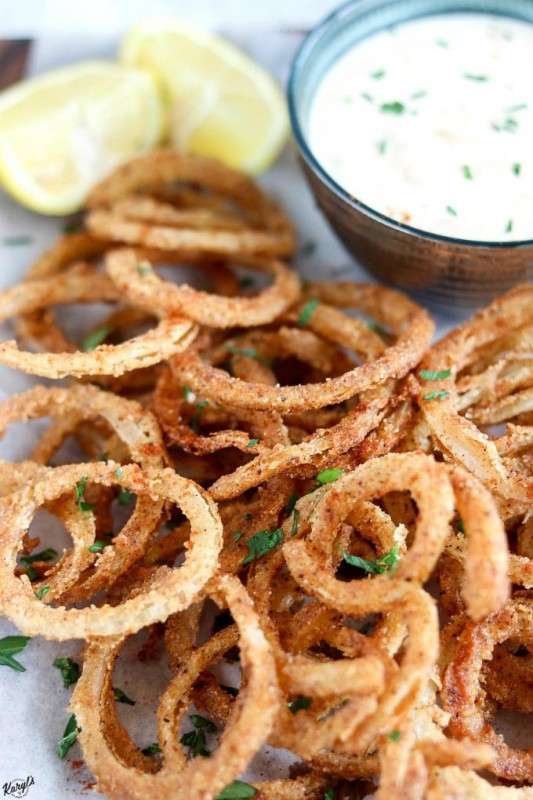 Ingredients
1 medium sweet onion
1 cup buttermilk
1/4 cup all-purpopse flour
1 teaspoon onion powder
1 teaspoon garlic powder po
1 teaspoon paprika
1 teaspoon cayenne pepper
1 teaspoon chili powder
1 teaspon sea salt
canola oil, for frying
Garlic Sauce
1/2 cup mayonnaise
1 teaspoon dijon mustard
2 cloves garlic, smashed
juice of 1/2 lemon
1/2 teaspoon paprika
Instructions
In a bowl, combine mayonnaise, mustard, garlic, lemon and paprika. Mix well, and season to taste with salt & pepper. Allow to rest in fridge until ready to use
Slice onion into 1/4" slices using mandoline. Separate onion pieces and place into large bowl. Add buttermilk and rest in fridge for one hour
Drain buttermilk from onions
Add flour, onion powder, garlic powder, paprika, cayenne pepper and chili powder into plate and mix well to combine
Using tongs or a fork, transfer onions in batches into flour mixture. Toss well to combine. Tap off excess flour and transfer to a clean plate.
Heat oil in large fry pan. Test the oil with a small piece of onion. When onion immediately begins to bubble and raises to the surface, the oil is hot enough
Add onions in batches to fry pan. Don't overcrowd the pan, or the onions won't cook properly
Watch carefully, as onions will only take about 2 minutes to cook. Remove onions as they finish, and lay on paper towels to drain. Immediately sprinkle with sea salt
When completely finished, sprinkle with additional paprika, if desired.
Recent Posts
Most Read
Popular Posts
Donate
Tags