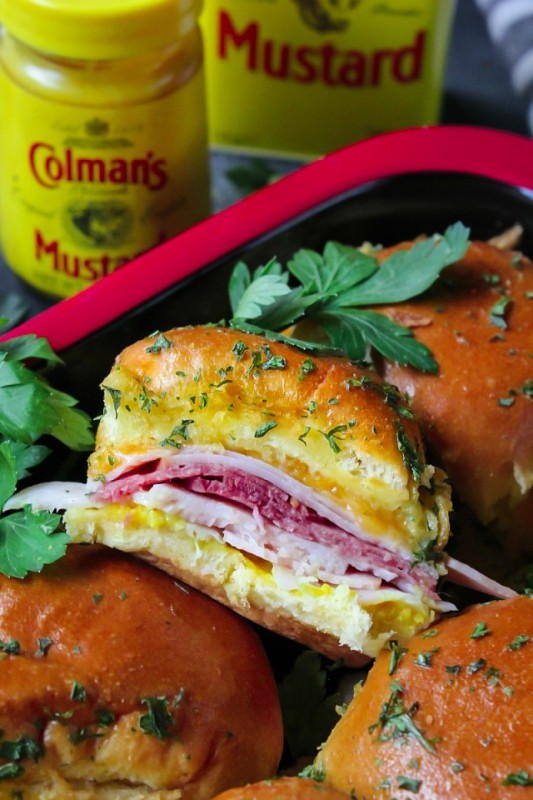 photo credit by Sandra's Easy Cooking
Ingredients
12 Brioche Bun Sliders
1 tbsp. Colman's Prepared Mustard
1 tbsp. Avocado Mayonnaise
6 slices Hard Salami
6 slices Smoked Ham
6 slices Smoked Turkey
2 Larger Dill Pickles sliced lengthwise into thin strips
1/2 cup Shredded Colby and Monterey Jack Cheese Blend
1 tbsp. Unsalted Butter
1 tsp. Dried Parsley
1/2 tsp. Garlic Powder
1/2 tsp. Colman's Mustard Powder
Instructions
Preheat over to 375F
Slice sliders in half. The easiest way is if you slice all at ones.
Butter the baking pan on the bottom and around the sides.
Place the bottom of the buns in the baking pan.
Spread Colman's Mustard evenly then over the mustard spread a layer of avocado mayonnaise.
Add slices of deli sub meat combination, then add cheese evenly on the top.
Take the pickles out of the jar and cut them lengthwise if they are not already sliced. Then using kitchen paper towel pat dry the slices before placing it in the sliders. This is optional. You do not have to use pickles in the sandwich, instead may serve them on the side.
Place the top of the sliders to close the sandwiches.
Melt butter, then add to the melted butter dried parsley, garlic powder, and Colman's Mustard Powder. Mix well, then brush the mixture on the top of the sliders.
Bake sliders for 15-18 minutes or until the cheese is completely melted. Serve immediately.
Recipe Notes
You may use any deli meat that you prefer. This combination works very well, but it's up to you which deli meat you have or like to use. Colman's Mustard works very well for these kinds of sandwiches.