Figs with Goat Cheese and Spanish Jamon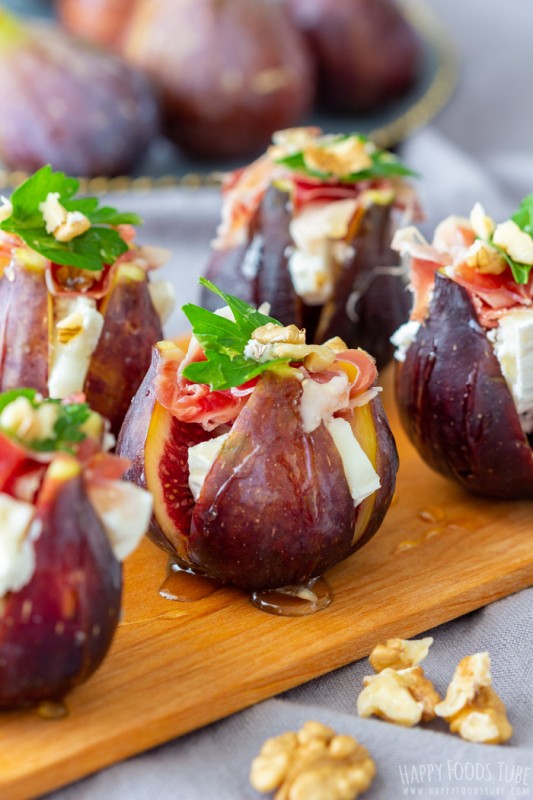 Ingredients
12 Fresh Figs (see note 1)
6 ounces Goat Cheese log , 180g (see note 2)
4-6 thin Slices of Jamon (see note 3)
Fresh Parsley
Optional:
A drizzle of Honey
¼ cup Walnuts
Instructions
Rinse the figs under running water and pat them dry with paper kitchen towels. Trim off the stems. Make an "X" cut into each fig starting at the stem area and continuing down about ⅔ into the fig.
Cut the goat cheese into slices, then each slice in half and tear the jamon into smaller pieces.
Fill each fig with a slice of the cheese and a few pieces of jamon. Top them with a leaf of fresh parsley.
Optional but recommended: Drizzle each fig with honey and sprinkle with coarsely chopped walnuts.
Recipe Notes
Avoid buying large figs. They will be difficult to eat in one (or two) bites.
I used President goat cheese. If you can't find this one in your local store, choose the one you prefer.
Spanish Jamon can be substituted with Prosciutto/Parma Ham. You might need less jamon/parma ham. This will depend on the amount you use.
Fresh parsley can be substituted with fresh chives.
This recipe yields 12 pieces. This should be enough for 4 people when counting with 3 pieces per person. However, it may vary. Count into consideration the length of your party and the amount of other foods served along these appetizers.
credit by happyfoodstube
Recent Posts
Most Read
Popular Posts
Donate
Tags