Grandma's Ground Beef Casserole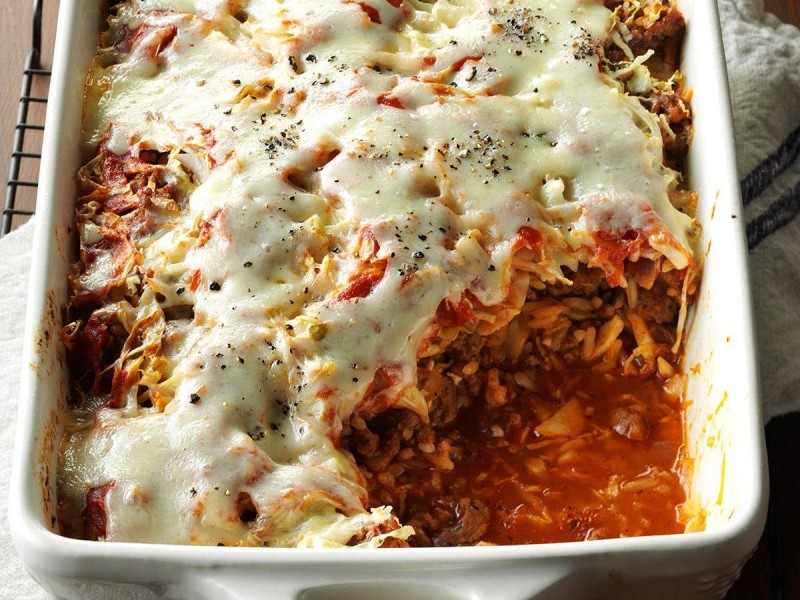 Ingredients
1 pound ground beef
1 teaspoon white sugar
1 teaspoon salt
1 teaspoon garlic salt
2 (15 ounce) cans tomato sauce
1 (8 ounce) package egg noodles
1 cup sour cream
1 (3 ounce) package cream cheese
1 large white onion, diced
1/2 cup shredded sharp Cheddar cheese, or more to taste
Directions
Heat a large skillet over medium-high heat. Cook and stir beef in the hot skillet until browned and crumbly, 5 to 7 minutes; drain and discard grease. Mix sugar, salt, garlic salt and tomato sauce into ground beef; simmer until flavors blend, about 20 minutes. Remove from heat, cover skillet, and cool to room temperature.
Bring a large pot of lightly salted water to a boil. Cook egg noodles in the boiling water, stirring occasionally until cooked through but firm to the bite, about 5 minutes. Drain and cool slightly.
Preheat oven to 350 degrees F (175 degrees C). Grease a 9x13-inch casserole dish.
Mix sour cream, cream cheese, and onion in a bowl.
Scoop half the noodles into the prepared casserole dish; top with half the sour cream mixture. Spoon half the ground beef mixture atop sour cream layer. Repeat layering with remaining ingredients. Top casserole with Cheddar cheese.
Bake in the preheated oven until Cheddar cheese has browned, 25 to 30 minutes.
Recent Posts
Most Read
Popular Posts
Donate
Tags