Grilled Whole Fish With Italian Bread Salad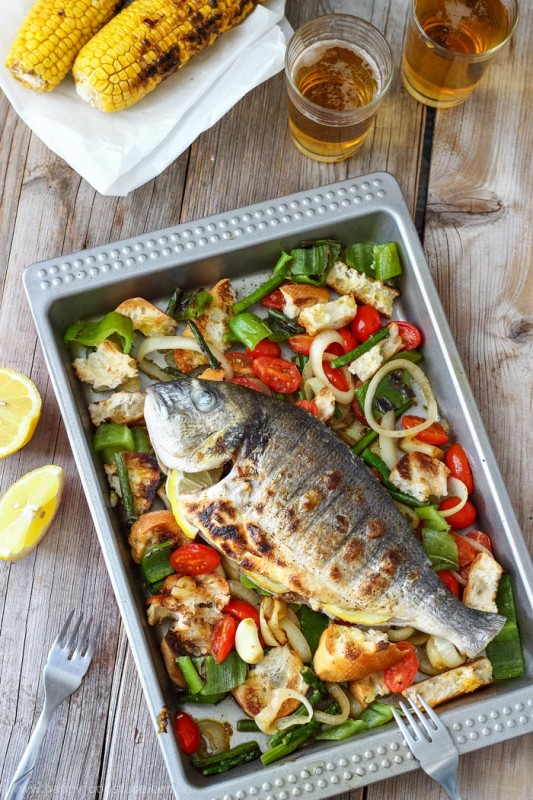 Ingredients
For the bread salad:
1½ cup Cherry Tomatoes
½ Onion , medium
1 Italian Pepper , large
4 Garlic Cloves
Sourdough Bread or French Baguette
8 Asparagus Stalks , ends trimmed (optional)
3-4 tbsp Extra Virgin Olive Oil
For the Grilled Fish:
2 Medium Whole Fish , cleaned (about 0.77pound/350g each) - I recommend Sea Bream or Sea Bass
1 Lemon
Garlic Cloves
Salt and Pepper to taste
2 tbsp Extra Virgin Olive Oil
Instructions
The Salad:
Slice the bread and grill it to your liking. Once done, let it cool down, tear into bite size pieces and place in a bowl.
Cut the onion into rings, peel garlic and cut in halves (if you have large cloves). Cut the pepper, asparagus and slice tomatoes in halves. Throw all of these onto a baking sheet/pan/tray and drizzle with olive oil. Season with salt & pepper. Place it on your grill and cook to your liking. Tomatoes will be the first ones ready. If you don't like them mushy – add them to your baking sheet later.
Grilling the veggies will take about 5 minutes. Once done, take it off of the grill and stir in the bread pieces. Drizzle some extra olive oil over, if you like.
The Fish:
Open the cavity a bit more using a knife. This way you can season the fish better. Peel the garlic cloves and crush them using a garlic press. Now mix garlic with olive oil.
Season the skin and cavity with salt and pepper. Rub the whole fish inside and out with olive oil & garlic mixture. Insert a few slices of lemon inside the cavity.
Grill for 4-5 minutes per side or until cooked through. The flesh should be juicy and the skin crispy.
Serve on a bed of Italian bread salad.
Enjoy!
Recent Posts
Most Read
Popular Posts
Donate
Tags