Hatfield Holiday Ham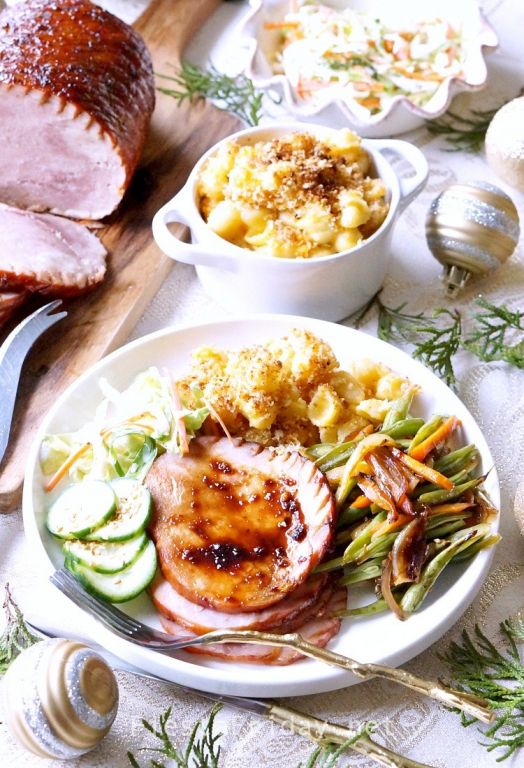 Ingredients
1 (2 lbs.) Hatfield Uncured Ham
For the glaze
⅓ cup kecap manis (Indonesian sweet soy sauce) * See Note
1 tablespoon sambal oelek, or any kind of chili paste
2 cloves garlic, finely minced
1 tablespoon lime juice
1 teaspoon grated ginger
For the stir-fried vegetables
½ lb. green beans (about 2½ cups)
1 medium carrot
1 small onion
1 tablespoon olive oil
2 tablespoons ham glaze
Instructions
For the ham
Heat oven to 325°F.
In a small bowl, mix all glaze ingredients. There will be enough glaze for the ham and the vegetables, with some leftover. ** See Note
Remove ham from packaging. Score it diagonally.
Place ham in a baking dish. Brush generously with the glaze. *** See Note
Place in the oven and bake for 30 - 40 minutes, basting every 10 minutes, until completely warmed through. Remember, the ham is already fully cooked.
Let ham rest for 5 minutes prior to slicing.
For the stir-fired vegetables
Slice onion, carrot, and green beans into julienne strips.
Heat a skillet on medium-high. Add olive oil.
Cook vegetables in the oil until tender and slightly caramelized, about 10 - 15 minutes, stirring often.
Add salt & pepper to taste.
Once vegetables are cooked to desired tenderness, drizzle 2 tablespoons of glaze, stir and cook for another minute. Served with the ham
Credit By fiestafriday.net
Recent Posts
Most Read
Popular Posts
Donate
Tags