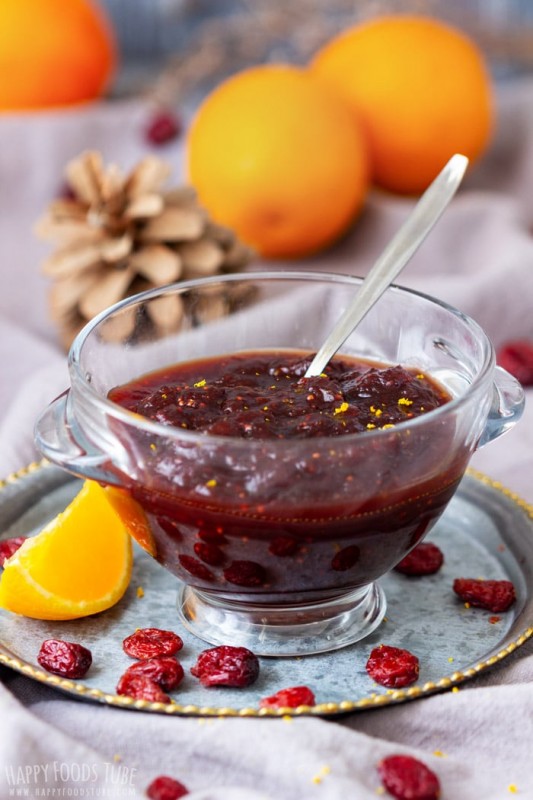 Ingredients
1½ cup Dried Cranberries (180g)
1½ cup Cranberry Juice (360ml)
Zest from 1 Orange
Juice from 1 Orange
¼ cup Brown Sugar (30g)
Lemon Juice , optional
Instructions
Place dried cranberries into the inner pot of your instant pot pressure cooker. Add cranberry juice, zest from 1 orange and juice from 1 orange.
Lock the lid into its position. Press MANUAL (pressure cooking) and set the time to 12 minutes. When ready, wait 5 minutes before releasing the pressure manually (you can also wait until the pressure drops itself).
Puree the cranberries with immersion blender to your desired consistency. Taste it and stir in sugar (add less if you feel that the cranberry sauce is way too sweet). Squeeze some lemon juice in for little tartness (optional).
Spoon/pour into a serving dish and enjoy.
Recipe Notes
1. If you don't have brown sugar, use white sugar instead.
2. Taste the sauce before adding the sugar in as the cranberry juice might contain some.
3. If you feel that the sauce is way too thick, add more orange or cranberry juice. If it is too thin, you can thicken it with cornstarch.
4. The amount of cranberry sauce you will get out of this recipe might vary slightly, depending on how thick you want your sauce. When you follow this recipe you will get 1½ cups of sauce.
5. This recipe was developed for a 6-quart/6-liter instant pot.
6. The overall time does not include the time the pot needs to come to pressure and release its pressure count with extra 16 minutes.
credit by happyfoodstube