Penne Alfredo with Broccoli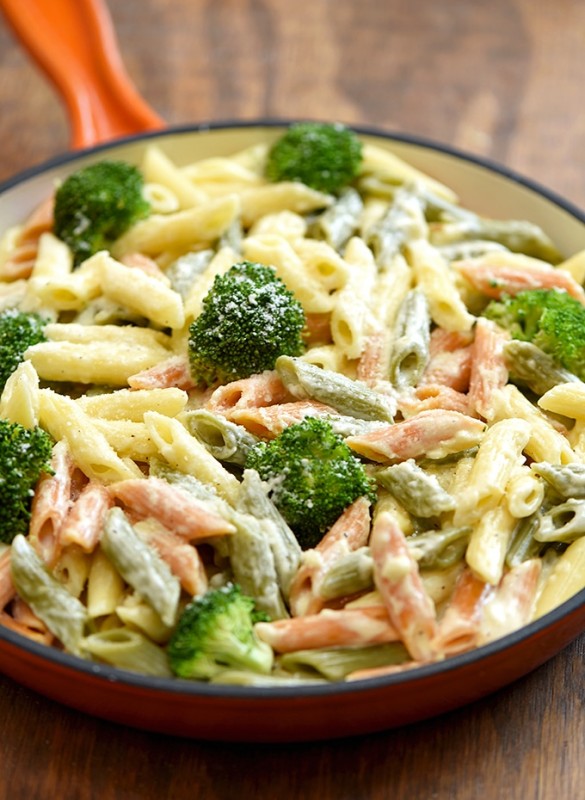 Ingredients
2 cups broccoli florets
1 pound uncooked penne pasta
2 tablespoons butter
1 head garlic, peeled and minced
2 cups heavy cream
1 cup Parmesan cheese
salt and pepper to taste
Instructions
In a pot over medium heat, bring about 1 quart water to a boil. Add broccoi and cook for about 1 to 2 minutes or until tender yet crisp. With a slotted spoon, remove from water and plunge into a bowl of iced water. When cold, drain from water and set aside.
In a large pot over medium heat, bring about 4 quarts of salted water to a boil. Add pasta and cook for about 2 minutes less than package directions. Drain well, reserving about 1 cup liquid.
In a wide pan over medium-low heat, add butter. When butter begins to melt, add garlic and cook, stirring, regularly, for about 2 to 3 minutes or until softened and aromatic.
Add heavy cream and simmer for about 3 to 5 minutes.
Add Parmesan cheese, whisking vigorously until cheese is melted.
Season with salt and pepper to taste. Continue to cook until sauce begins to slightly thicken.
Add pasta and broccoli and continue to cook, stirring, occasionally, until heated through. If sauce becomes too thick, add the reserved liquid (from cooking pasta) in 1/2 cup increments.
Garnish with grated parmesan cheese, if desired. Serve hot.
Recipes Credit by onionringsandthings.com
Recent Posts
Most Read
Popular Posts
Donate
Tags