Sheet Pan Bacon Wrapped Chicken & Veggies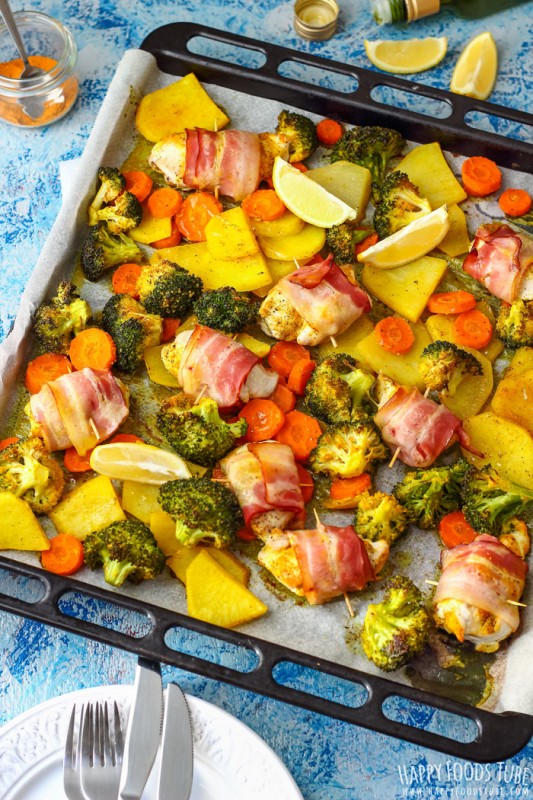 photo credit by happyfoodstube
Ingredients
For the veggies:
2 Carrots
2 large Potatoes
14 ounces Broccoli (400g)
2 tsp Garlic Powder
3 tbsp Extra Virgin Olive Oil
2 tsp Turmeric Powder
Salt & Black Pepper
½ Lemon
For the chicken:
1 lb Chicken Breasts (440g)
1 tsp Turmeric Powder
Salt & Black Pepper
3.5 ounces Bacon Slices (100g)
Instructions
Wash the vegetables. Peel the carrots and potato and slice them thin. Cut broccoli into larger florets and place these in a large bowl altogether with sliced carrots and potato. Season with olive oil, salt, garlic powder, pepper and turmeric powder. Squeeze some lemon juice over (optional). Give it a good mix so the veggies are coated as evenly as possible.
Cut each breast into 3-4 chunky pieces (preferably similar size). Season them with salt, pepper and turmeric. Wrap a bacon slice around each piece and secure it with a toothpick.
Line a sheet pan/large baking tray with baking paper (for easy cleaning) and spread the veggies around. Place the chicken pieces over and bake in a preheated oven at 400°F/200°C for 20 minutes or until the chicken and veggies are cooked through.
Recipe Notes
Extra virgin olive oil or just normal olive oil both work well.
I recommend not to over-season the chicken with salt. Bear in mind that bacon itself is quite salty.
Lemon can be omitted.
Carrots, potatoes, broccoli – feel free to increase or decrease the amount of the veggies to your liking. Just make sure the carrots and potatoes are not cut too thick.
Avoid dividing broccoli into very small florets. They tend to burn and dry out.
Turmeric powder will stain your hands so use gloves if preferred.
Recent Posts
Most Read
Popular Posts
Donate
Tags