Spicy Thai Pumpkin Soup with Ramen Noodles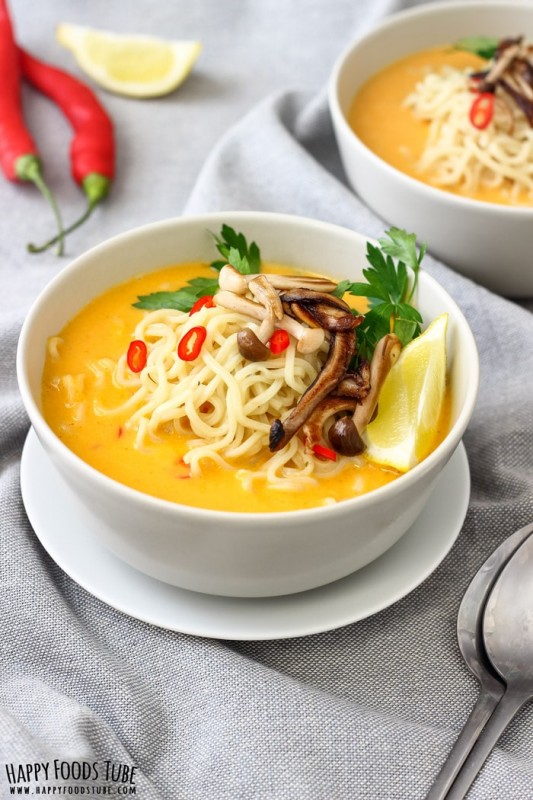 Ingredients
1 lb Pumpkin , peeled & diced
1 can Coconut Milk (13.6oz/400ml)
1 tbsp Thai Curry Paste
1 cup Mushrooms
1 Medium Onion
1 sachet Ramen Noodles
Salt to taste
½ Mild Chili Pepper , optional
1 Lemon Wedge + extra for garnish, optional
Coriander/Parsley to garnish
Instructions
Throw diced pumpkin and diced onion in a pot. Add Thai curry paste and mix. Saute, stirring occasionally.
Pour in coconut milk and bring to a boil. Reduce the heat and simmer until the pumpkin is cooked.
Meanwhile: cook the noodles following packet instructions and pan-roast the mushrooms.
Once the pumpkin is cooked, puree it and season with salt to your taste. Squeeze in some lemon juice and stir.
Serve with ramen noodles, pan-roasted mushrooms, parsley & chili pepper slices.
Recipe Notes
Mushrooms, parsley, chili pepper are completely optional.
This soup can be easily doubled!
Recent Posts
Most Read
Popular Posts
Donate
Tags