Sweet Chili Pesto Burger Sliders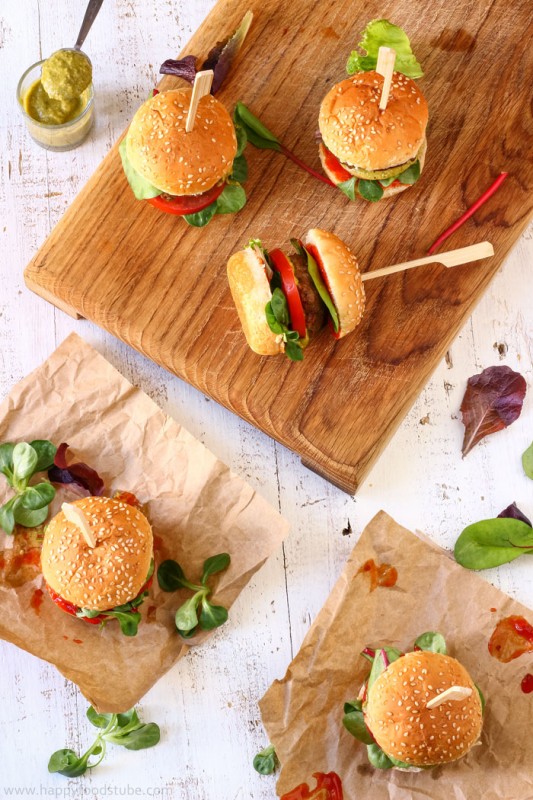 Ingredients
For the burgers:
1 lb Minced Beef (440g)
¼ tsp Pink Himalayan Salt
¼ tsp Black Pepper
3 tbsp Green Pesto
1 Egg
The toppings:
2 Tomatoes
2 tbsp Pesto
Sweet Chili Sauce to your taste
Mixed Salad Leaves or Lamb Lettuce
9 Mini Burger Buns
Instructions
Burger patties:
In a bowl, mix minced beef, salt, pepper, pesto and egg until well combined. Form into patties by rolling the mixture into a bowl and then flattening it. You should get about 9-10 patties.
Place each patty on a baking tray lined with baking paper. Transfer in the oven and bake at 375°F/190°C for 20 minutes or until cooked through.
Burger Sliders assembling:
Cut each bun in half. Take the bottom piece. Spread sweet chili sauce over. Lamb lettuce goes on next. Tomato slice. About a teaspoon of pesto. Burger patty. More lettuce. Cover with bun.
Pierce with burger skewer and serve!
Recent Posts
Most Read
Popular Posts
Donate
Tags