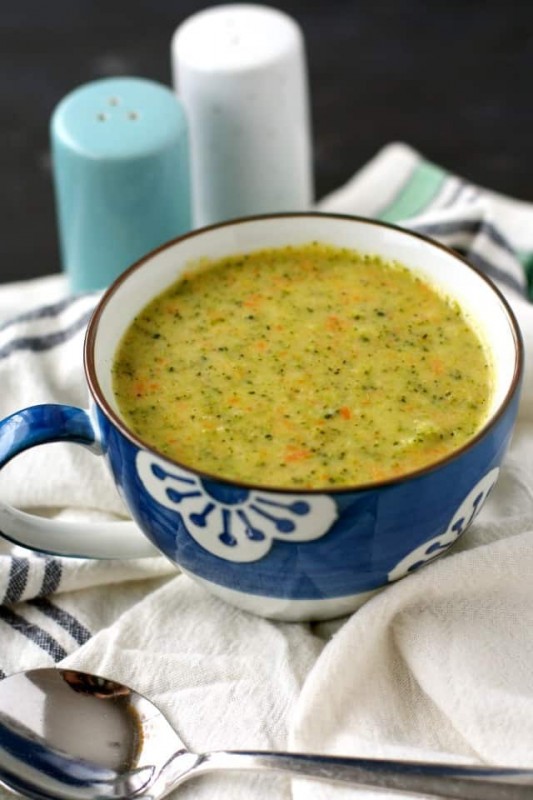 Ingredients
1 Tablespoon vegan buttery spread
1/2 cup onion chopped
1/4 cup vegan buttery spread
1/4 cup gluten free flour blend
2 cups non-dairy milk
2 cups vegetable broth
1/2 pound fresh broccoli coarsely chopped
1 cup carrots shredded
1/3 teaspoon salt
1/4 teaspoon pepper
7 ounces vegan cheddar cheese finely chopped
Instructions
Place the onion and 1 tablespoon of vegan buttery spread in a large pot, and cook over medium heat until softened.
Add the 1/4 cup vegan buttery spread and the gluten free flour, and whisk together until there are no lumps.
Slowly add the non-dairy milk and vegetable broth, and whisk well. Simmer for about 15 minutes, whisking often.
Add the broccoli and carrots, and cook over low heat until tender, about 20 minutes. Add the salt and pepper.
Puree the soup using a hand blender. You can decide how smooth you want your soup to be - I like to leave some pieces of vegetables in there.
Add the vegan cheddar cheese and stir well over low heat until it melts. Season with more salt and pepper if desired.
Recipe Notes
I like the flavor of the Daiya Cheddar Block cheese in this soup. If you have a favorite vegan cheese, go ahead and use that one instead.
credit by theprettybee.com