Vegan Hazelnut Cinnamon Overnight Oats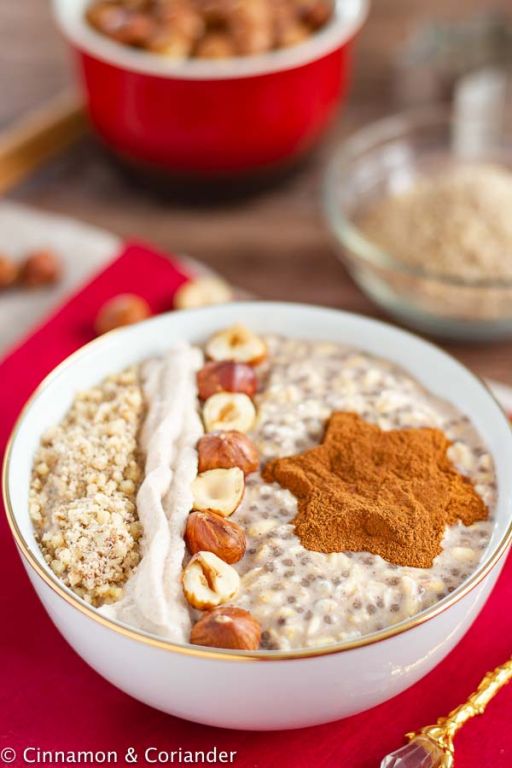 photo credit by cinnamonandcoriander.com
Ingredients
Oats
1 cup oats 120 g
2 tbsp chia seeds 15 g
1 big pinch of salt
1 tsp vanilla extract
1 tsp cinnamon
1 1/2 tbsp stevia or truvia
2 cups almond milk or hazelnut milk, or coconut
Hazelnut Cream
1 cup whole roasted hazelnuts soaked in water overnight
1 tsp cinnamon
1 cup nut milk
1 tsp stevia or truvia
1 big pinch salt
Toppings
2 tbsp ground hazelnuts
2 tbsp roasted hazelnuts
cinnamon
Instructions
Mix all ingredients for the overnight oats and place them in an airtight container to soak overnight.
Make the hazelnut cream. Drain and rinse the hazelnuts and place in a high-speed mixer (I use my Vitamix) and blend with the rest of the ingredients until very smooth. If too thick, add some more milk. The consistency should be a bit thinner than sour cream. Refrigerate overnight.
Stir your overnight oats and stir in 2 tbsp of hazelnut cream, if you want your oats a bit creamier. Divide between 2 bowls and decorate with roasted hazelnuts, cinnamon, ground hazelnuts, hazelnut cream and whatever else you want. Enjoy!
Recipe Notes
Make a triple batch of overnight oats and eat them all through the week.
The hazelnut cream lasts in the fridge for at least a week. It will firm up with time, so stir in some water or nut milk so make smoother.
Recent Posts
Most Read
Popular Posts
Donate
Tags