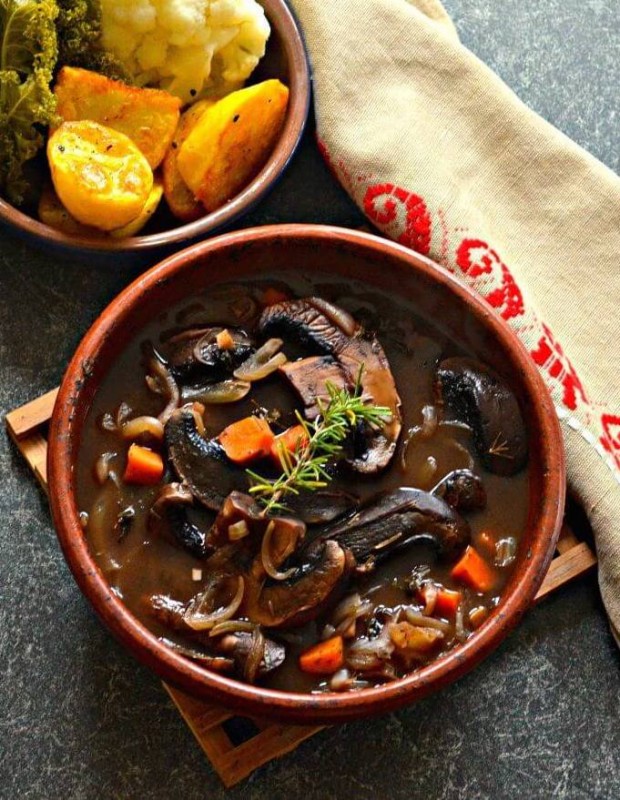 Ingredients
1/2 cup | 120mls red or white wine , I think red works best
4 large portobello mushrooms sliced into 3/4-inch pieces
1 large onion sliced
2 cloves garlic pressed
3 tablespoons flour if sensitive to gluten use gluten-free flour
1 teaspoon rubbed sage
1 teaspoon dried basil
3 cups | 720mls vegetable broth divided.
4 large potatoes quartered
4 large carrots cut into 3-inch pieces
Salt and freshly ground black pepper or lemon pepper to taste
2 teaspoons vegan Worcestershire sauce , or 1 tablespoon of soy sauce or tamari
4 sprigs fresh thyme
1 sprig fresh rosemary
Instructions
Preheat the oven to 350 degrees F (for slow cooker instructions see recipe notes)
In a large saucepan (or a large stovetop to oven like a Dutch Oven , heat 1/4 cup of the wine and add the portobello mushroom slices. Allow them to cook through and brown a bit—you'll need to keep moving them around and turning them—and then remove from the pan and set aside.
Add the remaining 1/4 cup wine to the pan and add the onion and garlic. Caramelize the onions by stirring them until they wilt and begin to brown. Remove the onions from the pan and set aside.
Mix the flour, sage, and basil together in a small bowl. Stir in 1/4 cup of the broth to create a paste, and pour the mixture into the same pan you used for the mushrooms and onions. While stirring constantly over medium heat, very slowly add the rest of the broth so that you create a gravy or sauce.
When the mixture just starts to boil, turn the heat off and add any additional seasonings you prefer, such dried herbs and black pepper.
Add the potatoes, carrots, salt and pepper, and Worcestershire sauce to the gravy mixture. If more liquid is needed to keep the vegetables from drying out, add more broth.
Add the mushrooms and onions to the mixture and ladle into a large ceramic or glass pot or casserole dish with a lid, layering in the sprigs of rosemary and thyme. Place the lid on and put into the oven and bake for 1 hour. Remove from the oven and serve hot.
Recipe Notes
For more flavour, replace some of the broth with extra wine and throw in a handful of dried porcini mushrooms before it goes in the oven.
If you would like to cook this Portobello Pot Roast in a slow cooker then prepare as directed until the gravy is made, then tip it into the slow cooker and add the rest of the vegetables and the seasonings. Sit well and cook on low for around 4 hours or until the potatoes are tender. Add a little more liquid if it looks like it might dry out towards the end. You could use broth or some red wine.