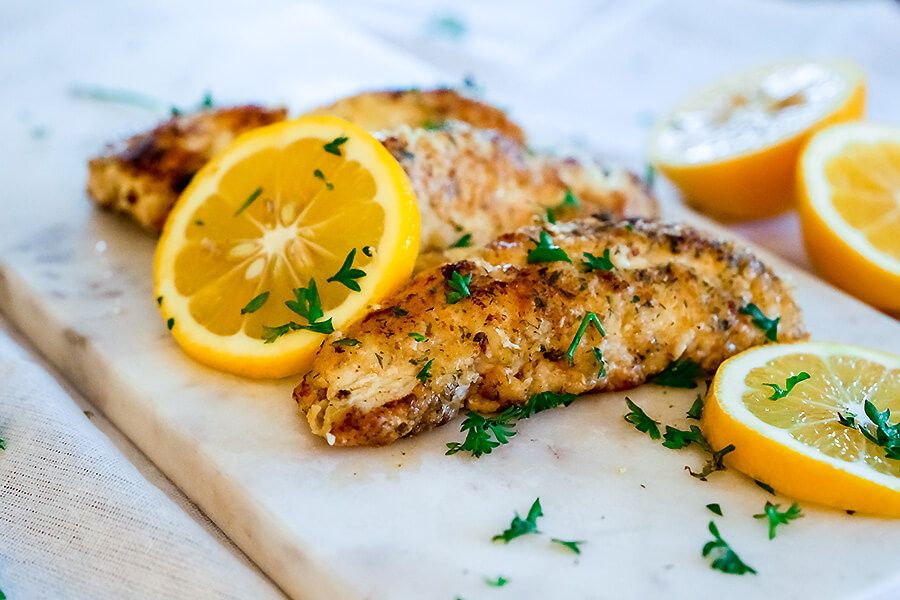 photo by ruled.me
Ingredients
7 ounces (200-grams) fresh Gurnard fish fillets
3 tablespoons butter
1 tablespoon lemon juice
¼ cup (25 g) fine almond flour
1 teaspoon dried dill
1 teaspoon dried chives
1 teaspoon onion powder
½ teaspoon garlic powder
Salt and pepper to taste
Instructions
On a large plate mix almond flour, dill, chives, onion powder, garlic powder, salt and pepper and distribute evenly.
Take the fresh fish fillets in turn and squeeze them into the flour mixture. Turn and repeat. You really want to cover them up and put them on a separate plate once you're done. You can do this in advance and store in the refrigerator until cooked.
In a large pan, heat half of the butter and half of the lemon juice over medium to high heat. You want it hot enough to crust the flour mixture, but we do not want to burn the butter or make the juice bitter.
Let the fish cook for about 3 minutes. Give the pan a jolt so that the fish absorbs all the lemon butter. Do not let your pan dry out. If necessary, add more butter or lemon juice.
Add the other half of the butter and the remaining lemon juice to the pan and cook the fish for another 3 minutes. Give the pan again and whirl around a bit. The coating should be nice and golden brown and you should be able to see the fish through.
Make sure the fish is done with a fork and remove it from the pan when it's almost done. The fish continues to cook, so we want to avoid overcooking. If you have steamed vegetables, pour the butter with all the crispy pieces from the coating onto your vegetables. It makes a nice dressing.
This makes a total of 2 servings of Zingy Lemon Fish. Each serving comes out to be 406 Calories, 30.33g Fats, 3.55g Net Carbs, and 29.07g Protein.